Gender: Male
Species: Human
Age: 34
Eye color: Hazel
Identifying features: Series of vicious scars along the left side of his face received after a fragmentation grenade exploded nearby prior to reaper war.
Born: Omega
Raised: Omega
Occupation: Mercenary (freelance)
Residence: Unassigned
Armor: Red Inferno Pattern Armour
Visor color: Clear
Weaponry: M-6 Carnifex with penetration module and high caliber barrel, Large combat knife, Frag grenades, trip mines.
Abilities: Throw, biotic charge.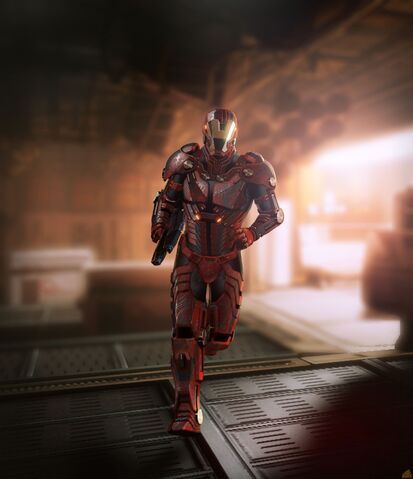 History: Born on Omega to a pair of (mostly) law abiding parents, Kearan was sucked into the life of a petty criminal from a young age, as many children are forced to in the depths of Omega. His mistake was robbing the wrong person at the wrong time, that being a Vorcha captain of the Blood Pack, on payday. He paid for his foolishness soon after, when the Captain and his goons tracked him to his home. Retribution came in the brutal murder of his mother and father before his eyes, after which he was locked in a storage room with nought but his parents corpses for company. He was found a week later by a pair of Blue Suns, who heard his screams and beating on the door of the room. What they found was a grisly scene, to stave of starvation Kearan had begun to consume his parents corpses. They took him in and trained him how to fight and use his budding biotic powers. When he was 15 he left the Blue suns and went freelance, roaming the galaxy as a gun for hire. He spent the majority of the Reaper war on the pirate frigate "Anubis" as part of the boarding squads and the gunner on a mantis gunship team. while the battle raged around earth, Kearan and the Anubis fought agaisnt a fleeing cerberus frigate in a nearby system. During the battle the "Anubis" suffered irrepairable damage to its engines, meaning that when the cerberus frigate went critical and exploded they could not correct their course. Lacking Comms and any way on contacting those in the surviving fleet after the reaper war ended, denying them even the knowledge of the the final victory over their foe. they drifted through space before theywere caught in the gravity well of a nearby planet. Rations were strict, but luckily the survivors on the wreck of the Anubis were depleted far more than their supplies. However, even with strict rationing, no food source could last forever, and before long Kearan returned to the only way he had survived as a child, and the only way he would survive now.
Password: Talon mercenaries