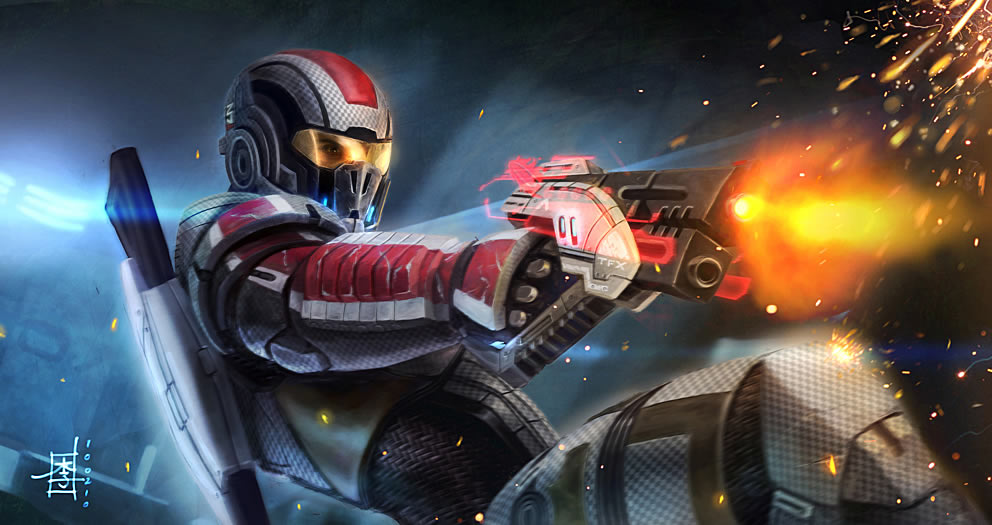 Name:
Unknown
Nickname(s):
Kinderheim
Race:
Human
Age:
29
Gender:
Male
Occupation:
Sometimes he is a mercenary. Sometimes a kindergarten teacher. Sometimes an executioner for Purgatory, a prison on Earth.
Class:
Soldier, all the way.
Class Skills:
Full points in Pistols and Assault Training. Rest is pretty much zero. No special abilities.
Equipment:
One M-5 Phalanx, an assault rifle and ammo.
Appearance:
Appearance when out of his armour: Kinderheim wears a red trench coat. His clothes inside the trench coat are black. He also wears a red hat with a large rim and yellow circular sunglasses. He is tall, about 6'2'' and of a thin built. He has long black hair and black eyes, though no one has seen his eyes in quite a while. His hands are always in the pockets of his trench coat, unless he's pointing his pistol in your face.
Personality:
Kinderheim hates seriousness. He doesn't care if his friends are dying around him, but he does try and make sure they die happy. Ironically, he always speaks in a serious tone, usually confusing people as to wether he is joking or not.
He doesn't really care about any one around him. Having fun is the most important thing.
Even if he is fighting or worse, he is losing that fight, he will not become serious, at all. "Live Crappy or Die Happy" is his personal motto. Oh, ya. And he loves to rhyme, a lot.
He also loves to insult people who are serious, usually getting into trouble.
Background:
Fun. That's all he ever wanted. "If it is fun... It, I have done..." He was born to a lovely human couple. He got his carefree attitude from his mother and his skills with the pistol from father. He had a nice life.
But of course, nothing remains rosy for long. And his life turned ugly, fast. One botched deal and his father lost everything. He turned to alcohol and started beating his wife, Kinderheim's mother. Kinderheim ran away at first, but when he returned he was told his father had killed his mother.
"As many gains, twice as many Pains..." He joined the Purgatory prison as a executioner and was the man who executed his father. His last words to his father were,
"I am ashamed to call you my father,
if I could I would have chosen another...
Thank You for the shame,
with which I carry this name..."
He too nearly turned to alcohol but decided that he wouldn't become his father. That night he heard on the news about the murder at a local orphanage. He decided he needed to start from square one if he was to ever "live" again... So he joined a kindergarten school. The children taught him how to live again, and turned him back towards the path of fun.
He was life a nice life again, teaching children and executing criminals. But since the kindergarten needed money for repairs, he joined the Mercernary group accompaning the doctors.
Other:
He carries around a card that the children in his class made for him.