Known Aliases: Mal
Gender: Female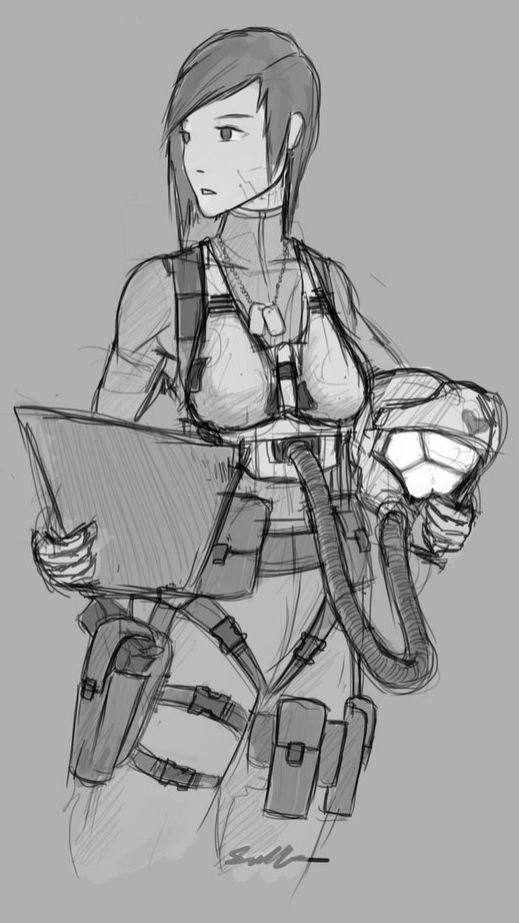 Species: Human
Age: 29
Height: 5'5
Weight: 127lbs
Group/Nation: Vala Buchan
Favorite Music: Soundtrack
Favorite Color: Sea Foam
Sexual Orientation: Heterosexual
Alignment: Chaotic Neutral - The Free Spirit
Description
With her less than staggering stature, Malina might surprise the uninitiated when she mentions she's a mercenary. With shoulder length black hair dyed with streaks of light blue, lightly tanned skin, and a pierced lip, she fits more of a wannabe description than a professional. Which is misleading, as she is a well accomplished professional within her field of work.
Typically stained by various oils and fluids from her repair and maintenance work, she lacks the build of fighter, most of her muscle focused in her biceps and legs, mostly from hefting parts and modules for her gunship. She's got more than her fair share of scars though, big and small, testament to a hard life that's she's managed to survive and thrive in.
Malina typically wears drab colours, at least while she's working, consisting mostly of olive or grey tank tops and mangled jeans that have clearly seen better days. A camo hoodie wrapped around her waist doubles as a tool belt, and thick steel-toed combat boots round out her practical attire. She is rarely ever without a pendant necklace depicting a rather old battered axe, which she keeps as a good luck charm.
Psychology Report
If one were to guess at first glance, Malina is a bit abrasive, and that's mostly true. She's not outright hostile, her mannerisms are just a little standoffish. Quite capable of empathy, she has a much kinder side that shows in her down time and when she's not battling with Damien for sibling dominance. While it's a stretch to call her a bleeding heart, Malina is deceptively helpful for someone from her sort of upbringing. Those that abuse this hidden nature are quick to learn that she is still very much something of a spit-fire, and is not beyond holding grudges for very long periods of time.
Rare is the situation she doesn't have some form of reply, and if she is successfully stumped, Malina doesn't take it very well. Her speech is peppered with slang, betraying a rougher upbringing, but she shows some restraint when in mixed company that's less likely to take it well. Few things can irritate her quite like Damien, but for all their spitfire, the Tabor Twins are very dedicated to each other without exception, and Malina has proven she'll go to the far ends of the galaxy and back for her brother.
Oddly, she has a habit of talking to any vehicle she's been tasked with handling, although she has a clear and noted favourite in Deadra, her Mantis Gunship. While this might alarm some, it's by and large harmless, save for perhaps a little too much attachment to inanimate objects. It does mean though that no one should ever touch her tools, because she is very possessive of her possessions. This seems to apply to Martin and Damien as well, although both seem to have learned to live with her slightly controlling nature.
Dossier
Malina and her fraternal twin Damien are former street urchins from the slums of Earth, raised in a gang culture since their formative years. Malina doesn't particularly remember their parents, whatever impact they had in her life likely small and insignificant, while her brother has functioned as her most important family for her whole life.
Even young, both siblings showed natural talents with machinery, with Malina favouring vehicles while Damien preferred weaponry. They learnt the various tricks of the trades from any teachers they could find, and grew themselves a modest reputation. While she never gave her loyalty to anything beyond a paycheck and food in her stomach, she had little control over her brother who found one that suited him and joined in.
What finally took the two off Earth was less than their ideal situation, particularly for Damien. Following a less than successful job involving an embassy for council species on Earth, he wound up in the custody of the Turian Hierarchy, and sentenced to a work camp deep in their territory. Furious at his 'pals' for letting him take the fall, and livid at her brother for getting himself arrested, Malina took their savings and hit the relays for both payback and a way to free her sibling.
Malina worked the Terminus mercenary circuit for years, earning a reputation as a deadly pilot with one hell of a chip on her shoulder. It was during this time she met two of the most important people in her life, the first being Martin Grien. A fellow mercenary, they worked together on a job once and found a natural niche in each other despite the differences between their preferred fields. Partnership came naturally, but even with the 'immortal' merc working with her, Malina was no closer to freeing her brother.
It was then she met Vala Buchan, a Cerberus officer in need of a somewhat reckless pilot for less than legal work. While she didn't particularly care for the concept of working for a terrorist organization, Vala was more than willing to negotiate a price for Malina and Martin's work. Moments later, Vala offered the one thing Malina wanted more than Cerberus's mountain of credits. Damien's freedom.
While skeptical, the pilot agreed without much delay, and to her pleasant surprise, in less than a month, the 'spook' delivered on her word, creating a large enough distraction for Damien to go 'missing' during a work transfer.
The two women became fast friends after that, and while Malina has no particular loyalty to Cerberus, she's unwavering in her support of the now Commander Buchan.