Gender: Male
Species: Human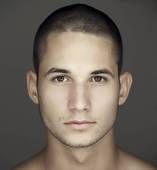 Age: 20
Height: 5'9
Weight: 157
Race/Ethnicity: White
Group/Nation: Cerberus
Favorite Music: Electronica
Favorite Color: Black
Love Interest: Sparrow Oberacker
Sexual Orientation: Heterosexual
Description
Standing at a respectable 5'9, Roger looks surprisingly mature for his age. He's lost most of the roundness of youth, although he lacks the wrinkles and other definitions of a full grown man, as well as his still very childish expressions. His dark brown hair is rarely ever longer than a buzz cut, and he has a fairly thin layer of stubble on his face that he carefully maintains so as not to look like a patchy teenager. Most of his youth shows in his eyes, which are a sharp hazel and usually an immediate betrayer of his deepest thoughts.
While not as built as other's in his squad, Roger is working to quickly make up the missing muscle mass so he can run properly in the slab of tin command calls combat armour. His skin is lightly tan, although service aboard a ship is starting to see it pale slightly as he lacks the exposure to the sun he once had.​ He lacks in the way of scars, save a rather nasty scar on his left breast from an exit wound and is much the same way with tattoos, although he's been promised by at least a dozen marines that he's getting dragged to a shop whenever they get the chance. Despite his formal upbringing and life style, Roger lacks the upper class civility of the Pollard family, preferring to dress in t-shirts, tank-tops, shorts and jeans. Rarely enough, he can wear one of the few suits he owns remarkably well, with correct posture and all; a rare insight into some of the man his family wanted him to be.
Psychology Report
There's something to be said for the indestructibility of youth. Even with a few battles under his belt, Roger hasn't found that magical cure for his slightly rampant ego. While he may not have the sheer fearlessness that some 'fresher' marines do, he's still mostly adamant that he's a somewhat unstoppable force of awesome. This does however conflict somewhat with the fact that Roger isn't exactly notorious for his backbone in the face of anything with authority, predominantly his platoon head, Lieutenant Oberacker.
Despite his ego, Roger is a generally likable addition to most groups. He's friendly by nature and much rather prefers a lively and laughing conversation than the serious and foreboding nature some marines use. When prompted to speak seriously, he'll usually speak in small bursts of seriousness before attempting to lighten the situation with humour, typically of the self-depreciating nature. In the rare instances that Pollard can actually keep himself completely composed, the young man can conduct himself with disturbing civility and grace. While the observant will clearly tell he is uncomfortable in such situations, it is a part of him his youth drilled into his head, and he can call upon it when necessary.
He's a physical person, and while he's not quite at the same point as other marines, Roger actually enjoys much of the exercise his job demands; since it keeps him from feeling coup'd up whenever he has excess energy. Despite his wealthy upbringing, the marksmen has no particular taste for expensive things, if anything more excited to try out the typical crap that normal people use.
Young as he is, and admittedly not the sharpest tool in the shed, Roger is new to what most of the galaxy has to offer; greeting it with either awe or less-than-subtle dislike. Raised as he was, Roger has a less than appropriate view point of most species within the galaxy but his view point appears to be shifting ever so slightly with every exposure that isn't a total disaster.
He's also a rather horrid liar.
Dossier
Roger is the "second" born child of his family, and grew up in the lap of luxury on Bekenstein. Notorious for being 'more glittery than diamonds, and more expensive than surgery', the planet is know for its money and its decadence. His father, Marcus Pollard, had grown in the same luxurious environment as his children before succeeding his father's position within a rather influential consultation firm. Needless to say, the same was expected of his children.
His sister Jordanna, his fraternal twin, immediately proved herself to be superior to her brother in terms of intellect, although as she once put it, 'that wasn't much of an accomplishment'. What he lacked in mental prowess, Roger made up for in enthusiasm and a knack for physical activity. He was a speedy child, and remained that way through most of his life, with roughhousing being one of his more preferred pastimes. While it was clear he'd never really succeed his father's business, the two weren't distant by any means.
While Marcus rarely let his children leave Bekenstein, he often arranged family trips and excursions to keep them close. Often he and Roger would go on weekend hunting trips, and it was Marcus who taught his son how to properly hold a gun.
As he and his sister grew older, each began to spend more and more time focused on their individual studies. Or rather, Jordanna did, while her brother more attempted to coast with as little effort as possible while not angering their tutors and parents. Jordanna began to spend more time with their father, while Roger took more to their mother, April. She was more encouraging of his rowdiness than perhaps appropriate, but directing his attention to things other than his less than stellar grades kept the boy from dwelling too much.
It was after both had graduated that Roger was presented with the opportunity to join Cerberus by his father, who had long been a backer of the clandestine organization. His sister would be stepping up her studies to one day succeed him, but Roger had the fire and ability to go and truly help the cause that Cerberus was aiming to achieve. While not immediately enthused at the prospect, it was the assurances of travel and action that swayed him to agree. The necessary arrangements were made, and Roger finally left Bekenstein to see what the galaxy had in store.
Ignoring that most of what's been waiting has guns, Roger is greatly enjoying his new-found career with Cerberus.