Gender: Female
Species: Human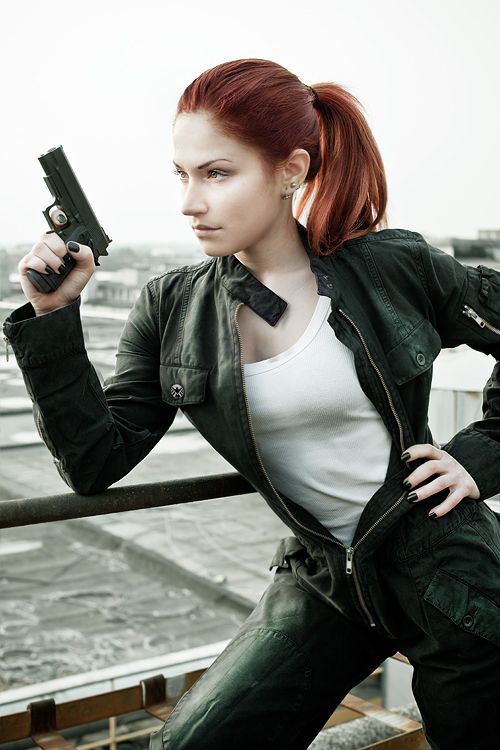 Age: 26
Height: 5'10
Weight: 164
Race/Ethnicity: White
Group/Nation: Cerberus
Favorite Music: Soul
Favorite Color: Red
Love Interest: Roger Pollard
Sexual Orientation: Heterosexual
Description
Sparrow is tall, and she knows it, at a surprising 5'10" she manages to stand above, if not on par with most of her marines. With docile light brown eyes, and a near constant smile, Sparrow is one of the easier to remember faces of the Infinity. Her deep red hair reaches almost past her shoulder blades, although it's typically tied up in a ponytail of some variety since the sergeant prefers to be active most of her days. She has a naturally pale complexion, never having had a long term stay on a planet, and her skin shows little sign of changing, even if she occasionally returns from missions with a slight redness of the face.
Considered something of an 'oddity' for not 'filling' the standard mold of Cerberus female command staff, Sparrow's stringent exercise has had little effect on her overall frame, with a more slender upper body offset by higher, fuller hips and powerful legs. She's easily one of the more defined female marines, and boasts dozens of miniature scars from a lifetime of scrapes and scraps. Very few seem to come from weapon injury, however, which she equates to simple 'good luck'.
Sparrow has little in the way of tattoos, although a few patches of oddly smooth skin imply that she may have had more that have since been removed. What's left is a small tattoo of her namesake bird on her left shoulder blade, simple and light in it's design.
Psychology Report ​
Sparrow is friendly and naturally outgoing, easily socializing with the entirety of her platoon with little difficulty. Sparrow carries herself with a relaxed charm that belies her command status and ability to motivate and hammer her Platoon into action at a moment's notice. When it's time for action, Sparrow knows exactly who's ass to kick into gear to get results, and it's this useful skill that's gotten her promoted to Platoon Chief. With an earthy common sense, Sparrow trusts her men explicitly, and has an nigh unshakable belief in their capabilities. She is slow to anger over most things, but her triggers are volatile and should be avoided.
Off-duty, Sparrow barely changes, save for a tendency to stargaze. She is available 24 hours a day to help her platoon with anything they might need. A self proclaimed 'den mother', Sparrow barely tolerates any threat to her marines, and is more than willing to argue for their benefit, even with Brass. Despite her command position, Oberacker can often be rather impatient with things, favouring methods that are direct, simple, and quick. This has simply taught anyone who answers to her to listen promptly, less her ire be earned and someone be assigned to latrine duty with zero breaks.
She is rarely without her electronic cigarette, the only form of smoking O'Ryan permits her to do. Permission isn't always the operative term in Sparrow's mindset, as she has something of a rebellious streak that sees rules as vague guidelines at times, particularly when she wants something badly enough. Sparrow also has a notorious fighting streak, rarely turning down a chance to tussle with anyone of decent skill. It is of little surprise that Sparrow fits the Cerberus stereo-type of xenophobe, although she prefers passive avoidance over direct confrontation with aliens, a lesson well learned in her youth. She won't hesitate to share her opinion of them, but Sparrow will listen to reason when the situation demands it. For reasons yet unknown, she seems to house a particular disgust for salarians above all others.
Sparrow is also
incredibly
fond of cherries.
Dossier
'Sparrow' is one of the unfortunate bastards to have been born on the blackened heart of the Terminus, Omega. She has few memories of her early life, primarily centered around the 'orphanage' she spent her first few years in. To the uneducated about the crime hub, an orphanage might sound like a good thing, but reality means most are little more than slaver 'supermarkets'; providing children with zero ties to anyone.
Sparrow has, however, always been lucky, if in very curious ways. Her orphanage was raided by mercenaries, although she was far too young to remember any of their affiliations or symbols. In the ensuing fire-fights, her 'room' was opened by accident, and she seized the opportunity to do what a child does best. Crawl into a very small hole and hope the loud terrifying noises go away.
In the aftermath of the raid, she was discovered by one of the mercenaries, who coaxed her out of her hiding place with a candy bar. The small treat made her immediately take a liking to the armoured man, and she promptly held onto his leg for the duration of his 'clean-up'. She didn't know why, but after the work was done, the man, Kaine Oberacker, took her with him.
Kaine became her father figure, and her name was his idea when he discovered she didn't actually have one that she could remember. He chose Sparrow, citing her hair and small size as the primary reason for it, even though she had no idea what a sparrow was, or really, what many animals are. He taught her everything he deemed essential for life; how to hold yourself, how to hold a gun and how to properly throw a punch.
Sparrow took to Kaine like he was her real father, and the mercenary came to view her as a daughter himself. She spent the majority of her youth stuck inside his apartment and it's immediate surroundings, with only limited extranet exposure and broadcasts to educate her of the galaxy beyond Omega. She was fascinated by the thought of it all, so much out there to explore and see.
Things took a sharp turn for the worse when Kaine's long term partner, 'Frog' appeared on their doorstep one day with a retinue of Eclipse mercenaries. Insisting it was merely a business call, Kaine ushered her out to go fetch some groceries. She listened, even if age and instinct prickled at her neck with concern, and left the salarian with her father.
She'd return a half hour later to a bullet-ridden apartment, four dead mercenaries and Kaine half slumped over the table with a bottle of something in hand. It didn't take a genius to decipher he was injured, and she hurried to find their medigel supply. He muttered for her not to waste her time, he'd already tried, but it seemed Frog had already sabotaged it prior to this plan of his.
The mercenary took her under his arm, grinning with thick alcohol on his breath despite the myriad bullet wounds puncturing his torso. It's one of the few times in her life Sparrow will admit she cried. With practiced movements, Kaine shifted his various accounts and earnings into her own, patted her on the head and told her to make sure she got the hell off Omega one day. She didn't like that he seemed so prepared for this eventuality, but he shushed her protests.
Shot-gunning whatever was left of the bottle, Kaine laid himself back onto the table, motioning with his eyes towards the door. Frog would be back with more men, the slippery bastard, and he intended to try and blow the traitorous alien's skull off before he went. She held him for a few moments, handed him his shotgun, and left the mercenary to his fate.
14 years old at that point, surviving Omega was a test of every single lesson and strained every single survival instinct to it's natural apex to keep herself from being just another statistic. Odd jobs of every nature became her means of survival, and there's few of the underworld's professions left that she hasn't tried at least once.
Notoriety was dangerous, and she kept mobile, jumping between buildings on nearly a weekly basis. 4 years dragged by, until one job quietly put her into contact with a Cerberus agent. Instead of the promised credits, he offered her something better than all the money in the Terminus. A place in the organization's military arm, and a free ticket off of Omega to fight for humanity's interests.
Needless to say, she took it.