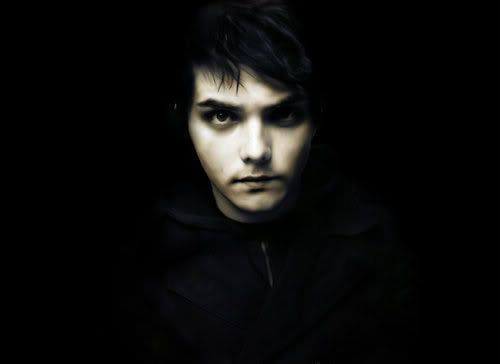 (How he looks when human)
Age:
19
Gender:
Male
Role:
The Bipolar Vampire
Sexuality:
Pansexual
Likes:
The night sky and the dark. (Well, he's a vampire, that much is kinda guaranteed. )
Being in a calm, neutral mood.
Being cared for tenderly. He likes affection as he seems to be calmed by it.
Animals. "Good source of blood..."
Music.
Dislikes:
The Light, sunshine, daylight. Basically, anything bright.
Intruders. He dislikes his life being interrupted
Having one of his episodes and unable to stop himself from switching from 'high' to 'low'
Failing/feeling week and giving into something.
Ropes, gags, bindings, anything restrictive...
Fears:
Claustrophobic.
Has Taphophobia (Fear of being buried alive)
Weaknesses:
Sunlight –It doesn't wound or injure him, but it makes him feel frail and weak. It'll make his limbs feel heavy and he'll be run down with dizzy spells, causing him to fall down and possibly pass out if it was that strong. When Tyson is walking around outside during the day, he wears a black hoody and keeps as much of him covered as possible
His Bipolar episodes – If he's really jumping between 'high' (Manically happy) and 'low' (Angry and depressed) then his brain could possibly start breaking down and he'll desperately need calming down, otherwise he will simply just break into destroying everything he sees.
Powers:
Well, Tyson's powers aren't all that clear when he's in a neutral mood and is just being himself. Tyson doesn't necessarily seem much different to a normal person at all when being 'neutral.' However, as soon as he is stirred, Tyson begins to showing these powers of his, and you can already tell, you're in trouble if it happens.
Tyson's main power is drinking blood. Well, that comes with being a vampire really. However, he's not the kind that turns its victims into vampires too, and he doesn't always drink all of his victim's blood. He usually has a lot of the blood until the creature is pale and weak, and then leaves them there for either the Morph or the Siren to feed upon. He isn't much of a fan of flesh and such.
Secondly, Tyson has an ability to run faster than most. It make catching his prey that much easier to get and especially when he's switching between 'high' and 'low', Tyson will feel more violent and therefore wouldn't hold back when chasing something. Tyson is also quite strong when it comes to having a bipolar episode. He is more feisty and angry, therefore he will add more gusto to his punches and attacks.
Lastly, and the least important power to Tyson as it seems to drain him of his energy way too much, Tyson has the ability to transform into a vampire bat. It's usually only for a couple of minutes as if he did it much longer, he'd be hit with dizziness, headaches and such. The only reason he would usually go into a vampire bat form would be for if he wanted to make a speedy escape away from somewhere...
Weapons?:
The only weapon that Tyson has (as a back-up) is his small switchblade. If he's in a situation where he's been made weak and is losing a fight, Tyson will slash his blade in order to try and make a distraction in order to escape and recover.
How they acted before:
Believe it or not, Tyson was a rather optimistic and friendly guy. He never was known as "Tyson" and was simply referred to as "Ty" by everyone who knew him. Although Tyson's life was pretty much a piece of crap, Ty managed to get through it by looking on the positive sides in things. He didn't tend to complain all that much, and used to think about how if it was his problems, he would have to deal with it. He did as he was told, and that was that.
Saying that, Ty did have less of a push-over side. If he was being forced into doing something that was, in his opinion, 'unacceptable' then he would fight back and refuse. He fought back sometimes, but most of the time it was more verbal fighting rather than physical fighting. Not to say that Ty wasn't physically fit. He participated in sports a couple of times a week, but that simply kept him thin. His home life was more something that took away his physical and mental fitness...
Ty was by all means a hard worker. He tried his best to get the highest grades he could in his school years and found himself getting positive feedback. However, throughout his life, as much as he tried to concentrate on doing maths, science and all the hot-shot brainy subjects, his heart was taken by music. He adored it with all his heart and right from a ripe young age after teaching himself to play guitar, Ty wanted to become a part of a band. That dream was achieved, and though some may not seemed to approve, Ty carried it out, and did his best with it.
However, it may be part of this dream of his that the latest year of his life has been a downfall and has lead him into a depression...
How they act now:
Now that Tyson has become a pawn in Master Corsona's game, Tyson appears to have had a complete personality change. Tyson finds he is unable to tell, even himself, whether he's feeling happy, sad, depressed, angry, emotional, sensitive, excited, in love or anything. Tyson's mood is ever-changing due to being made bipolar. He can no longer remember about himself, and therefore finds himself sometimes getting angry due to this, but getting angry leads to becoming manic, to depressed, back to angry and over and over until he can be comforted into calming down. Tyson seems to get lost in his own feelings and finds that the only point of the day when he is actually neutral is either on his own, or when he's in the arms of Master Corsona.
Tyson doesn't seem all that supernatural when he's at 'neutral'. He's extremely quiet and often has his knees to his chest as he listens to some music or he watches the television. Apart from maybe a little on edge, he's just like any other guy. However, it seems that little things can tick him off and make him irritated, and if too many things irritate him, then Tyson will end up going into manic.
The two main points of Tyson's bipolar episodes are either 'manic' or 'infuriated'. When Manic, even his laughter seems a little insane. He seems the tinniest bit giddy and will be very twitchy/jumpy. He will be happy about more or less any little thing. But it's unknowing what thing could switch him to the other end. When infuriated, it seems every little movement, every little breath that someone takes, it pisses him off. Tyson mainly goes into a state that even he is unclear about. He'll just attack at any moment and try to drink the blood of any living creature nearby.
The taste of blood seems to bring Tyson into a state of bliss. It's another remedy to his episodes as it calms him down and soothes his mind. It's another thing that'll make his mind less fuzzy and just ease him into a more neutral state. Tyson sometimes just can't tell what's happening until he can feel the blood running down his throat, and by then, it's usually too late. Believe it or not, Tyson rarely kills. He weakens his prey, drinking most of its blood. But, what he does is mainly recoverable. It may take a blood transfusion and lots of iron tablets, but it is highly unlikely that humans who are only bitten a little bit will get more than a dizzy spell and two fang marks on somewhere on their body. Killing isn't his style. He leaves that for The Siren and The Morph.
Who they were...:
Now, Tyson's history is that of a long one. When his mother went into labour with him, his father rushed to the hospital, but in the process fell under a train. He was in such a rush that he just slipped off the ledge and went straight under it, being squished and electrocuted gruesomely. Now, his mother knew that this wasn't her own, or Tyson's fault. But ever since Tyson was born, she couldn't help but think that if her husband wasn't rushing to get by her side, then maybe he'd still be with them today.
Apart from not really having that close of a relationship with his mother, Tyson didn't exactly have much to complain about in his childhood. He was a happy content child, in any situation he seemed to be happy. And although his mother never said it, she loved that part of him. He was just like his father in every way. As much as it made her happy to see him growing up this way, it also wouldn't get her husband out of her head, and by the time he reached about twelve years of age, she couldn't bear to even look at him. He had the same personality as his father, same interests, same everything. He even wanted to become a musician, just like his father.
Tyson had grown up wanting to impress his mother however. As hard as he tried through his younger-teen years, cleaning the house, cleaning the car, getting great grades, writing her a song, it just seemed to upset her even more. Tyson felt helpless. He didn't know how he could help his mother, and around being about sixteen, Tyson finally broke down. He broke into tears at a mealtime one day after unbearable silence, and begged his mother, pleaded her to tell him why she hated him so much. Why she never would even look at him, or come see him play with his band.
However, she was soon in tears also, and explained everything to her son. She told him that she didn't hate him. Rather, much the opposite. She loved him dearly, but he was just too much like his father. It pained her to see him every day, as if he was still alive, and whenever Tyson did something that was so much like her husband, the image of his corpse ran through her head. As much as she loved Tyson, seeing him was bringing her down. Tyson after hearing this was soon in deep thought and came to a short, rather harsh conclusion. He should move away. If his mother were to not see his face, then she could be happy, and wouldn't be so depressed.
But it was quite obvious that she was against this idea. Tyson's mother told him he couldn't leave, and started to get angry when he fought back, telling her he was definitely going. And then, for the first time in his entire life, Tyson saw his mother's mean, rougher side. She slapped Tyson around the face and then tied him, bound him, and gagged him. She locked him away in his wardrobe and then left him there for a couple of days. When she returned, Tyson was weak, frail and tired. However, he was still saying he had to leave. And so, his mother fed him, let him bathe and drink, before bringing him back into the same position he was in before. Tyson put up a struggle, but at the same time, he didn't want to hurt his mother. As much as she hurt him, he didn't want to harm her at all. She ended up bounding him, gagging him and leaving him in the dark wardrobe, scared with his claustrophobia and unable to do anything.
Two hellish months passed with this kind of treatment, and by the end of it, Tyson was just broken. His mother saw it. He couldn't think of anything positive anymore, and he was no longer happy. He was just nothing... Tyson's mother was pleased at first. He was no longer like his father, and letting him go would be easier. However, now she realised that she had truly lost her husband. It was possible that she didn't want to let Ty go, due to him being so similar to his father and Ty leaving would mean no longer having any traces of him in her life. Now, Ty was nothing like her husband, it killed her inside. After realising what she had done, she let Ty go. She let him leave, and gave him all of her life savings and everything she had. Ty had questions in his head, but he let them go. He left, and didn't look back, unknowing that about three hours after Ty had gone, his mother's body was found dangling from her ceiling after she had committed suicide.
Tyson never found out about this truth. He had moved somewhere new, with a brand new goal. A brand new idea in his mind. He would start a band up again. He would try and get people into a band and start up a whole new career. Ty was soon back to his normal self, and he never looked back. He worked hard for making a band, and he did all he could to get things the way he wanted.
However... it didn't go as he wanted.
Years passed, Tyson failed, and the band was a flop. He lost all of his money that his mother had given him, and was chucked out on the streets. Ty was alone and cold in the world, a homeless man with nothing more than the clothes on his back and a small amount of money that he could buy food with. Tyson was depressed, alone, cold... But then, it seemed that a new saviour appeared before him, and he was blessed. By Master Corsona. Master Corsona invited him to his home, where he could eat, sleep, and live. On one condition though. He had to allow Master Corsona to make him forget his past. Tyson agreed, thinking that it might be a good thing, not having his past bared upon his shoulders every hour of every day. However, what Master Corsona forgot to tell Tyson in the progress was that he would make Ty a bipolar vampire and would go into a relationship with the young master....
Oops!
The memory to change them back into a human...
The memory to change Tyson back would be the two months he spent bound and gagged and locked away. It was a point in his life that changed the outlook on the world for him, and the one thing that he could never forget. In order to make him remember, they would need to trap him and tie him up. Not exactly for that long, but the feel of being trapped would stir the memory in his brain and he would end up remembering everything. Why he became tied up, and how he got to where he was today...
How are they feeling right now?
"How am I feeling, you ask? How am I feeling..." He has a minute chuckle, though it's rather high pitched as he twitches and holds his hands together to prevent them from trembling too much. "I feel... happy. Very happy and wonderful indeed! Though, I'd be careful if I were you, young one." He cackles again, and then the corner of his lip pricks upwards as he grins a dastardly sneer at a wall. "You know what follows the happiness. What always follows the happiness, is bound to be what scares you the most! What'll scare them the most." The prick up dramatically falls down. His pale skin tightens, and the bags under his eyes seem to become thinner as his eyes narrow into small slits. "Master Corsona warned me about them. He's told me about these... these...
intruders.
Oh they shall pay. Just they wait until their blood is spilt, and it's their funeral! They'll regret the day they decided to walk into this house. And I'm sure they'll regret meeting me too. The slimy little bastards will pay, and in the process, they will not survive!"
Theme Song:
'Mama' By My Chemical Romance :
http://www.youtube.com/watch?v=odxvslDTS-I
Anything Else?:
Don't think so...
Password?:
Bloody Llama