Name:
Lee Yamamoto
Nickname:
N/A
Stage Name:
Genji
Band:
May~Traverse!Souls
.
Band Position:
Keyboard
Age:
17
Gender:
Male
Nationality:
Japanese/Chinese
Height:
5' 11"
Weight:
135
Original Appearance:
Not very strong or intimidating, Lee always has a serious face, not laughing very often. He dresses simply, and wears shirts with no obvious signs or words, dark colors, and no bright, colorful patterns.
Stage Appearance: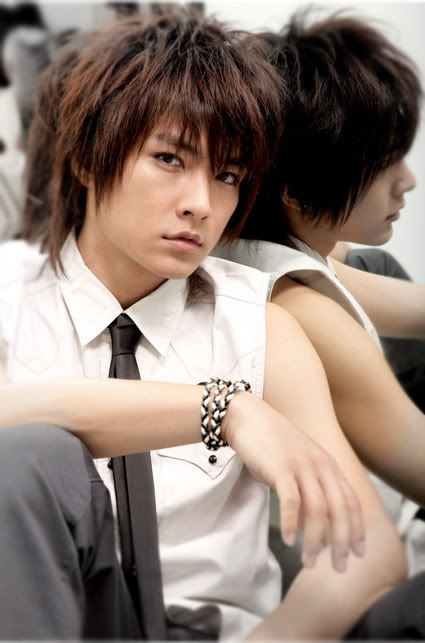 Just imagine the picture above, in those clothes, lol.
Soul Type/Soul Appearance:
Neutral/Turtle-Patient and calm
Personality:
Lee always has a sense to think things through. He rarely gets angry, in fact, the worst anyone has done was make him extremely irritated. Is patient with others, however, Lee will not be very nice to those who waste his time. Sarcastic and cynical, he does always give a hundred percent in everything he does.
Sexual Orientation:
Gay
Crush:
N/A
Partner:
N/A
Likes:
Jelly. Music. Studying. Chess. His keyboard. Trying new things.
Dislikes:
Incessant noise. Dogs. Childish behavior. Laziness. Losing.
Ability:
Dampener- Simply by being within the vicinity of them, Lee can weaken one's abilities and their control over it. Direct contact negates their abilities altogether. Lee has no knowledge of this ability.
Issues:
Serious issues with his father, to the point that they almost always fight when they converse with each other.
Family:
Father: James Yamamoto
Relationship History:
Never had been interested in relationships, thus never was in one.
Background:
Lee never liked being at home. Growing up, he lived alone with his father, who never seemed to understand him. Cheesy, yes, but truly, the father found everything he took interest in strange and unhelpful. He always tried putting him in sports, signed him up for boy scouts, but Lee always resisted, preferring instead to play chess, or listen to classical music. He studied hard too, making good grades at school. In fact, during his middle school years, he took music classes, and even had his teacher teach him how to play the piano after school. Though not one who ever wanted to really fall in love with anyone, he definitely knew what he liked, and it was during his middle school years he also found out he was gay. This he keeps a close kept secret, as he doesn't want to even think about how the others might react, especially his father.
Now a highschool senior, he finds a flyer asking for a keyboardist in their band. Interested, he takes the flyer and heads towards the address on it.
Other Remarks:
He loves Jelly to the point of it being his potential crack.