---
---
Name:
Samantha Eileen Woods
Nickname:
Sam
Age:
19 ; Appears to be in her early teens
Sexuality:
Bisexual
Likes:
Loud Music / Observing people / Candy / Fighting / Independence / Smoking
Dislikes:
Having others worry for her / Feeling inferior / Falling over / Looking Weak / Being called "cute"
---
---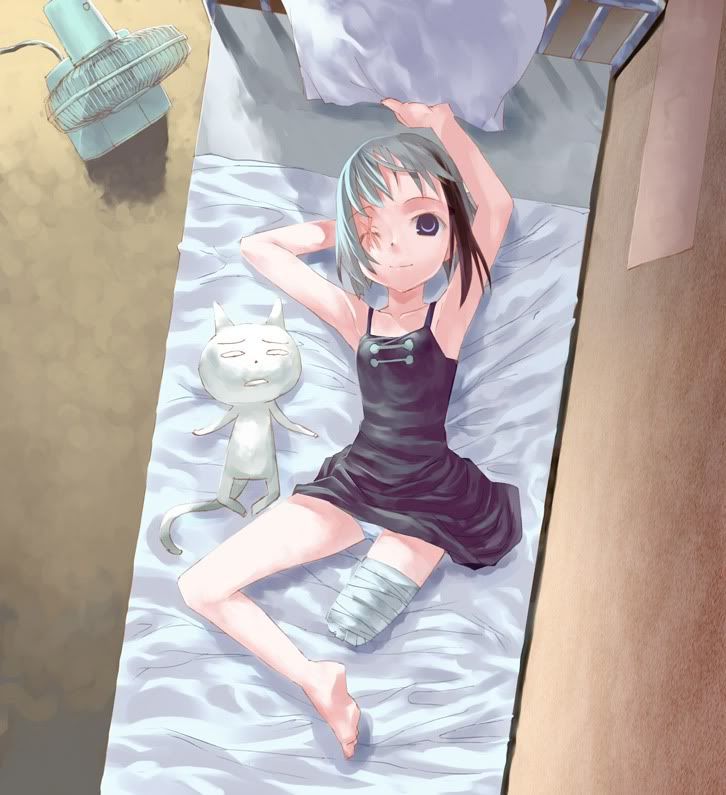 Fears:
Death / Failure / Loneliness / Pain / Wolves and large canines
Hobbies:
Playing guitar / Getting into trouble / Eating
Powers:
If she makes a verbal promise with someone, eventually it will be made true on. She can call upon the final timing if she so chooses, but it forces pacts to be fulfilled.
Strengths:
She can throw a pretty mean punch / She can rock the guitar pretty good / She has a strong spirit / Very charismatic, good at hiding things.
Flaws:
She cannot do anything that requires two feet well / Her depth-perception is not good / She enjoys the spotlight a bit too much / She enjoys bothering people she finds interesting, whether told to go away or not.
---
---
Personality:
Despite her lacking a lot physically, she has a strong spirit. She is hardly soft-spoken, often acting in rebellion any time things don't really happen the way she wants them to. She also enjoys getting attention in any way she can, positive or negative. Despite being such a strong-spirited and overall strong-seeming girl, she is quite self-conscious about her appearance. With missing body parts from injury and stunted growth, she often finds herself to be lacking as a woman. She also fears pain due to the abuse she suffered in her past. She is quick to flinch.
History:
Sam has long abandoned her memories before turning. They exist somewhere deep within her subconscious, but seem to have no real importance to the girl. She does remember a time nearly eight years ago. Her earliest memory... The only memory of her humanity that lingers. She remembered it being a dark night, a chilly one. Winter was coming to a close and transitioning to Spring a bit late into March. Her parents had been driving her home in a rainstorm from a music lesson. A sudden figure appearing in the road during a flash of lightning caused her father to freak out in surprise, accidentally steering the car into a tree. The exact events were a blur, but a large creature that, at the time, she could only compare to a big dog had stripped her of her family. Her father and mother's carcasses were ripped to ribbons and she was pulled out of the car by the beast. It bit her left leg off at the knee to prevent her from running and slashed her right eye good in the struggle she put up, cutting it straight out and leaving nasty gashes all over. She only barely remembered a man's figure that somehow easily knocked the best aside, making it whimper in pain as it fled.
"Do you wish to live?" His voice was like silk to her ears. Her thoughts at that moment were simple. To continue being with that silky beauty, she wanted to live. The dying girl, nearly bled out, managed only a nod before passing out. She awoke later on in a bed. She felt cold and her stumped leg felt numb. She noticed that she had a patch over her eye... or as she came to realize, her lack thereof. That had a pain like a pulse... but she was alive. And she felt surprisingly strong for now missing important body parts. The man who saved her was just as beautiful as his voice. He explained what he had to do to save her, and that also meant turning her into a vampire. It came as a shock to her. She didn't believe it. But as time advanced, it was proven to be true. Her unknown cravings and newfound powers were unable to be explained otherwise.
He raised her in the orphanage he ran. Turns out that most of the kids there were like her. Caught up in a supernatural accident and had to be turned in order to survive. They knew that they now had roles to play, actors assuming the roles of humans. And stuck in the role of a young girl, that was hers to play for the next eight years. She learned to control herself thanks to the gentle, caring hand of her savior and the others in her position. And once her training was complete, she was put up for proper adoption to try and find a normal life. Most kids in orphanages don't end up getting adopted, but the vampire who owned this place had a way with people. But even he didn't need to use it on a certain couple who came in. Just looking at Sam, they felt that this was the proper daughter to take in. To be a companion for the other they have. Frail, injured... And after a few visits with Sam playing nice, they made the executive decision and adopted her. Now she is making her way to her new home. A vampire amongst humans.