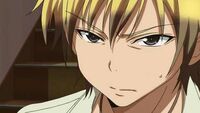 Name:
Laevis Metargo
Nickname:
Hannibal
Gender:
Male
Age:
17
Height:
6'1"
Occupation:
Crown Prince
Appearance:
His hair is brown at the tips and the top of his head, while the rest is a slightly dark blond, making him look quite cold and calculating when angered or deep in thought. He can pull his hair back and make himself look even more intimidating and militaristic, but he prefers to keep his hair normal when casually around people. He usually wears black and white formal clothes due to his scheduled piano performances. His overshirt is unbuttoned and neatly ironed, him preferring to look pristine and dignified. He wears black gloves which can conduct an offensive electrical discharge for use in hand to hand combat. He pants are medium length and black, while his shoes match the rest of his outfit as well. He has more casual clothes that he wears at home, but people rarely see him with these clothes.
Rank:
Vice Commander In Chief
Personality:
"Who are you to judge everyone else, a god? Do you understand the things that have forced others to do things, I think not." Laevis is quite a complex fellow, hiding his true intentions behind a facade and bloodlust. He appears to be an intelligent, eloquent, and composed young man, but he does everything he can to annoy others; from slight gestures; precisely planned words; and many other tactics. He has a slight liking towards a character he has written about in his novels, Hannibal Lector, a genius tactician in an imaginary land where magic doesn't exist very much. He can see the obvious contradictions in morality, religion, and ethics, which he uses to his advantage when trying to annoy someone. He rarely uses profanity, preferring to look innocent, honest, and friendly. He has little trust in humans, knowing that his own thoughts are hypocritical angers him more. He tries to keep his anger and sadness capped tightly under a mask of happiness and general annoyance, which he is quite good at. He enjoys testing the ideals, strength, courage, and skills of people no matter their origins, hoping that at least one person will be his definition of "good". He doesn't believe in what most think of as good or bad, knowing that any action can be justified with the correct words, instead, he believes in his own form of good and bad. He may occasionally kill someone, but he rarely does it on purpose, thinking of death too easy of an escape for someone. He has a great knowledge of the minds of beings and what most responses would be, but he usually studies someone before trying to make any mental attacks. He fears neither death nor torture, having learned how to block out most emotion comes in handy. He has quite a bit of speed, in conjunction with his precision he can be quite a fearsome enemy. He appears to have a strange.. liking towards clowns, bards, and jesters, liking their carefree and happy nature. He can swim, but he prefers staying above water. He doesn't like being a leader, but he still has the capability to be one if needed. He spends some of his free time training in fighting and getting his body stronger, knowing that he will probably not be able to work from the shadows forever. He has a slight lying problem, believing that living is more important than petty things like honor and pride. He, much to his chagrin, has a natural tendency to protect his family. His natural urge to protect his family can sometimes interfere with the many schemes he may have going on. He is a bit bad at making decisions when under pressure, meaning that he may terribly slip up. He uses his alluring and soothing voice to trick many he considers enemies into thinking that he is weak and naive, when in fact, he could probably kill them with a single snap. He will use whatever he has on hand to fight, either his allies as help or his own fists to fight. He has little romantic interest, knowing it to mostly be lust and not true love. He does wish for love, but he knows that he will probably have to choose between love and "saving the world". He seems to enjoy waltzing, playing piano, and romance, but he would never admit his enjoyment of romance to anyone. He plays many musical instruments, but he can play the piano by ear, which he cannot do with other instruments. He gets a bit lightheaded when seeing his blood, but a few words can snap him back to reality quickly. He has a tendency to speak in latin when troubled, but usually he doesn't have to worry about that due to most not knowing Latin. He has a way of making people doubt their beliefs, morals, and overall way of thinking, which can prove useful on the battlefield. He studies history greatly, wishing to learn from past mistakes and not make the same. His strategies may seem flawed, but he carefully plans out things down to the last detail. His notebook is where he keeps his important knowledge upon the many other nations, using said knowledge to aid him in making plans. A few examples of when he is genuine, nice, sincere, and caring are; when he is exhausted emotionally or physically, when he is with his sister; when playing piano; or when near his current love interest. He plans on making himself be an enemy that everyone will try to stop: therefore uniting his allies and enemies with a common goal. He knows that his plan will probably work due to human nature being at its peak when under tragedy. He doesn't plan on dying, but he does have a backup plan in case his inevitable death comes upon him early, which it probably will. He can be a monster and genius when fighting, employing similar tactics as Hannibal and ruthless attacks. He wishes to, "fix the world" as he puts it, yet he knows that his actions will forever be biased.
Bio:
Nationality:
Metargo
Unit:
N/A?