Name:
Elisabeth Quell
Gender:
Female
Age:
17
Height:
5'3"
Occupation:
Soldier (Enlisted)
Appearance:
Bright pink hair and pink eyes. Eyes change color to red when angry. Other than that, she is quite pretty.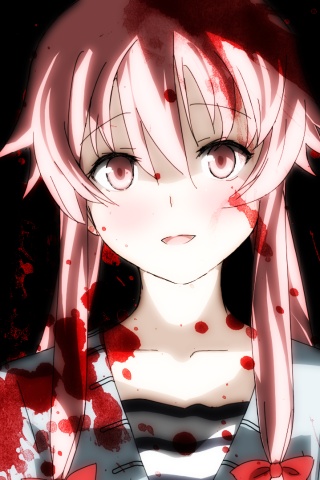 Rank:
Private
Personality:
Bright and cheerful, almost always humming some obscure child's song. If questioned about her past she thinks deeply for a minute before looking up cheerfully and replying with a cheerful 'I forget!' In combat, she will see the war and the damage that will remind her of the bombing, and go into a strange rage state. She will listen to orders, but will follow them in strange ways. If told to defeat an enemy, she will dispatch his entire squad before finally killing him, or if told to watch for enemies, will inform the commander of the intruder by bringing him his body.
Bio:
Born in a laboratory, Elisabeth was supposed to be a guy, but a mistake was made by the geneticist. She was kept for testing for various drugs, but another mistake put her into combat training. She quickly defeated her peers on the charts, quickly finishing challenges that normally took a minute in fourty seconds. Her amazing reflexes and quick thinking was not hampered by the massive amount of training given to her rather small frame. The lack of any real family was mostly abolished by the other genetically made children and professors. By the age of 15, she was deemed available for combat, as she was dodging bullets and crushing cans with one hand at that point, but that opportunity was shot down when the genetic center she was in was destroyed by a bomber, and she was taken by Mysticaran soldiers. The deaths of her 'family' damaged her mind terribly, but compensated by forgetting. She 'talked' a general into letting her join the armed forces. She uses a hand ax to dispatch foes, which has been magically enhanced for more slicing capabilities, slicing through most varieties of armor. She was assigned to the Green Golem Riders because the general disliked the commander, so hoped that she would mess up his ability to lead and possibly get demoted or killed.
Nationality:
Metargo
Unit:
Natrulkra Tribal Force, Green Golem Riders, Air and Ground Party