Name:
Leonardo Metargo
Nickname/Alias:
Leo:
The name his sister and mother call him.
The Silk Princess:
A name people call him mockingly behind his back due to his feminine and frail appearance.
Crown Prince Leonardo:
The name that he requires all others to call him.
The Red Prince of War:
The name given to him after he commanded his first battle. Leonardo wins battles, decisively, and always massacres the opposition. "A dead enemy is one we will never face again. A live one will come back to haunt us."
Gender:
Male
Age:
24
Height:
6'1
Occupation:
Crown Prince/Military Adviser/Prince-Commander
Rank:
Prince-Commander (Much like a General.) The rank was originally just an honorary one, but Leonardo has used it as a true title using it to secure military forces and continue the war under his view. Leonardo has proven himself to be a capable leader and a brilliant tactician, some say that few men can match Leonardo's skill in strategy. He is not the sole-commander of the Metargo forces as that role resides with his father, merely a large figure in it, but a figure that is gaining influence and power with every battle.
Unit:
The Prince does not have time to remember every unit under his command.
Mech:
A highly customized LK-8 Mycenaean.
-
Color:
Unlike other Mycenaeans which tend to come in only gray, Leo's has been repainted into the colors of the Metargo family with bright reds and golds. The Helm has golden engravings on it to further make him stand out within the army.
-
Equipment:
Beam Short Sword, Flight Engine, Round Shield, Beam SMG, and Blaster Spear, but his Blaster Spear has a banner of the Metargo family waving from the tip (Akin to a Medieval Lance). When held up, Leo uses it to rally the nearby soldiers. Leo does not have rocket launchers in his Mycenaean, instead the space that they take up was used for an incredibly powerful prototype AI called 'Sareena' and a tactical display allowing Leo to monitor the battlefield and issue commands to the entire army from within his Mycenaean.
Appearance:
Leonardo looks incredibly feminine, he has long spiraling silver hair, long, thick eyelashes, a gentle arching brow, and long thing fingers. His skin is pale as snow as if he has never seen the sun. His eyes are a dazzling, yet soft, green that appear almost gold when struck by sunlight. Leonardo is a tall and very thin man standing at 6'1, but make no mistake, Leonardo has very little muscles on his body, and he is not one of those 'thin with muscles' that many scrawny men tend to claim. His chin is always shaven, and comes to a sharp point that he constantly rest in his right hand as he thinks.
Personality:
"I am a prince. I am not allowed the luxury of a conscious."
Leonardo is a hard man to explain for he is two men: Leonardo the Crown Prince and the real Leonardo. Before all else, Leonardo takes his duty as a prince with the utmost dedication. He is regal, and proud. He is soft-spoken, and strong hearted. He is cruel, and he is just. Leonardo strives to be the ultimate man because he wishes nothing more then to make his nation, his people, and his family happy, but this desire for acceptance comes from years of being seen as a mere nuisance. Leonardo will destroy and entire nation, burn down every home in Mysticara because that is his duty, and Leonardo will never allow himself to fall, not until his ambitions are realized. The ambition for a unified world under the Metargo banner where wars will no longer be fought by children. A new world will be born and Leonardo will die before he sees that dream end. The 'real' Leonardo is a soft man, the type of man he is mocked for. He prefers to read then fight. Leonardo would rather sit in the gardens with his little sister and mother watching the clouds float by then command soldiers, but it must be done. Leonardo knows he looks weak, and he often feels weak and helpless as he is neither physical strong, skilled in combat, nor a skilled pilot, but despite that Leonardo leads from the front while displaying a visage of calm, controlled confidence because if he is not willing to lead the charge, how can he expect others to follow him?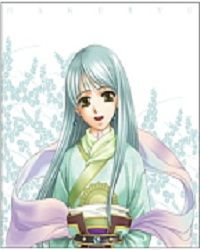 Bio:
Leonardo was born into the Metargo royal family, but he never felt like a true Metargo. The Metargo's are strong, and yet he was born with a frail body. As a child, he never understood this and was quite happy to be fawned over by the maids and nurses that came to visit because all children yearn to be loved, but that ended when he started to notice the snide glares of the men and guards of the palace. He was weak. A worthless son to a noble lineage. Silk Princess. That was what they called him. Never to his face, but he could always hear them whispering in the hidden coves of the palace. Silk Princess. Despite his frail body, Leonardo threw himself into martial training, but never had any aptitude for it. And every time the master of arms knocked him to the ground, he could hear it. Silk Princess, and he knew that somewhere in the palace stood his father. Looking down on him with those strong eyes and though he never said it, Leonardo knew he thought it as well, Silk Princess.
But there was hope for the fair prince because he possessed an incredible mind. The mentors lauded it as a mind the likes that only appeared every few centuries, but it was fitting for such a boy as Leonardo. Mathematics, Science, Astrology, Languages, Writing, Philosophy, History, and, or course, Strategy. Leonardo absorbed information like a sponge, but more then that, he retained his knowledge. He had what people referred to as a photographic memory able to recall the smallest of details from the vaguest of memories.
Yet, he was still the Silk Princess, but he was also the Crown Prince. What once called him to stay awake at night crying himself to sleep, now only had him lift his chin and don silk robes. He would armor himself in his weakness for then it would become his strength. He never allowed his true feelings to surface; he repressed it all in the effort to become the 'prefect prince' that Metargo deserved, and then the war began.
At first Leonardo stayed out of it as his father fought battle after battle and the people began to whisper about how the Silk Princess wet the bed in terror at facing the enemy, and while Leonardo kept his head high, his heart sunk further and further with each remark until finally, he entered the war himself. At first, his father balked at the idea and the prospect of losing his heir, but Leonardo pulled his rank of Prince-Commander and commandeered a battalion, and at the Battle of Shakon Pass, Leonardo ambushed a Mysticara army. The blood and carnage nearly made him puke, but his iron-hard composure won out as the battle ensured, and when the Mysticaraians fled for their lives, Leonardo gave the order. Kill them all. Leave none alive, and so the Red Prince was born.
Nationality:
Metargo