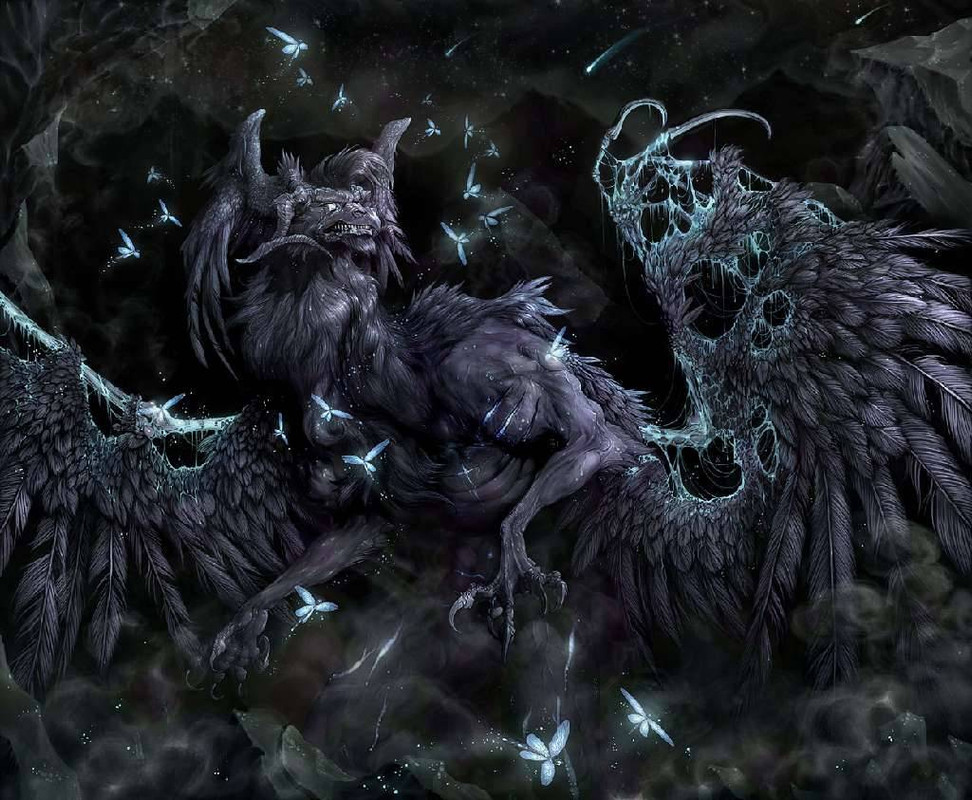 Name:
Editus Rayn
Age:
???
Gender:
Male
Species:
Shavur
Height & Weight:
Humanoid Form:
6'5", 210lbs
Dragon Form:
60ft, 150ft wingspan, 21,300lbs
Profession:
Ex-Alpha Beast
Additional Details:
Often seen with some form of black feathers, and some presence of blue "sprites" that give off hollow chirping sounds.
Personality:
Cynical, vindictive, intelligent, and condescending, he is a being who shows no desire to hide his nature, or his hatred. Rare escapes a positive word from his lips, and care is to be taken when he does so. He holds a rather dim view of the world, and the people who reside in it. His ultimate goals, however, were always shrouded, and he has made few friends among his own kind.
He constantly seeks some "righteous man" to be his enemy.
Strengths:
Determined, he will seek to overcome any obstacle that comes his way without wavering as long as it meets with his goals. Physically extremely strong and possesses immense magical power.
Flaws:
As intelligent as he is, he is very reckless and arrogant, given to bouts of thoughtless abandon when angered. His regeneration also has a limit, and considerable blood loss as well as stamina can take a toll on him. A significant chest wound or neck wound could theoretically still kill him as any other creature.
Magic/Abilities:
Having enormous energy and power, his physical strength and healing factor are extraordinary. He possesses impressive speed and agility, as well as ability of flight with his massive wings. His claws, as well as tail and wings in his full form can all be considered deadly.
He has a particular form of strange magic that influences his surroundings passively with a life of its own, small ghostly creatures of blue fire-like energy dancing about, emitting small hollow chirps. The sensation of the air becomes immediately dense, upsetting, as the surroundings begin to seem ignited in a blue fire, and. For the weak and susceptible, memories of past trauma, anger, and guilt may bubble up, but only from direct contact with Rayn can these become visions, as it creates a direct exchange between the victim and Rayn. From touch, Rayn can glean a bit about a person, but only the worst parts.
When concentrated into an attack, the sensation has been described as a "burning freeze," as mana ignites and creates a chain reaction, looking akin to fire, but having a deadening sensation of cold, with a destructive force to rupture structures. He also possesses a kind of "yell" that manifests as a beam of force, akin to the one used by the Red Tide but not quite as powerful.
Gear:
Black coat and pants, able to generate a blade from his energy.
Brief History:
A dragon-like creature known of since medieval times, known for his gleaming dark feathers and "midnight wings," that would "blot out the sun." He is noted as the cause of early conflict between the races, however, he was not very active throughout the ages until recent years. Before the rise of Red Tide, he was the one that challenged the world, the creatures all gathering to the once-alpha. He showed power that was barely matched by any other monster, destroying fortified structures and striking down hunters that attacked him, to make his point known: I am strong, and I am to be feared.
"Send me your most righteous," he said to the greatest of nations. "Let me see for myself what glory's worth."
This would not come to pass, as shortly after, the world was shook by the awakening of Red Tide, and the status of Rayn was quickly threatened. Despite his attempt to retain his position as "king" by challenging the serpent in an onset of rage. It is easy to assume that the result of this conflict was far less than favorable for the dragon, but it is presumed that he survived.