Name:
Selesynia DuNalthis
Age Group:
The younger side of the Second Age
Gender:
Female
Height & Weight:
5'6", 115 lb.
Morphology:
Truncamorph - When Selesynia's first dream manifested, it destroyed her hands and feet, leaving strange, glowing holes where the limbs would be. She moves about and interacts with objects using telekinesis.
Appearance: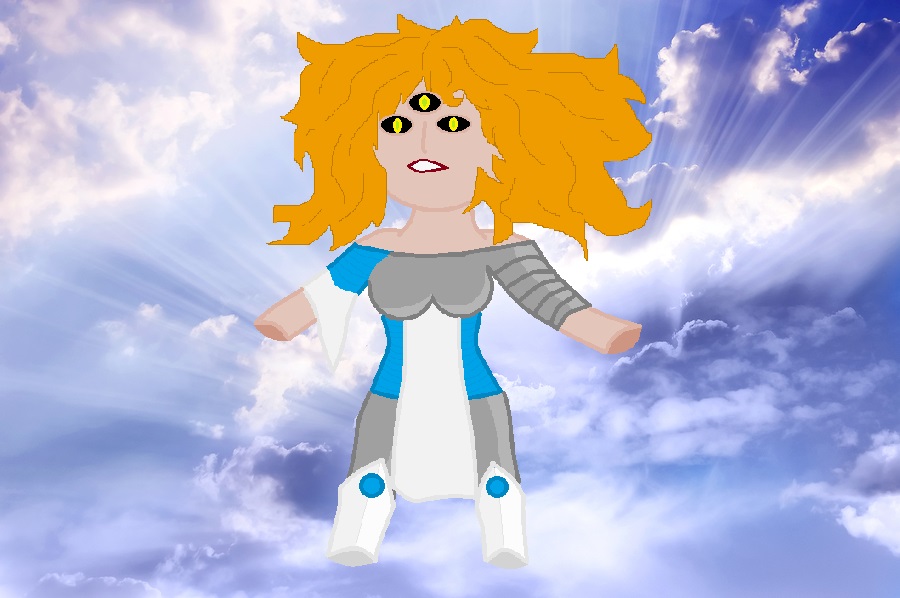 Profession/Hobby:
Missionary of the Light
Magic/Abilities:
Selesynia has many useful abilities. She is a telekinetic, able to move objects - and occasionally creatures - with her mind. Using her telekinetic abilities is done at-will with no drawbacks - without it, she wouldn't be able to do anything! (See Morphology) She also has light manipulation; she can generate light from the cavities within her wrists and ankles. Uniquely, this light can be generated in one of four forms; plasma (regular light), gaseous (a cloud of a neon-like substance), liquid (bright streamers of glowing liquid), and solid (basically laser beams), though she uses this last one rarely, as she abhors combat. She will only use it in self-defense, and even then only if the need is dire.
Gear:
Selesynia wears armor made of a mixture of banded steel plates, cyan leather and warm, white cloth. The outfit makes her look like a cross between a justiciar and a saint, and is for self-defense. She also has a satchel that contains parchment, ink, important letters, travel rations, a waterskin, etc.
Brief Bio:
Almost celestial in her beauty, compassion and mercy, Selesynia is perhaps one of the most kind people in Memoria. She goes out of her way to aid strangers, and always tries to see the best in people. This can make her rather naïve at times. While she is sweet-hearted, she is no smooth talker; having lived an isolated childhood in a monastery of the Light hasn't really taught her many social norms. There are many things she doesn't really understand about the world. One thing is clear, however; while she does agree with the Harlequins in that there is a plague upon this world, she believes that the best way to vanquish it is by defending the weak and showing them mercy, rather than killing those deemed heretical. While she is accepting of those who do not follow the Light, she often subtly tries to get people thinking in the ways of her religion.
Extra:
Theme Song: Rain