"Hi! You wouldn't happen to have anything sweet would ya?"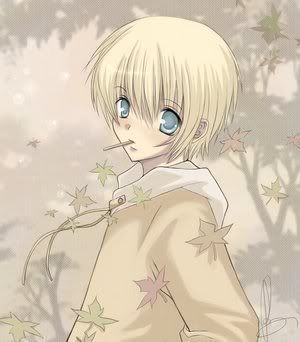 Name: Benny
Age:11
Gender: male
Pref: gay
height: 4'9
eyes: silver
hair: light blonde
background: American but is fluent in French
likes: candy, desserts, books, getting his head rubbed
Dislikes: bullies, mean people and vegtables
personality: Benny is a sweet, caring child. He always puts others before him. Benny calls girls older than him "Sis" and is shy around men. Benny has another personality when he gets threatened or scared. The dark side of him comes out and Benny acts sly, cruel and speaks his mind to the point of rudeness.
Habits: He always has candy in his mouth. They only time he doesn't is when he sleeps or eats something else.
Fears: Thunderstorms and sharp objects
aspirations: to be near any place with candy and sweets
Job: Benny was in elementary school before Nazofound him, so he didn't have any jobs yet.
Bio: Benny's mother left him and his father at an early age. His father is a doctor so he never let Benny eat anything fatty or with sugar. Benny knew at an early age that he was gay and because fo that all the boys in school bullied him and called him gross. The girls in his classes understood him, so he mostly just hung out with them. Despite the few caring friends he had, Benny was still miserable and decided to run away with nothing but a journal, a pen and candy. A storm soon started not long after his journey away from home, and Benny didn't know what to do, so he decided to hide under a tree for shelter. Suddenly a bright light flashed and everything went dark. Benny then found himself on the ground, his feet and hands tingling. His head felt like it was ringing and weighed a thousand pounds. When Benny got up he saw the door in front of him and (being a child full of curiosity) opened the door and walked in. Benny now helps out at the cafe as a bus boy and greets all the people with a sweet and smiling face.