Kaguya Iyato
"I enjoy being a solo artist as well as the life I've had but for some reason since I woke that day - Something feels a little off - As if I've forgotten something"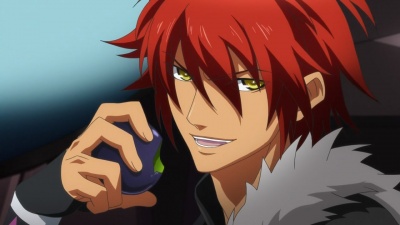 Age:
21
Gender:
Male
Pref:
Straight
height:
174 cm (5'9)
weight:
140 lbs.
eyes:
Gold
hair:
Red medium length wavy hair.
background:
Japanese
likes:
Guitar
Music
Cheesecake
Martial Arts
Cigarettes
Dislikes:
Thinking of the past
Being cheated
Things being too quiet
--personality--
Kaguya Iyato can often seem as if he is cold to those who don't actually know him but opened up or those who are closer to him, he has a more caring and kind, he is also very playful personality. He loves to play his guitar if nothing else is really going on. Naturally is shown when he plays it during the time of visiting the cafe. Kaguya often trains among himself at his place from what he remembers and naturally loves to skate. When it comes to romance, he often is a little shy and a little cold but sweet in his own way, he tries to retain being playful but sometimes his shy style keeps that from happening. In reality, His everyday activities were normal yet his personality was a little more kinder and open to the general public.
Habits:
Doesn't sleep until at least midnight.
Smokes hourly unless asleep
Naturally carries a acoustic guitar when not at his place.
Fears:
Losing everything he cares about.
aspirations:
To be around his music and the those he cares about.
Job:
Kaguya was a guitarist for a local rock band. In addition, he played some shows solo with his acoustic guitar.
-Bio-
A week night before Kaguya's last concert in the "Real" world, his girlfriend broke up with him. After being together for 3 years and bound to propose a shattering ending came upon him. During that week everything seemed to turn around, He had 3 gigs during the week and on that friday after his last single gig was the time when he was give his proposal but alas shattered. He didn't even attend the gigs and all he seemed to do was drink and smoke in an empty apartment room with the note in front of him. It was only saturday night when his concert in the dome of the city which was going to be the gig that gets him and his friends touring. It took his band to pull him together for that night but alas after a decent performance since he couldn't think or play straight (or as good as he naturally does), He was removed from the band. This immediately ended his motivation. It was late after the concert, possibly 2 a.m. when he moved to the edge of the bridge when no one was present and let himself fall from the bridge. His eyes squinted beginning to close until he suddenly blacked out seeming as if he hit the water but only to awaken in Nazo with no memory of what happened. He awoken with a different past, the girl wasn't there, He never joined a band but was still a solo guitarist. and no memory that made him particularly sad but felt things were missing. Paying no mind to such things he only believes he's 21 although 38 years passed. Kaguya naturally visits the cafe in the morning with his guitar and plays it when no one is talking to him and seems to have a normal life playing his guitar having gigs among Nazo. He's not quite sure if he wants a band but he does know he's happier then he has ever felt here.