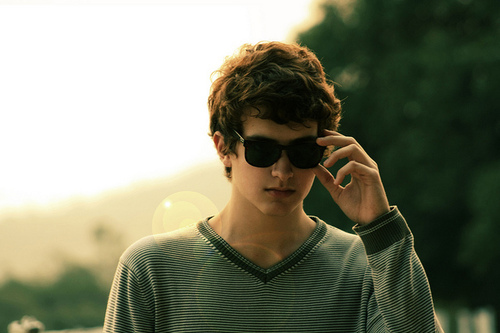 Samuel (Sammy) VisbaldAge and Birth date:
Seventeen, so glad you asked! My birthday is on the eighteenth of January.
Grade:
A senior, of course!
Classes:
AP Music Theory
Political Science
AP English Composition
AP German
Free
Dance (Hip Hop) 3
AP Piano
Free
Defence against other Powers
Ability:
Manipulate Cause and Effect-
He has the ability to manipulate any process of cause and effect started by himself. He can toss a penny in the air and cause a car accident in which only the one person he wants dead dies and everyone else gets away perfectly safely. Of course, there are very few limits, for example his ability cannot reach into a process in which the cause was not himself and his ability forces a mental toll on him, one that will eventually drive him over the edge of very little mentality left if used in excess.
Bio and Personality:
Personality – Normally Sammy (Oh God this is gonna confuse me) is the sweetest, annoyingly so, person you will ever meet. However, that is only if he has any interest in you what-so-ever. Unlike, Sam (…Gyah) who is blatantly rude, it doesn't matter what you do he will be completely ignorant of your existence. You could cause him harsh pain and he will still ignore you, however he may go one step farther and be the cause to your death. This is because of his second personality formed by his ability, Adiel.
Adiel is an exceedingly dark person who enjoys tossing coins in the air just to watch the process unfold before his eyes. Once Sammy crosses this line very little can return him to 'himself'. Sam is one of the few things that can draw him out (whether she knows it or not) her ability of possession forces his alternate personality into its dormant state again allowing Sammy to return to himself (thus this is the reason he is completely obsessed with her)
He fears Adiel and what he is capable of. However, there is very little anyone can do to help him. There are medications he has tried but the side-effects make it so everything he does causes some-kind of drastic effect. It isn't a matter of controlling his power, rather it is a matter of controlling 'himself'. For this reason he clings to people that can interfere with his ability and thus Adiel. Whether it is for a good or bad intent is questionable.
Both Adiel and Sammy have a passionate love of music and dance, though Adiel is more the dancer while Sammy was more the musician.
Side note: He is literally the best gambler ever. Also, Adiel somehow managed to fall in love with Sam's voice although, both Sammy and Sam have yet to figure out how he heard it considering Sammy has never heard Sam's voice. (AKA: Adiel is in love with Sam and thus is a further drive to Sammy to bother her to no end.)
Biography – Samuel hasn't had the easiest past, his powers became more prominent as a little kid. He found that anyone he couldn't stand was easily taken care of with a vivid imagination and an eraser. However, over time he began to realize that there was a second voice in his head that wasn't his that was directing him to do what that voice wanted with that ability.
Then one day, with a toss of a coin he caused the accident of the man who he had an affair of his mother and that resulted in that man's death. A psychologist immediately hinted that he may have had something to do with it. He, of course, got away with it. After all, how could a coin cause an accident? His mother thought sent him to this school as soon as she could in hopes the person known as Adiel could be 'taken care of'. So far it has been vastly unsuccessful.