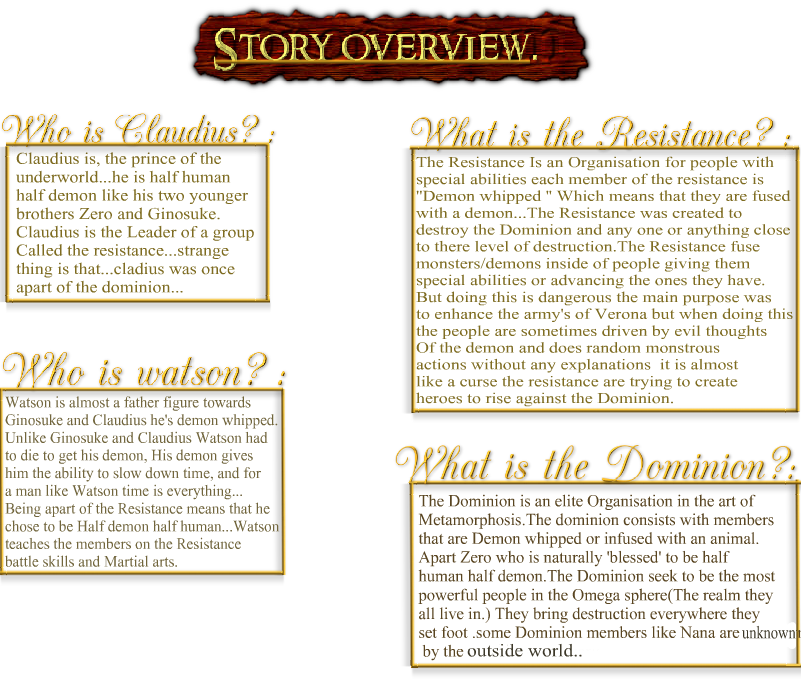 ''Fiora was killed'' Or maybe there is something more dark to this tale...
*First stage of Metamorphosis:
An animal and the transfer body must die.
*Second stage of Metamorphosis:
The animal is then infused inside of the human corpse.
*Third stage of Metamorphosis :
The animal and the human be come one and form a ''Mutant''.
Character pick:
-----------------------------
The Resistance:
Claudius Moto:
Taken by RidiculousPoems
Age:18
Gender:male
Role: Leader of the Resistance.
About the character: Rude, greedy (especially with food), strong, Caring towards his brother
when no one is around, strong willed and loved by many women.
Claudius is very deceiving you never know what he is thinking...
''He killed Fiora, I WANT HIM DEAD!.''
Claudius is intelligent all of his actions, have a valuable meaning,
but can he really explain murder? to be acceptable...
Watson Renard:
Taken by code6435
Age:26
Gender:male
Role: Resistance Sensei (Teaches the Resistance battle skills ect.)
About the character: Caring, Perverted, Entertaining, Passionate,Hilarious, Strong, Secretly cold hearted
(which is sometimes noticeable.)
Watson has many secrets...Can he really be trusted?
He has taken care of Claudius for a while now but Watson the master of
disguise...could be plotting against Claudius...for his own good.
The father figure could he really be so evil?
Ginosuke Moto:
Taken by Krillen
Age: 10
Gender:male
Role: ''The Brains''
About the character: cute, caring, powerful, genius, Entertaining, Hilarious, naive
Ginosuke is underestimated by them all!!!
This kid has monstrous power he's even a threat to himself,Ginosuke
wants to have fun and play and is easily deceived, He is in charge of battle strategy.
Don't get on his bad side...
-----------------------------------------------------------------------------------------------------------------
Others:
(Infused with a cat)Fiora Anderson:
Taken by Tessla
Age: 15
Gender:Female
Role: ''The so called dead girl! the cause of the upcoming war.''
About: Insane, Stupid, Kind, Sweet, hilarious, Powerful
Fiora was apart of the Metamorphosis project, that the Dominion managed Fiora is the daughter
of the leader of the Dominion and was ''killed'' by Claudius...
Fiora is in love with Claudius so much it drives her insane so insane that she would kill anyone,
who stands in her way stopping a possible relationship she desires with Claudius...
Princess Sora Ryang:
Taken by EternalSonata.
Age:13
Gender:Female
Role: Secret princess of Verona.
About: Petite,Intelligent,Sweet,Kind,Friendly,
SHY!
Sora was sent to live with some relatives, after the dominion
threatened to kill her.Seto was prince at the time and vowed to his,
little sister that Verona would be restored back to its natural beauty.
Sora studied medicine as well as basic survival skills. she found a letter,
from her brother dated back to when she was just 3, the letter had asked;
that sora stay there to be away from the dominion.Seeing this Sora cut
her hair changed her appearance and ran away, she set of to the kingdom of
Verona bumping into Ginosuke along the way...
King Seto Ryang:
Available
Age:27
Gender:male
Role: King of Verona.
About: naive, Loves children, stupid,hilarious.
King Seto Is a gentle and kind man who thinks of nothing but peace, and will go to any costs to ensure the safety
of Verona he...He might even sell his soul...
Many years ago he sent his younger sister away for safe keeping and gets news that she as gone,
from safe keeping he makes a 10,000g reward to anyone that can return her to him.
(keeping her identity a secret of course)
Queen Layla Ryang:
Taken by Iezobel
Age: 24
Gender:Female
Role: Queen of Verona.
About:
She is a beautiful misunderstood woman who dreamt of being more than just a queen she could be useful
towards the resistance maybe even the Dominion...
----------------------------------------------------------------------------------------------------------
Dominion
Kaname Anderson:
Available
Age:37
Gender:male
Role: Leader of the Dominion
About: Cruel, heartless murderous
He will destroy anything which stands in his was I guess that's where his daughter gets it from.
Kaname will stop until the kingdom of Verona are filled with intoxicated mutants..
Nana Sutā :
Taken by xLithium
Age:9
Gender:Female
Role: The inventor
About: Genius,Cute,Friendly.
Nana has always been eccentric and talented in computer science, she's a 'smarty-pance' who has no
Idea how to have fun.In love with King Seto...(Yeah I know it's messed up x'D.) ...She does not
get along with the queen! and always harasses her out of pure jealously but you can't hate her,
it's just the way she was brought up by the dominion she does not know right from wrong...
her so called best friend Zero killed her entire clan and she has no Idea about it....
She talks to her demon Vegeta often and is the first person to be able to tame her demon...
Zero Moto:
Taken by TheSanctuary
Gender:male
Age: 15
Role:Assassin
About: Strong,Cruel,Over protective,Quick thinker.
Zero has taken it upon him to protect Nana that is the only reason he has
betrayed his brothers and joined the Dominion.Zeros demon sometimes takes,
full control of his body and does monstrous things...Things like destroying clans...
--------------------------------------------------------------------------------------------------------------------
To be apart of the dominion:
(Make sure to state that you are apart of the dominion if you are.)
When you create additional characters they must be either apart of the dominion or apart of the Resistance...
Additional character may only be created once the roles of these characters are taken.
1. All deaths must be deemed fair by the Gm of the role play.

2. No random kills.

3.Respect everyone.

4.Stick to the storyline...

5.When Occ use the Occ section.

6. No god modding keeping it fair

7.When role playing we don't need a lecture, you can write as much as you desire just don't drag it on and on...

8.Have fun ;D.
Setting
Characters Present
Tag Characters »
Add to Arc »
''G-Gin...I-I...''
Ginosuke was in shock whilst Sora tried to force words, out of her mouth.As he looked down at Sora, Ginosuke began muttering the words ''You...You don't have to say anything.''
Tears formed in Soras eyes, but she battled to keep them away although she was so restless she wanted to stay wide awake with Ginosuke
''Gin...''
Ginosuke stared at her before giving her a reassuring smile and saying ''You should try and rest Sora.''
Sora Suddenly took Ginosukes hand with a look of determination which danced, in her eyes and spoke these words softly ''When I save Verona...I'll never forget you no matter where I go.'' Ginosuke slowly took Sora's hand and said ''Why is it that you care for Verona so much?''
---
Arcs are bundles of posts that you can organize on your own. They're useful for telling a story that might span long periods of time or space.
''Why is Ginosukes sleeve covering your leg?''
''Why on earth is he so afraid of you?''
Fiora's friend Ginosuke has just told her that he wants her dead.
There are no quests in this roleplay.
Here's the current leaderboard.
There are no groups in this roleplay!
Welcome home, Promethean. Here, you can manage your universe.
Arcs are bundles of posts from any location, allowing you to easily capture sub-plots which might be spread out across multiple locations.
You can create Quests with various rewards, encouraging your players to engage with specific plot lines.
Settings are the backdrop for the characters in your universe, giving meaning and context to their existence. By creating a number of well-written locations, you can organize your universe into areas and regions.
Navigation
While not required, locations can be organized onto a map. More information soon!
There are no groups in this roleplay!
By creating Collectibles, you can reward your players with unique items that accentuate their character sheets.
Once an Item has been created, it can be spawned in the IC using /spawn Item Name (case-sensitive, as usual) — this can be followed with /take Item Name to retrieve the item into the current character's inventory.
Give your Universe life by adding a Mob, which are auto-replenishing NPCs your players can interact with. Useful for some quick hack-and-slash fun!
Mobs can be automated spawns, like rats and bats, or full-on NPCs complete with conversation menus. Use them to enhance your player experience!
Current Mobs
No mobs have been created yet.
Locations where Mobs and Items might appear.
You can schedule events for your players to create notifications and schedule times for everyone to plan around.
Add and remove other people from your Universe.
The Forge
Use your INK to craft new artifacts in Metamorphosis: Chapter One. Once created, Items cannot be changed, but they can be bought and sold in the marketplace.
Notable Items
No items have been created yet!
The Market
Buy, sell, and even craft your own items in this universe.
Market Data

Market conditions are unknown. Use caution when trading.

Quick Buy (Items Most Recently Listed for Sale)
Discussions
Topics

Replies
Views

Last post
Most recent OOC posts in Metamorphosis: Chapter One
There have been no posts in the OOC topic for this roleplay!