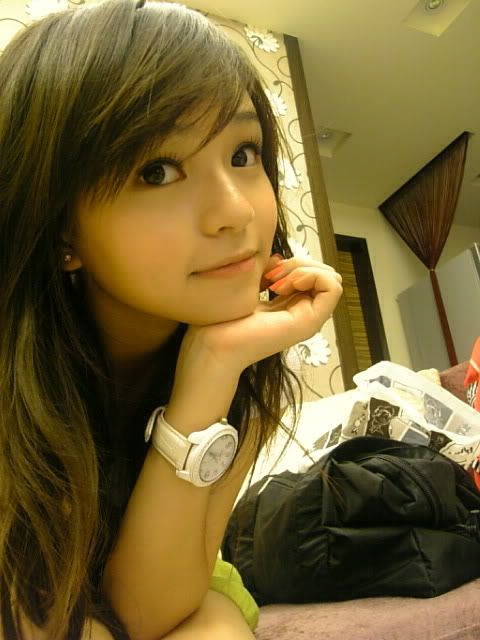 Dominique Lee
Age:
13
Grade:
7th
Gender:
Female
Ethnicity:
Korean and Japanese
Physical Description:
Height:
5'1"
Weight:
117 lbs.
Eye Color:
Dark Brown
Hair:
Dark brown gradiating to golden brown at the tips.
Clothing Style:
Dominique prefers to wear large, baggy, hoodies with tights/leggings or skinny jeans and high tops. She's not too fond with skirts and dresses, or anything else too revealing. If she's at the beach, she'll
probabyl
wear short shorts, but with a large shirt. She also loves to match and tends to buy a lot of jewelry.
Personality:
Dominique is shy and quiet. Because of that, she sometimes appears to be socially awkward, but that's only if she's uncomfortable around you (which is almost never, at least to a stranger). She lacks social skills and is ignorant towards anything related to 'crushes' and whatnot. She may stutter here and there but rarely blushes. She also likes to keep to herself and although she tries not to, she may get a bit too nosey. Not only that, but you can sometimes read her like an open book, and sometimes you can't. She can barely keep a straight face though unless it's a serious situation. Dominique has a thing for martial arts, too, and won't be afraid to hurt someone if she's being pressured into doing something she doesn't want to do or being hurt, although she's totally against violence. Other than that, she's all smiles and sunshine.
Likes:
Laughing
Peace and Quiet
Drawing
Being Comfortable
Soft things
Food
Animals
Nature
Martial Arts
Dislikes:
Being hungry
Cinnamon
Tension
Getting scolded
Intimidating people
Attention
Loud and obnoxious jerks with huge egos.
History:
Dominique is the daughter of Lee Jong Min and Lee Ume. Her mother is a proffessional gardener and fashion designer, and her father works for Bill Gates. She was born in Busan, South Korea and came to the U.S. when she was six.
Growing up, her parents were very protective of their only daughter and have always told her to be careful and to never to speak to any strangers. They warned her to be cautious when making friends because they could just be after her money since she was practically filthy rich. Because of this, she barely talks unless spoken to and has trouble socializing. She doesn't tell people who her parents are or where she lives either. Since she doesn't socialize a lot, she's never been in a relationship before so she's very ignorant when it comes to her about anything related to potential interests. Besides, if her father sees a boy hug his daughter, he's gonna' make sure to make that guy's life a living hell.
Other:
Dominique tends to write on her hands a lot whenever she comes across a pen that she likes. Another habit she has is that whenever she's nervous about something, she usually plays with her fingers. It also irritates her when people pull her hair. She also does things depending on her mood.
Dominique recently joined Tae Kwon Do and is only a green belt so far.