---
---
Full Name:
Mason James Caspar Jr.
Preferred Name:
Mason
"But apparently that doesn't stop people from calling me Cassy."
Ethnicity:
Caucasian
Birth Date:
December, 6th
"I'm not fond of birthdays..."
Age:
25
"Shit, where has the time gone?"
Sexuality:
Pansexual
"Love is love, whether your a man, woman, or someone else entirely."
Role:
Six
Skills:
Piercing, Playing Guitar, Organization and some people like to say he has the skill of Bitching at people to keep them motivated.
"My talents lay primarily in my art, but other than that I've been playing guitar for a while and while I'm not sure its particularly a skill I'm good at keeping things organized."
Art Type:
Peircing
---
---
APPEARANCE
Height:
5'8"
Distinguishing Marks:
Snake bites, Septum piercing, Plugs and a whole lot of tattoos.
Mason doesn't work out as often as he should but its still obvious that he has muscles and is quite strong. He stands at 5'8" with a more stocky build to him. He usually wears black clothes, and most of the time his shirts depict some brand of alcohol or a band. He likes to keep things simple, and doesn't really care about appearances or anything. He keeps his hair short in the back and longer towards the front, with his bangs often falling into his eyes. He doesn't dye his hair as much as he used to when he was a teen, but every now and again he likes to throw in random colors. Though currently his hair is just black. He has been known to wear make up at times, though recently he finds himself being a little too lazy to make it a routine thing.
---
---
PERSONALITY



Most famously known for being stoic, and just a little bit distant. It isn't like he doesn't like people or doesn't feel emotions, its just that he usually doesn't show either unless you are really close with him. He is a very collected individual, and doesn't ever really let anything get under his skin. If something bothers him he will say so up front. He isn't a beat around the bushes kind of guy and certainly wont sugarcoat anything for anyone. He is extremely protective of his friends and family, and is known for being bitchy when they deliberately put themselves in harms way. He is both strong of mind and strong of body. Mostly though his mental strength is in his stubborn, unmovable nature. Trying to change his opinion on something is nearly impossible and trying to get him to do something he doesn't want to do is like pulling teeth.

Usually he is pretty good at keeping things running. He has a way of making sure others are doing what they need to be doing. And even though he is a bit stiff he isn't really a boring guy. He likes to have fun just like anyone else and when he's having that fun his inhibitions usually get tossed out the window. He is whats known as a cuddly drunk. And if he's had too much to drink he turns into the crying-crying-all-over-you drunk....So yeah, he usually tries not to party too hard.

He mouths off a hell of a lot, and has been known to make others cry because of it. Even if he doesn't actually mean to do so. When he thinks something isn't right he will usually do something about it, and is known to jump into situations that don't necessarily involve him because of this. He is rather intelligent, and uses it to make sure things are running smoothly in the shop.
---
---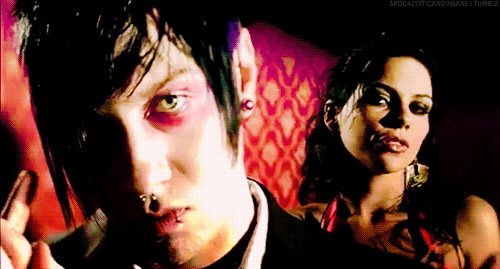 HISTORY
Its probably fair to say that Mason grew up in a rather...difficult home. He is the oldest of four, and as the oldest it was pretty much his job to take care of his younger siblings and kick the asses of anyone who messed with them. His mother worked two jobs to make sure they were always fed, so Mason usually was stuck babysitting or toting around his younger siblings until they all got old enough that they could take care of themselves. His father being in the picture probably would have helped out a lot but unfortunately he died when Mason was just eight years old (His sister was six and his brother was four.) He never really got to know his father, but he does remember that his death affected him horribly and for a long time he refused to speak to anyone besides his Aunt Nikki.
At age twelve even more tragedy struck, his Uncle died of an overdose. It was a devastating loss for the entire family, as Uncle Jimmy was one of their closest relatives and a frequent guest in their house. He also happened to be a single father attempting to raise his daughter without any help, and unfortunately Jimmy was already fighting a loosing battle with depression. Mason's mother fought hard to take custody of Jessie, having to undergo extensive investigation since her fathers death was from a drug overdose. Eventually custody was transferred to Mason's mother.
Mason grew up from then on also taking care of Jessie, who became very attached to Mason and as they both grew up they shared many things in common. They never really brought it up that Jessie wasn't Masons biological sister, because they were family anyways and Mason would do absolutely anything for her. Things got better as Mason grew older, he had gone through with high school and was ready to set out in the world.
He moved out of his family home and into an apartment of his own on the cash he saved up from a burger flipping job at a local chain restaurant. It wasn't until much later that Jake approached him with the crazy idea of opening up the shop, and just like that Mason went from flipping burgers to piercing.
---
---
Relationship Status:
Single
Family and Friends:
Even though he may not show it he considers everyone at the shop his friend
Jake Masters|| Best friend, they are really close and have been that way for a while.
Pamela Caspar (Mother, 49)|| Not-Close, she was never really around but they have a tentative relationship now.
Macy Lawson (Half Sister, 23)|| Were constantly at each others throats when they were growing up, and they still are.
Oliver Caspar (Half Brother, 21)|| Recently their relationship has been strained, mostly due to the fact that Oliver is in prison for armed robbery.
Jessica "Jessie" Caspar (Adopted Sister, 14)|| They are extremely close, Mason would do anything for Jessie and dreads the day she starts actually acting like a rebellious teenager - because he just knows it isn't going to be pretty.
Nikki Force (Aunt, 43)|| His number one confidant when growing up, they are close.
Emily Lawson (Neice, 4 months)|| They are close, despite Macy being a bitch about it and mainly just using him as a babysitter.
Mason Caspar Sr. (Father, Deceased)|| Doesn't remember much about him.
Jimmy Hastings (Uncle, Deceased)|| Still bitter about his death even to this day, but loved the man like a second father and was the one to make sure Jessie knew about him.
Known Languages:
English, some Spanish
"Its kind of a given to learn another language when it so happens to dominate your neighborhood.
Extra
: He has a dog, a Pomeranian in fact, and he gets extremely defensive if teased about owning her. Seriously, he doesn't see whats wrong with owning a small dog. Her name is Binx.
---
---
---