Personality:
She's clever, hot-head, and a bit of a control freak when she thinks others 'just aren't doing it right'
Knowledge of Minecraft:
Fairly new to it all but more the capable to work her way around a work bench.
Favourite activity:
Building Things. She has a vast imagination and likes to put it to use.
But on occasion she does like scouting around for interesting land masses in the Minecraft world.
Appearance: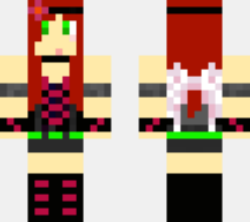 Fears:
Creepers... "That's a very nice house you have there....Sssss...It'd be a sssssshame if ssssomething were to happen to it....Ssssss"
L-l-l-l-l-lag