Mun Je Kim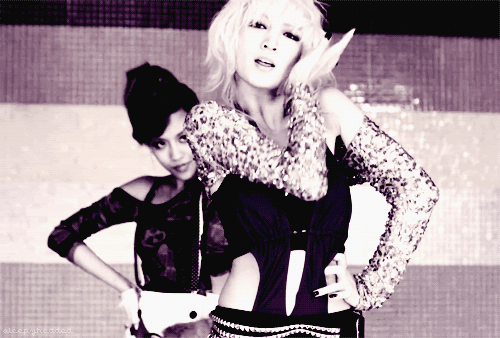 Gender/Role
Female, Troublemaker 1
Crush
"No one you need to worry about." TBA
Hidden Talent
Composing music is her hidden talent and her dream. Even though she can sing and dance average, it's her song writing and music writing that keeps her going. Her other talents just help her along the way. No one knows about her talent except for Kyung Jae oppa. She definitely plans to make her debut at the talent showcase, ready to blow everyone else away.
Age
Just turned 17
Birthday
December 23rd
Appearance
Mun Je's appearance is rather odd and she takes it with pride. With her natural hair being a dull brown, she always fought for the spotlight. Every since she can remember, she has been dying her hair bubblegum pink so people would recognize her even though she wasn't famous. Her pretty pale skin makes her pink hair stand out even more, especially when she blushes as she always blushes red. Her lips are quite thin, but a dark pink and shiny. Her eyelashes are thick and long, always taking good care of her facial beauty. She may look thin at first look, but she is all curves, curves, and curvy. With a curvy waist almost like most black girl's, her butt is quite big too. Her stomach is firm from practicing dancing. She stands about 5'4" and weighs a little under average. Her bust is quite average, if not a bit bigger than normal girls. Her hands and feet are small and she can sometimes seem and look like a living doll. She has both of her ears pierced, three on her left ear and two on her right. She also has her belly button pierced. There are rumors saying she got tattoos, but no one has seen them as of yet to determine if that's the truth.
Sexual Orientation
She says she's Asexual, but if she really thought about it, probably Pansexual or something along the lines of that.
Personality
Mun Je is, well, a bitch in simpler terms. She hardly cares about other's opinions about her or anything at that matter. She usually tells things like it is, hating to play around the bush. She has a foul-mouth, thanks to her grandfather. She'll interrupt people when they are talking or just cut right in front of people like she owns everything. She doesn't own everything, but she does love to act like it. She was always the type of girl who will put guards up and make sure no one sees the real her. The real her is just a broken girl who wants attention. That's what she is right now, just in a snobby, violent way. She acts this way because she thinks it gives her more attention, whether it's bad or good. She perfectly fine the way she is, even though plenty of people try to change her. She also quite a flirt, not really knowing when to stop, though she knows her limits. If she flirting and the person starts to touch inappropriately, she'll stomp her foot and push that person away. She may seem like a slut, but she's not one and never will be.
Skills and Weaknesses
Skills
Writing music
Writing lyrics
Writing in general
Martial Arts
Meditation
Dying & Styling hair
Makeup wiz
Singing
Dancing
Ballet
Karaoke
Caring for kids
Foul Language

Weaknesses
Caring for lots of people
Adorable accessories
Bad fashion
Her emotions
Her temper
Her 'great' plans
Animals, especially dogs
Food
Feelings about failed trainees returning to school
She don't give a flip. Of course she's mad, but they probably have their reasons for coming back. As long as it wasn't for something stupid, they'll still have their legs.
Likes & Dislikes
Likes
Writing songs & music
Karaoke
Super Junior & B1A4
Big dinners
Adorable accessories
Martial art movies
Cute songs
Taking catnaps
Cussing
Teasing Kyung Jae Oppa
Dancing in her free time
Reading good books

Dislikes
Being told what to do
Getting yelled at
People who call her insignificant
Showing her emotions
Getting hurt
Blood
Real fighting that causes injuries
Looking dumb
Being clumsy
Being told 'no'
Hobbies
Her hobbies are causing havoc, singing, dancing, teasing her friends, and sleeping.
Face Claim
Jia Meng from Miss A
Theme Song
Bad Girl, Good Girl by Miss A
Sexy, Naughty, Bitchy by Tata Young
Hex Code
#FF00BF
Quirks and Extra
Has a deep friendship with Kyung Jae oppa. Her laugh is quite quirky, kind of sounding like a troll or hyena on helium. It's annoying, but it grows on you like a tumor. She has a small fetish for tongues, seeing as her number one oppa is Heechul from Super Junior, always showing his tongue through Bonamana. She also likes plump lips too. She is also often wearing her hair up like CNU from B1A4, only when she's in a good mood. Often found either singing Cooking Cooking by Super Junior Happy or Beautiful Target by B1A4.
Bio
Even though her parents met and are still in the military, she is loved a lot even though they were hardly there for her life. Her parents were a bit rich and lived with her grandparents most of her life. Reasoning as to why she acts the way she is, she needed parental attention because she truly never got her wish. She always loved writing songs and her grandmother would help her, singing cute soothing lullaby's to her. Deciding to become the best song writer/music composer was her dream. Her parents are still in the military, though they seem to get breaks very often. She thinks they are trying to quit, but who knows. She doesn't really care for them anymore.
Favorite Kpop Band
I think she said who her favorite was and I agree. That decision will never waver. But she also likes B1A4, CNU is sooo adorable with his hair styles.