Age:

23


---
Personality:

Dov likes to watch things burn, and people scream when they see where they once worked for turning to ash. However, Dov has a problem with killing. "It's no fun when they can't cry." Is how Dov would explain why he would run into a burning building to save someone, saying that he lit the building on fire. Surprisingly, Dov actually has a sense of justice when dealing with other people or animals, usually revolving around pain or death, that explains why he never burned down a building with people in it. His standard method of victim choice would involve finding the house, then watching to see the schedule of those he would soon burn down the home of. This leads to the hidden method within his mind. He also has an strong connection to, and love of, canines.


---
History:
Dov lived on the streets for most of his childhood. For about five years, he had a stray dog that would stay around him at all times. Little did he know at the time, but the dog may have saved his life, because what is more heartbreaking than seeing an unfed boy in the street? Seeing an unfed boy in the street, trying to feed a starving dog. By the end of that, Dov was about 11.
He dropped into a rather deep depression at the death of his companion. During this time, Dov was picked up by a foster care organization. Even in this, it took Dov 3 years to overcome the death of the dog that was his best companion. Even after he had recovered from his depression, he seemed to lock on to every dog that he lived with, always struggling as they tried to move him to the next home. His last home, which he stayed in for about a year before aging out of the system, had such an animal. On several occasions, he fought those who tried to remove him from the home, just because of the dog. When he had to leave, it sent him into the depression again.
After going through about 5 or 6 jobs in one year, Dov found his remedy, watching the world burn. After finding this therapeutic house burning, Dov was able to straighten up enough to get a job in, ironically, house insurance claims processing. All the while, perfecting his method of choosing what to burn down next.
---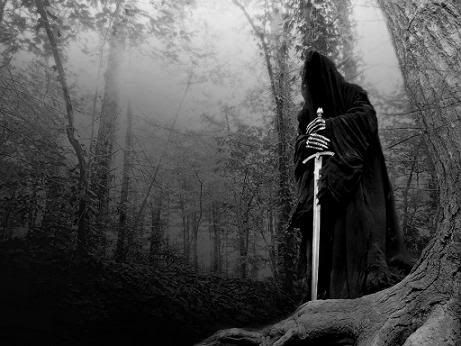 Appearance:
Dov stands at 6 feet tall, with short cut blonde hair that looks like his scalp in the right light. His eyes are a blue-green color. His build is skinny, and his skin a paler white. He wears a pair of jeans pants and whatever t-shirt he yanks out of his closet, when not going to work. In the Dream World, he also dons a black cloak.
---
Likes:
night, canines, fire, shadows, math, systematic methods
Dislikes:
the sun, killing/physically hurting people or canines, slave owners
Strengths:
calculating, watchful, hidden intelligence
Weaknesses:
a set of predictable stimuli, he will help if he believes someone needs it, close connection to canines