Name:
Emerin Liro
Nicknames:
His friends use the nickname Emry or Emery, his closest friends often using the suffix -Shu.
Age:
10.
Personality:
Among ways to describe Emry's personality, cheerful, loyal, brave, and hot blooded would be some of them. If you hurt a friend of his, or anyone he cares about, and he will retaliate in force. Only the people who he is really close to though call him Emry-Shu, since he is friendly with a lot of them, such as one of his closest friends Altian, or Alt/Alt-Shu for short. He is the kind of person who would not sit by if someone was getting hurt, but he isn't stupid either. He would go in smart (probably), not rush in head first blindly. At the very least, it would have some tactics.
Appearance:
While Emry usually wears something different depending on the weather, due to the desert heat its not uncommon for him to just wear pants or shorts, and a cloak, to avoid overheating. Plus, he loves the feel of the wind.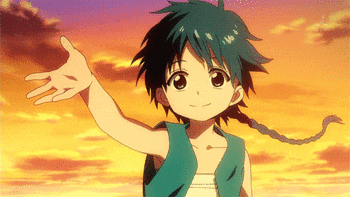 Skills: Baking, Food Preparation, Survival, Stealing, Climbing, Running, Magic, and some weapons training. He also knows some medicine, but he isn't the best, and cannot treat complicated wounds. He is familiar with poisons though, as much of the plantlife in the area is poisonous, a self preservation evolution so that predators would think twice before eating them.

Magical Power: His Overall Magical Power is High, with his Specialties involving Portal, Spatial, Lightning, Enhancement, Wind, and Projection based magic. Of course, he has also learned all the fundementals of Basic Magic as well. His most notable magical powers are Wind Barrier, Lightning Claw, Portal Jump, Super-Enhance, Shield Projection, Energy Sphere (Projection based magic), Lightning Pierce, and Azma's signature Wind Spell, which can only be learned by those who live in Azma for a few years, Windbreaker. He also found a way to utilize Wind Magic to control the sand, giving him sand based magical powers as well, such as Sand Dragon, Sandstorm Slasher, and when he adds lightning to sear the sand into glass, Glass Prison and Glass Shardstorm.

There is also a very special spell that Emry has known since forever, but he never uses it unless its an emergency. Its takes a lot out of him, after all.
Species: Orphaned, so probably human given appearance. Though he could be Altarin, he would have to be famous for being the most magically capable Altarin ever.
Weapons and Items of Note: Shadowfang, a dagger with a handle that can expand, which allows it to double as a Spear. It was left with him when he was found by his adoptive father. It has several magical crystals imbedded with it to allow for additional abilities.

Strengths: High magical power and high magical supply allow him to stay in the battle for a long period of time as a heavy hitter. Physically, he is fairly adept as well, being a great runner and climber. His body is also unnaturally light, which allows him to use Wind Magic to fly to limited degrees.

Weaknesses: His light body also means a higher risk of being sent flying by an enemy attack, though he can still endure it. Additionally, while he isn't stupid, he can be easily provoked if you hurt someone he is close to. Even threatening someone can cause him to become upset with you. This is all a part of his loyalty to his friends.

History: Emerin, or Emry for short, is a ten year old orphan that was adopted and raised by his adoptive father, Shonar Liro. Emry grew up working with his father, but he often also played with the other children in the city, particularly the orphans since he was one too. That was never hidden from him. There is a magical tattoo of a dragon on his back, though the tail reaches down to a small portion of his right leg. Its been there since birth, and grows with him, but he knows nothing about it. And when he was four, his magical powers started to develop. This is exceptionally early for most people, and they developed when a customer tried to hit his father to steal their money and food. A Wind Barrier was created around the two of them, so when the man attacked, he was torn to shreds and repelled back. His first magical power: Wind Barrier.
From then on, he started to learn the basics of magic from a local mage, and some books at his friend's Altian's, who Emry refers to as Alt-Shu due to the fact they are close friends. In fact, Emry once helped kick out a troublemaker who was planning on doing some damage to the shop because he figured, being an Ex-Soldier, he should get stuff for free. Emry is usually hanging out with Alt and everyone else, either swimming in the nearby river, playing on the rooftops, training to become adventurers, or reading up on various lands. He also took a crack at fishing, and once caught a large fish at their swimming spot. Emry has repeatedly stuck up for his friends, never letting anyone hurt them while he is around.

Other: Whenever Emry gets really worked up magically, Emry's dragon might light up, and text appears along the dragon. Of course, due to the position of the dragon, no one has ever seen the full dragon since Emry would have to be naked, but also he usually only goes full magic in a heated battle so its not like he would just stop and stand still. The only one he has ever let see the whole thing is Alt-Shu when he asked for help figuring it out, not like he had to ask anyways.