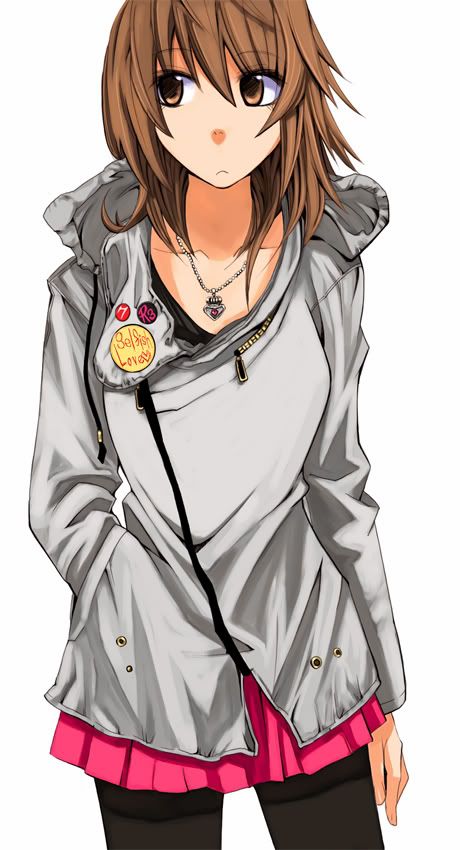 Name:
Mariella Augusta Miller
Age:
23
[Gender:
Female
Ethnicity:
American
Occupation:
Photographer
Sexuality:
Hasn't really paid much attention to care.
Appearance:
Mariella isn't going to catch your eye at first. In fact, she's lucky if you even notice her toward the end of the night. She has the innate ability to take up as little space as possible and never puts much thought into it. Mariella sees herself as rather plain and no one disputes this. Her chestnut hair is maintained at shoulder length and she doesn't do much with it. Her morning rituals consists of showering, brushing, applying a bobby pin here and there and allowing her bangs to hang in her wide, round brown eyes. Her skin isn't blemish free, but it's not running wild with scars or acne. Perhaps a red spot here and there, but certainly nothing she can't ignore.
This young woman, though in one of the most eccentric businesses, is very ordinary. She always has a fond smile for everyone she meets and a soft handshake. Mariella wears simple clothes with some kind of function (many pockets, loops to hook things upon, etc) and they usually never match.
Mariella is not a tall woman, but she's not short either. Inheriting most of her physical nature from her father's side of the family Mariella is about 5'8", and actually the shortest in her brood of a family. Her small nose and pink lips, the flat cheeks and long neck all come from her father. The only thing she inherited from her mother were her tiny ears and the way her fingers are long and actually graceful sometimes.
Personality:
"Did you see that?"
"Oh, it wasn't anything. Just Mariella."
Yeah, this is usually how it goes. Looked over, cast aside, and generally not cared much about. One would think this would internally scar a person or at least wound them enough that they'd go through their days with a frown or a cloud hovering above them. Actually, Mariella is very aware of the fact that people don't have to like her. She has the deep, unconditional love of her family and that is almost enough for her. She knows they will never judge her or hate her for being plain. As long as she knows she can always go back home, she can try as hard as possible to make her dreams come true.
Then again… it would be nice to have a friend or two. But as it goes, Mariella just goes about her day, offering a sweet smile and never speaking poorly of anyone. What need has she to utter words of hate and malice when no one has ever been openly hateful toward her? She is unnoticed and therefore unhated. If not for her older brother, she would probably be a very lonely person indeed. He is her only real friend in the bustling city and always makes time for her, even though he is popular and always busy.
Likes
Scenery
Architecture
The Male physical form
Cellos
Big dogs
Cherries
Film
Dislikes
Bullying
Spicy food
Closed Minds
Graffiti
Pop music
Writing in cursive
Phobias
Being lost (literally, lost in the woods, in the city, etc)
Trench coats (what's under them? Anything? Nothing?)
Masque and Gown/Tuxedo:
For the first time (and with much pushing from her older brother) Mariella chose to be a little bit more than overlooked. She'd still unsure if it will work, she chose a
dress
and a
mask
that are dark yet still shed light on her night.
Family:
Mother - Mary Anne Miller
Father - Joe Duncan Miller
Elder Sister - Viola Darby Miller
Elder Brother - Julian William Miller
Middle Brother - Michaelis Loren Miller
Middle Sister - Terrace Cordell Miller

(Mariella is right here.)

Youngest Sister - Barbara Lucy Miller
Youngest Brother - Walter Payton Miller
There is really no need to explain individually her relationship with each. The Millers are a large, very close family with high morals and very open minds. They've all hailed and made their brood in Iowa where the lands are flat but the possibilities many. Each siblings has their own personality, nurtured and encouraged by parents that couldn't be prouder of their children. They are especially proud of Mariella and her brother Michaelis for making a living in such an enormous, bustling city.
History:
Mariella has always been normal. Always plain Jane. Her life has been good to her and she can be content with the fact that she has a delightful family. School life was a little awkward when even the teacher's would look over her, but she was able to get through it for the most part. It wasn't until high school that there was something that triggered a deep depression for Mariella. It wasn't anything anyone expected, but it couldn't be helped. When you're young and hormonal, jealousy is the easiest and most malignant emotion. One girl. It was all one girl, but Mariella couldn't stand it! She got everything she wanted! It wasn't fair! Mariella did well in school, she never picked fights, she'd never even tripped and fell in the middle of the cafeteria to embarrass herself!
The emotions showed through her photos. Dark pictures of spiders, holes in the ground, abandoned houses with dead animals inside. She took them wildly, with reckless abandon and thank god her father found them piled high under her bed one day. When she came in, slamming her door behind her, Dad stood, arms outstretched and she fell into them, crying and sobbing. All she wanted was to seen. He reminded her that her family saw her. They loved her and would always be there for her. Of course, they'd all been listening outside her door and rushed in when they figured out what was wrong.
That night they held a gallery for her photographs. She was the star, the genius, the beautiful photographer with an eye so keen no one could best her pictures.
Since then, she's pretty sure that all she's needed was to take photos and be loved by her family.
Other:
Mariella is pretty sure she's just kidding herself…
Character Inspired by--
Paper Bag
by Anna Nalick
After the Storm
by Mumford and Sons