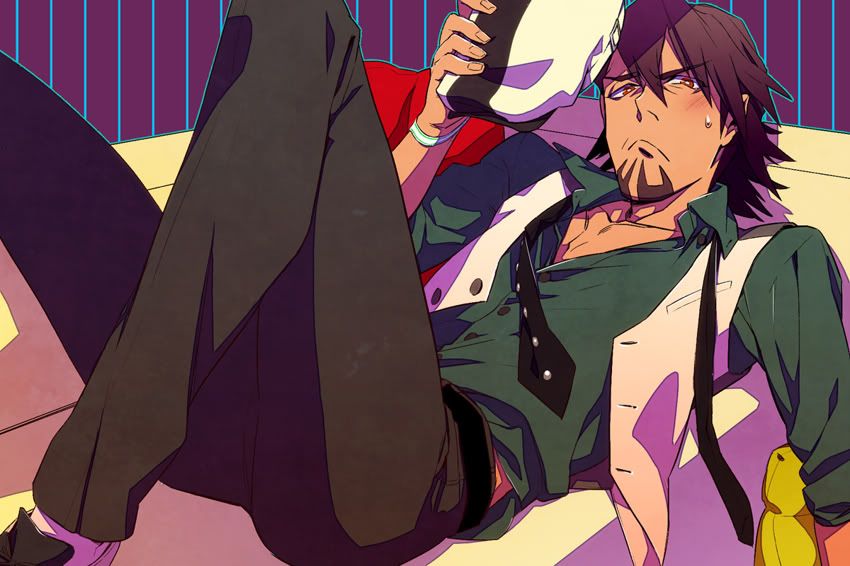 Name:
Michaelis "Mike" Loren Miller
Age:
28
Gender:
Male
Ethnicity:
American
Occupation:
Public Relations
Sexuality:
Very, very, hetero.
Appearance:
Everything about Mike is so casually male and so easily done. He looks good all the time. His hair is a messy mop on the top of his head, but it only adds to the very easy way he controls a room. His goatee is a strange shape, shaved carefully and always perfect looking. It will change after a few months, but for right now, the sharp angles and steep points only make his devilish smile look all the more conniving. If one didn't know any better, they would think him descendant from some kind of manipulation demon. But one look into his strangely amber eyes and you'll instantly see that none of this is true. Mike is a sweet guy who just has a strong aura about him. He's always been that way, perhaps its why he and Ella get a long so well?
Always dressed to the nines, Mike has expensive taste in clothes. Always in dress pants, never in jeans, and always wearing Calvin Klein, Dolce and Gabbana, etc shirts and shoes. He is particularly fond of a golfer's hat that his father gave him. It is worn leather and is black and white. Mike is always wearing it out and about with an untied tie and an open vest.
Like I said, Mike never tries. He just is.
Personality:
Mike is very easy to talk to and very easy to fall in love with. He's a 'player' in the sweetest meaning of the word. When with a girl, he's only with that girl, and when he feels that its over, he's even sweeter about it. Every girl he's ever dated, he's is still very good friends with. Mike is that guy that all the guys want to be and all the girls want a piece of. How does he do it? Don't ask him. He's been confident since the day he was born and he slapped his doctor in the face. Yes,
he
slapped him in the face. Quite a turn of events.
He's always been the jokester as well. Mike is very good at making others laugh and is always trying to cheer his younger sister up with his newest joke. It always works.
It can sometimes look like there is never anything wrong with Mike. Perhaps there isn't? What can a guy who has everything possibly want? Love? Please, he has the endearing love of his little sister and all his family. Mike doesn't need love.
Respect? Perhaps. Mike has never had to work at anything. He barely made it through University, unlike Ella who graduated Honors and all that junk. Mike is a very confused man. Does he really want to stay here? What does he really want? He can't even think of where to begin. But whose business is that? And he doesn't think its important to worry about it now. He's got forever to worry about that.
Likes
Dancing
Women
Clothes
Instant Gratification
Sherlock Holmes
Parties
Dislikes
The fact that he's a closet alcoholic.
Hiding things from his younger sister.
Rain
Scary movies
Jealous ex-boyfriends
Awkward silences
Phobias
Dying.
Masque and Gown/Tuxedo:
Mike didn't want to outshine his little sister, so he dressed down a bit with just black slacks and a white button down shirt. But atop all this, he wore a
checkered blazer
. His
mask
is pieces of leather sewn together and tied around his head. Again, without even trying, he looks immaculate and shockingly mysterious.
Family:
Mother - Mary Anne Miller
Father - Joe Duncan Miller
Elder Sister - Viola Darby Miller
Elder Brother - Julian William Miller

(Mike is here.)

Middle Sister - Terrace Cordell Miller
Younger Middle Sister - Mariella Augusta Miller
Youngest Sister - Barbara Lucy Miller
Youngest Brother - Walter Payton Miller
Unlike Ella, Mike is actually not as close to their father as they would have her believe. Before Ella was born, Joe was actually an alcoholic. It wasn't until Mariella was born that he actually stopped drinking. Mike was ten when he stopped. He still holds something of a grudge against him. Perhaps because he has his own drinking problem now? He can't be entirely sure, but he certainly hates it when his Dad calls and softly reprimands him for drinking too much again. What does he know? Not a damned thing!
History:
Though a horrible alcoholic, Joe never laid a hand on his family. In fact, he would disappear instead. Mike thinks this is even worse, but then again, he's never met a person who's ever been abused. It seemed to impact Mike more than the others and he was a rebellious teenager. Because he could get what he wanted so easily, other students in school would get him whatever he wanted. Teachers would overlook his transgressions and give him a slap on the wrist.
It was college that seemed to open Mike's eyes a little, and perhaps the closeness he had with Ella. At University he met others like him. They were despicable and grotesque humans and he couldn't stand being associated with them. They made people do things that he couldn't fathom. Sell drugs to minors, date rapes, coerce the smarter kids to pass their classes for them. Mike liked it when people did things for him, but he was not so lowly as to never work for anything and treat people like dirt.
Those particular students were never found out and to this day, Mike beats himself up over it. He is smart enough to know that those things are what makes him so protective over Ella. She's very innocent and he would be damned if a man like him ever took advantage of her.
Other:
Michaelis does want love… what kind he's still unsure of. What he wants most, what he wishes and prays and dreams for, is someone to just understand him. Because he can't seem to do it himself.
Character inspired by--
Super Bass
by Nicki Minaj
All the Right Moves
by OneRepublic