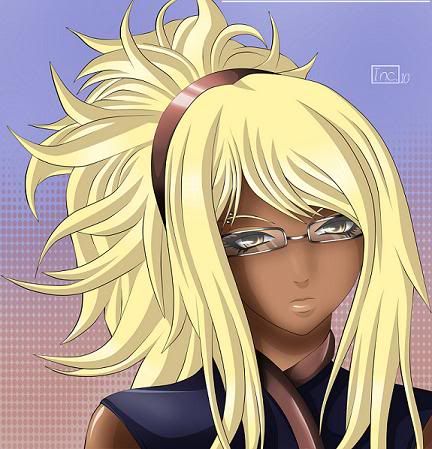 Name:
Mischa Persephone Hawthorne
Age:
25
Gender:
Female
Ethnicity:
Her family is Moroccan in descent, but they've been British for so long that it hardly matters.
Occupation:
Dance instructor/professional competitor.
Sexuality:
Go on, intrigue her. See what happens.
Appearance:
Mischa is, in a word, exotic. A classic, voluptuous hourglass figure with a dancer's lean-muscled legs and arms, all a uniformly-smooth rich brown hue. Long-lashed eyes of such a shade of brown as to appear almost golden in the right light; most of the time they settle at a light amber. Her hair is dyed that cornsilk blonde, but consider yourself lucky- last week, it was bubblegum pink.
Her face is soft, expressive, with hints of rose-tint at her cheeks and full lips. She radiates sensuality and expressiveness, warmth and vivaciousness, which is just as well, for she is without more conventional means of expressing any of it. Every movement is flowing and graceful, the amount of control to it all well-concealed, as only the best performers can do. Her appearance doesn't have to beg for your notice- it captures it, and that's all there is to it.
Personality:
It's occasionally a bit difficult to get a read on Mischa, primarily because she cannot speak to tell you what she's thinking. It has to be communicated through gestures, glances, facial expressions- and occasionally written words. She knows sign language, but the small number of other people that do means it hardly ever serves her much use.
It's always been this way, and so she had learned to use body language with an alacrity that speakers can scarcely hope to match. She understands what the most subtle movements mean, and how best to communicate what she wishes others to know. She is silent, but she refuses to be forgotten, and so she has learned to deftly adjust her appearance to assure that though she might not be understood, she will at the very least be noticed- bizarre, out-there hair colors, outfits that, while never indecent, show an acute awareness of the power of her allure, and a commanding presence that means that even if she could, sometimes she wouldn't need to say a word- these are the ways in which she makes herself a part of her world.
Perhaps it was this desire to be understood that moved her to dance- the outlet is almost perfect. To express physically what she yearns to say verbally; to make her feelings understood by others, to share her thoughts with them in a way so much less cumbersome than trying to write them out.
--
Likes
*Dance
*Art or music of any kind
*Old literature
*Plants and gardens
*Mystery
*Fruity drinks with umbrellas
--
Dislikes
*Taxidermy
*Obnoxious people
*Losing
*Being ignored
--
Phobias
*Being ignored or forgotten
*Snakes
*Being injured to the point that she can no longer dance
Masque and Gown/Tuxedo:
Mischa's
gown
is actually one of her performance ensembles, and rather dramatic. Her
mask
is a little more traditional for these sorts of events, and elegantly simple.
Family:
Hector "Jack" Hawthorne
(Father): Mischa and her father get along very well. Her family was never well-to-do, and always small, but they were very close, and supported her in her aspirations. Jack works as a bartender in London.
Maria Hawthorne
(Mother): Maria works as a librarian at a small college in London, and it is from her that Mischa picked up her love of reading.
Kevin Langston
(Uncle): It was Mischa's uncle, her mother's younger brother, was the person who first got her interested in dance. He runs a competitive studio, and gave her lessons for free if she helped teach the younger kids, which she readily agreed to.
History:
Honestly, there's nothing tragic or terribly unusual about Mischa's background or upbringing. She had and has a supportive family that loves her and has always allowed her a degree of freedom. School was difficult because of her muteness, and other children were not always the kindest of people to her, but she found herself an outlet and poured her entire heart into it, winning her first juvenile dance competition at the age of fifteen.
She did hit a stumbling block later, though. Being a naive, idealistic sort, it was perhaps only natural that the darkness should lure her with promises of following her into the light. She was a fool to think she cold fix him, honestly, but think it she did all the same. Gunnar Macphee was the archetypal bad-boy, but she could have sworn she saw a good heart in there somewhere. To this day, she isn't sure if she just imagined it or if she wasn't strong enough to find it through the haze of drugs and drinking and cruelty. She saw him cry, but she's pretty sure she never did see him love, not her anyway.
It took almost a year to realize that she needed to end it, and end it she did, though she discovered only upon cessation of the daily emotional beatings (not always intentionally inflicted, but always there for one as sensitive and soft as she), that what had grown on the garden of stones and brambles was a surprisingly beautiful feeling, one that she had then condemned to a slow death by starvation. She severed her ties to it, leaving it to rot in some unexamined corner of her heart, and moved on, bouncing back with a passionate fervor that she had not thought possible.
She likes to think she's killed the romantic inside herself for good. It was too much hurt for her to risk it again.
Other:
Inspired by
"Tigerlily" by La Roux