Dot Ant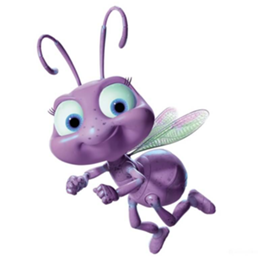 Disney Character:
Dot
Disney Movie:
A Bug's Life
Age:
15
Sexuality:
Bi
Likes:
Fascinating Inventions
Talking with people
Bugs (ants preferably)
Dislikes:
Mean People
Grasshopper
Failing
Weaknesses:Fears:Personality:
Friendly, feisty, determined, cute, brave
Dot is a very friendly girl. She tries not to have enemies and tries to love everyone. She can become very feisty about what goes one especially when it comes to her friends and family. She also had a determined mind. Once she set herself up to do something she plans on doing it, no matter the cost. Ever since she could remember people said she was cute; she didn't see it, but the silly things she did make it obvious. She is also brave. Even though sometimes her fears get in the way she knows that is a temporary thing.
Relationships:
Code:
♥= Love Interest
☺ = Friends
≈= Neutral
☻= Enemy
[]May want to contact the user playing that character to see if they agree, and really think about the personality of the other character. Would they really get along?[]
Pinocchio:
Thumper:
Mad Hatter:
Mowgli:
Zazu:
Todd:
Basil:
Genie:
Dodger:
Lumière:
Scar:
Randall:
Violet:
Marie:
Maid Marian:
Miss Bianca:
Jessica Rabbit:
Jessie: ☺
Dot:♥♥♥ I AM DOT!♥♥♥
Lilo:
Kida:
Mittens:
Ursula:
Mother Gothel:
Their History:
Dot is the youngest daughter of the Queen of the Ant Colony and is a princess along with her older sister Atta who is the the heir to the throne. Dot 's has only one friend named Flik who becomes her brother in-law. She is a member of the Blueberries scout troop. Like her sister and mother, she has wings, but they are not fully grown in due to her age. She ends up helping Flik get rid of grasshoppers in their home and gets the ability to fly.
Dot still lives with her mom, but Flik and Atta moved away to go and get married. She now lives here in this town, attends the local high school, and has a small job in the soup kitchen that she absolutely loves. Her mother is a teacher at the elementary school which means they come home at the same time. They live in an apartment near the town center and have average lives. She has only one best friend now named Jessie. They hang out all the time and do stupid things.
Other:
[Anything else here]
Code?
Saturn and Uranus