Kidagakash Nedakh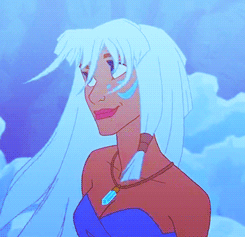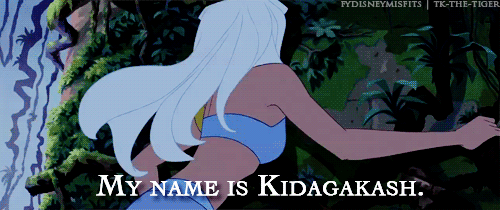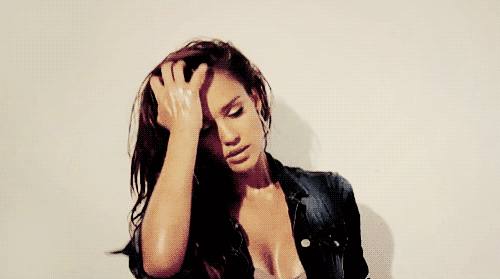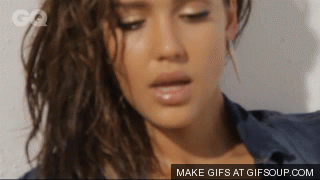 Disney Character:
Kidagakash Nedakh
Disney Movie:
Atlantis: The Lost Empire
Age:
21 (8500 ☺)
Sexuality:
Bisexual
Likes:
Trying to read
Learning
Exploring
Dislikes:
Violence/Vandalism
Cultural Decay
Seeing her loved ones hurt
Weaknesses:Fears:
Small Spaces
Losing her loved ones
Personality:
Kida is very caring and kind, though she will not hesitate to be aggressive when she sees fit.   She cares very much about her friends and her loved ones, and holds a lot of respect for those she admires.  This princess is very energetic and brave.  Not afraid of many things, she likes to explore and discover new things. 
Her main flaw is probably her curiosity, and her lack to contain it.  She's unfamiliar with many things, and gets excited very easily.   Kida goes around and asks many questions without holding back, probably causing some people to find her a little annoying.  She doesn't really care about those that do though.  Curiosity isn't something to be angry about.
Relationships:
Code:
♥= Love Interest
☺ = Friends
≈= Neutral
☻= Enemy
Pinocchio:
Thumper:
Mad Hatter:
Mowgli:
Zazu:
Todd:
Basil: ≈/☻ What a cocky asshole. He is alright at times, but man, he needs to cool that 'I'm the best' attitude.
Genie:
Dodger:
Lumière:
Scar:
Randall:
Violet:
Marie:
Maid Marian:
Miss Bianca:
Jessica Rabbit:
Jessie:
Dot:
Lilo:
Kida:
Mittens:
Ursula:
Mother Gothel:
Their History:
Kidagakash, or Kida, for short, a nickname given by her lovely husband, Milo, was a princess of the lost city of Atlantis. Currently, she reigns the city as queen, and with her husband as king. When Kida was young, Atlantis went through the Great Flood, and it was during this catastrophe that her mother was taken from her to save Atlantis. When she turned about 8500 years old, Milo and his group of explorers came to Atlantis, and she grew hopeful seeing that Milo could read Atlantean, an ability lost after the Great Flood. The leader of the explorer group tricked the King, and Milo, his true intentions being to find the great source of power that Atlantis kept stored away. Kida, being of royal blood and the 'heart' of Atlantis, became one with the crystal power, and was taken away by the villain. Of course, Milo and his friends came to save her and were able to protect Atlantis in time. Milo remained with her in Atlantis and they were wedded.
Somehow, she woke up in this small little town, with no memory of anything but her name, and a blue crystal pendant that hangs around her neck. It tends to light up when she wants it to, which is pretty cool, but to others it is just an ordinary pendant that lights up. Kida acts like the village nurse. Taking care of people is something she likes to do. When she's free she likes to go to the town library, hoping someone there can give her another lesson on reading.
Other:
Kida's speech is a little old-fashioned, but she picks up modern speech quickly. However, it's not unusual for someone to hear her speak English and for it to sound a little ancient.
Damn, I love this penguin.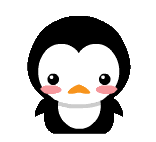 Code?
I love Sailor Moon. Did you know that in the original version Sailor Uranus and Sailor Neptune were lesbian lovers? Oh, and later on Sailor Saturn becomes their adopted child. Sailor Pluto was also one of Saturn's guardians. Just a little fun fact. ♥ Hehe, spoilers.