Name-
Mona Lisa
Nickname-
Mona or Lisa.
Age-
Just about 17.
Gender-
Female.
Role-
Mona Lisa... (Duh.:P)
Appearance-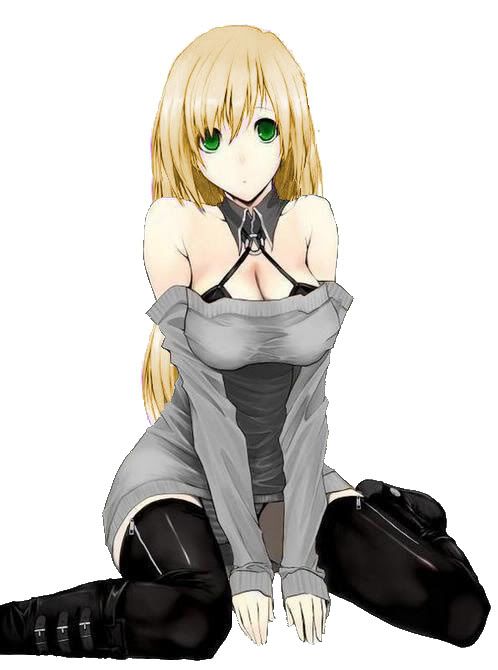 Mona is a very beautiful girl, She has a light sun-gold long hair and eyes that ranges from blue-to-green due to light pigment. Her body is hour glassed, her hips and butt being wider and bigger than her upper body, but it evens it out with her large/medium bust, despite her very curvy body, she is lean and has girlie muscles all over her body, finishing her physique. Her complexion is flawless and has a beige tent to it that makes her have that sun-kiss glow. Her lips are full and she has a soft cupid's bow, making her look innocent and young. She is about 5"7ft tall and weighs about 135 pounds. Her teeth are perfect and she blushes easily. Oh, and the way she walks will have you hypnotized.
Personality
She is sweet, kind, polite, well tempered, graceful, elegant; bullshit. Thats only her cove; underneath, she is dark and twisted, corrupted and horribly mean. She practically hates everyone around her, including her own parents. She is very sly, seductive and smart; always picking her path carefully and practically has no regrets at all. She is sneaky and uses her status in public to her advantage and makes sure everyone well respects her unless it is someone whom not even the crack heads respect. She loves to see blood and gets drunk, though, who ever sees her drunk, tends not to live; also, she has a habit of having sex with the person she kills, hencing not only her and the ghost boy had sex, but she had killed before.
Likes-
-Blood.
-Her way.
-Herself.
-Animals.
-Her status and life.
Dislikes-
-When people disrespect her.
-Most people.
-When her plans are ruined.
History-
She lived a normal life until she was ten. She had witness a girl raping someone before killing him, and she found it fun, so she had asked the girl to take her in as an apprentice and soon, the two became fairly close, until the older girl was shot down by the police. Mona had sworn to live on their little legacy and soon, she became a murderer.
Other-
TBA