Name
Jodac, Dae and Vhal (Jodhal)
Age
16
Gender
Male?
Race
Cerberus
Can use magic | Yes
Jodac can control Fire
Dae controls Earth
Vhal controls shadow
All of which is kind of a mental manipulation, of course there are limits to their abilities. This includes an area of affect (about 5 meter radius) and that using magic tires them out
Racial abilities
Can grow to the size of a giraffe or shrink to the size of a large-class dog. Three heads are independent minds but only one controls the body at a time. Two tails present, Dae cannot control the tails, one each for the other two.
Cannot tolerate sunlight.
Appearance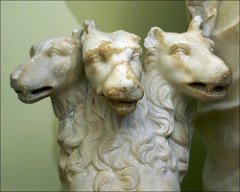 Student or teacher?
Student
Backstory
Jodhal was born during the time of extermination in a distant forest. At the age of six, the three had witnessed the murder of their family, along with other magical creatures. Of course, their primal instinct kicked in to run, escaping from the human exterminators and travelling the lands alone. On their journey, Jodhal had learned many things about themselves from other creatures they had met. Especially the unique ability to control all three cerberus elements, along with the ability to communicate with other sentient creatures telepathically.
From this, the three were taken in to an elven family where they were raised more like a child than a pet. However, with Jodhal's unique intellect, the elven foster parents decided to contact the Asylum where they could gain an education and learn more about both the paranormal and human worlds that surround them. The three moved in to the asylum at 16 (earthen years).