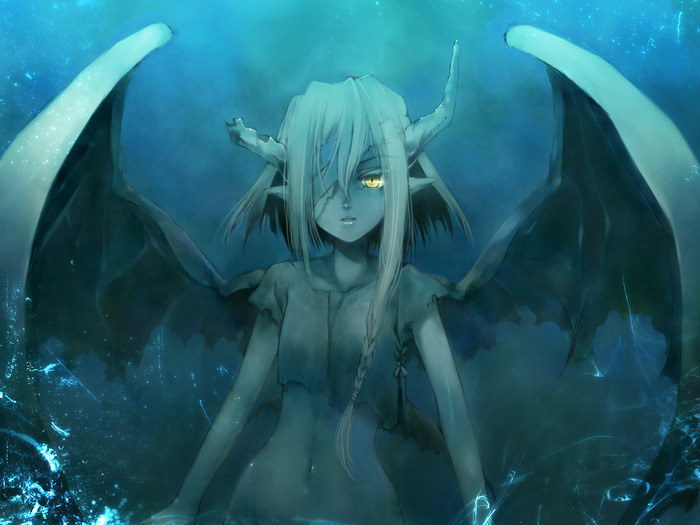 Name
Remi Cumulus (Student)
Age
Approximately 300 years old, give or take a few years. The current body she posses is about 18.
Gender
Female
Race
Ala (a type of demon)
Magic
Storm summoning, Ice breath, Possession
Racial Abilities
Outside of a possessed body, can change between a dragonlike creature or a raven, or create a more human appearance if really desired, all of which are physically intangible for the most part. Within a body, she can choose to maintain some demonic and dragon-like traits. Also has the innate ability to bring good luck to those in her favor (usually to the misfortune of others), which are relatively few, and can sense when they are in trouble and need protection. However, she also answers to typical racial weaknesses: Eagles and those related to Eagles, as well as true dragon tooth and claw. When she cannot feed on the power of eclipses, her only other food source is young human children, which she typically attempts to avoid when possible.
Backstory
Remi never knew her mother or father, born into a race that was far to proud to stand to even be around its own children for very long in case they should challenge their parents. Barely more than a wisp in the clouds, she would eat and grow for the first few decades of her life on mere instinct, absorbing the power of the sun by quietly eating away at it, causing a few unnatural sun spots at the time that were duly noted but ignored by human researchers. Once she gained enough power, she finally began to form more of a shape, her first being that of a black crow, allowing her to approach human civilization undetected. She was responsible for several accounts of children being attacked by birds or even "disappearing" when parents turned their heads.

With age, however, she became more fascinated with humans. By about 100, she had enough power from various eclipses to shift between crow and human child form with some ease, and used this to satisfy her curiosity on human civilization. Humans were often kind to her, but upon being spoken down to, she would quickly abscond with indignant rage. There was a boy though, who bore about the same equivalent age resemblance to herself, who she became quite fond of, as he approached her with caution and treated her with gentlemanly respect for one only about 8 or so. They would hang out quite often, though she never let him touch her to find out that she was indeed intangible, and she would quickly dismiss any questions about her "home life" or parents. To her dismay, however, one day his family came into considerable wealth when a particularly miserly man in the town was legally charged with fraud, and forced to repay several families. With the new money, they decided to send the boy to a renowned boarding school so he could put his talented mind to use. She could no longer afford to see him in the crowded halls of the school.

Two more centuries pass, and although she often looked down on humans from the clouds, she refused to interact with them again, until the day she could obtain a physical body and actually blend in. Unable to really feel much at all in her intangible form, she fell in love with the idea of the sense of touch and eagerly awaited it. In the mean time, she became able to use the form of a dragon, an innate defense against the ala's oldest enemies, which she had the luck only briefly encountering once thus far, which had scratched out one of her eyes before she could get away.

Only a short while ago, after a particularly intense blood moon, she felt fully capable of her first possession, for which she chose a girl of barely 18, who had been kidnapped and was likely to face a particularly terrible fate anyway. Inexperienced, she was unable to avoid altering the form as she took it, though the girl inside put up little fight. Possessing her while in dragon form gave the body horns and wings, as well as one keen golden eye, though the other became just as lifeless as Remi's own intangible one. After killing those who held her captive (a scuffle that ended up with one shooting off one of her horns) and escaping without really being seen, she came to the Asylum, which she had vague memories of from her time spent drifting around the globe. Here she hopes to learn to control her powers more accurately, and find ways to interact with the human world.