[center]
---
---
---
---
Full Name
Charlotte Beatrice Sinclaire
"Absolutely dreadful, isn't it?"
Nicknames
Lottie, Lots, Char, really she'll respond to anything that sounds remotely like her name
"Please, call me Lottie."
Age
17
"Nearly old enough to drink back home. I'll be 18 in one month."
Occupation
She works at a local animal clinic
"Coonhounds. Why do southerners love Coonhounds so much?"
---
---
---
Eye Colour
Very light blue, at times almost appearing to be a very light springy green
Skin tone
A gentle shade of ivory, that very seems to tan at all
Hair colour
Platnuim blonde curls, that she often straightens
Height:
5'1"
Build
She has a very light, lithe build with an hourglass figure. She has a very feminine build, but not much muscle on her. If it came down to it, she'd probably have a hard time defending herself if she had to.
Distinct markings
She has a very small feather on her left shoulderblade, but now she always covers her back up because after being attacked by a wolf she has deep claw marks that rake down her back
---
---
---
---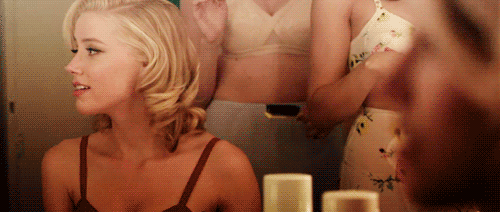 Likes
▲
Animals, especially her dog
▲
Her brother
▲
Feeling safe
▲
Having fun
▲
Feeling free
▲
Laughing/making people laugh
Dislikes
▼
Being forced into things
▼
Snobby people
▼
Not feeling free
▼
Seeing people cry
▼
Her father
Personality
Lottie isn't one who is always the most cautious. In fact, she throws caution to the wind and will do anything for the thrill of it. She won't do anything too bad, like drugs, robbery, or anything like that. She doesn't want anyone to get hurt, she just wants to feel like she has control of her own life. It's something she's never had, but always desired. And once she gets it she is not at all willing to give any of it up. Admittedly, sometimes she'll get herself into trouble on purpose. She does have a terrible self-destructive streak. Sometimes she'll put herself into harm's way and just sort of... let it happen. She won't let anyone else get hurt but she doesn't always make 100% sure that she isn't in danger. To be honest, she doesn't know who she is and will drown her feelings in meaningless sex or really anything to get her mind off of how she never learned to love herself because her parents ripped away the only person who ever truely loved her. She's very critical of herself and nobody knows just how much she doesn't care about herself because she hides it behind a bright smile. She has a nasty habit of picking people that are the very worst for her, and only going to hurt her. She just wants it to all go away, even if it is just for a minute.
But just because Lottie doesn't care about herself, doesn't mean that she doesn't care about anything else. She's very friendly and outgoing, making it easy to become friends with her. And once you're her friend you will see that she really does have a heart of gold. She is fiercely loyal, and won't give up on someone she cares about, no matter how many times they hurt her. No matter what they do, she will always welcome them back with open arms. Even if it's really not a good idea, because they are only going to keep hurting her. She loves making people laugh, and will do anything to see someone's face light up and know it's because of her. She can sit and listen to people pour their hearts out to her for hours. She always gives the best advice, and would never judge anyone. No matter how badly they've screwed up. She loves dragging her friends along into her wild or dangerous schemes. She may let herself get hurt, but she would never anyone else get hurt. She would throw herself in front of someone she cares about without a second thought.
While Lottie can be a little wild, she does have another side that she is a little shy about showing sometimes. It's usually reserved for the animals she takes care of, children, and anyone that she truely loves. But it does come out whenever she sees anything hurt- animal or human. Which, right now, it only her brother. Not to say that she isn't kind to everyone she meets, she most certainly is, but that breathtaking
tenderness
that she holds she tends to keep to herself. Since her mother really didn't care about her, she is really very maternal. She has endless bounds of patience and always has a warm embrace or a gentle smile to give. She can really be quite affectionate, and loves to be close to the people that she loves. She is very accepting of any flaws, and will look right over them. She just wants to make people better if they are sick, or happy if they are fine. She'll give away everything until she has nothing left, simply to make someone smile.
---
---
---
---
History
Charlotte Beatrice Sinclaire was born into a very wealthy family, the Sinclaires. They were very respected- it was an honour to hold the Sinclaire name. Her parents were William and Elizabeth Sinclaire. Her father was a doctor, and her mother was a well-known ballerina. They first had her big brother, Liam. In public, they were a loving and affectionate family. But behind closed doors, they barely even noticed their child. When they had Lottie, nothing changed. Pretty much the only time they could get their parents to look at them was when they were posing for photos.
Naturally, Liam and Lottie had to depend on each other. She looked at her brother like he had hung the stars and the moon. Their parents couldn't care less about them, but he was always there for her. They would play together, laugh together, and he was the only person who kept her feeling loved and happy. They were close enough in age that they grew up together, but far enough apart that he took care of her. Nannies 'cared' for them, but really Liam was the only reliable person in her life. She loved him so much. She still loves him so much.
As they got older, their parents got more 'interested'. Really they just wanted to make them exactly like themselves. Her father tried to force her brother to follow his footsteps and go to medical school. Her mother forced Lottie to stand by her side at public events, all dolled up and with a charming smile plastered on to her face. She would force her to appear charming and sweet in public, bu really she didn't care what her daughter did behind closed doors. so long as it remained behind closed doors. If she so much as stepped a toe out of line in public, both of her parents were very harsh to her. They didn't care about her, they just wanted the family to look good. She didn't really care about any of that, so long as she could take refuge in her big brother. He always kept their parents from being too hard on her.
But when Lottie was just twelve, her whole world fell apart. Her big brother fought with her father and he was kicked out. Her father refused to let her see Liam, no matter how hard he tried. It was horrible. She was all alone, and he was on the streets. She had no idea if he was even alive. She looked for sympathy in her mother, but she proudly stood by her husband. They acted like their son didn't even exist. They took down any pictures of him, that cleared out his room, all she had of his was an old tee shirt that they had missed when they were throwing out all of his stuff. Her home didn't feel like home anymore. She had never felt more alone. Her parents didn't help. Her mother kept forcing her to look perfect, like a sweet little porcelain. Eventually, she just couldn't do it anymore.
A few years after her brother left, she had deteriorated enough that she really didn't care what happened to her anymore. As the years went on she just became lonelier and lonelier. It wore down on her. She would do anything to numb that loneliness, even just for a second. She started having meaningless sex, and getting in trouble at school. Her parents kept it hidden from the public, but didn't even bother asking her what was wrong or trying to help her. They just let her drown.
The only time they noticed was when she got caught in a public scandal. She'd had sex with a young newlywed who so happened to be a very well-known politician. Not only did she receive a cold hard slap from his wife, but her own father slapped her across her face. Hard. Lottie didn't even fight back.
William Sinclaire had taken a nasty liking to hunting. Lottie told him it was wrong and she hated it, but what could she do? She respected the wolves more than she respected the humans. In fact, she was kind of fascinated with them. Just a few months ago, her father had just returned from a hunting trip when it happened. The wolves had locked on to his scent and followed him home in their human forms. At night, they shifted and attacked. They killed her parents, just as brutally as her father had killed those wolves. A younger wolf stumbled upon Lottie in her room, and raked his claws down her back. She cried out in pain, but she didn't fight back. She didn't even try to hurt the wolf. When he was about to bite her, and actaully apologized for what her father had done. She would've never been a part of something so horrible. The wolf paused, then gently rolled her on her stomach so she would appear dead. With that, they left.
Lottie is an orphan now and lives has just moved in with her brother again. The moment when she saw him at the airport and he scooped her up into his arms was the happiest moment of her life. She loves him so much and is so happy to be with him again, but she is ashamed of who she's become. She's a mess, and she knows it. she fears that he knows it too.
[/center]
---
---
Nobody's Home - Avril Lavigne
I couldn't tell you why she felt that way,
She felt it everyday.
And I couldn't help her,
I just watched her make the same mistakes again.
What's wrong, what's wrong now?
Too many, too many problems.
Don't know where she belongs, where she belongs.
She wants to go home, but nobody's home.
It's where she lies, broken inside.
With no place to go, no place to go to dry her eyes.
Broken inside.
Open your eyes and look outside, find the reasons why.
You've been rejected, and now you can't find what you left behind.
Be strong, be strong now.
Too many, too many problems.
Don't know where she belongs, where she belongs.
Her feelings she hides.
Her dreams she can't find.
She's losing her mind.
She's fallen behind.
She can't find her place.
She's losing her faith.
She's fallen from grace.
She's all over the place.
Yeah, oh
She's lost inside, lost inside...