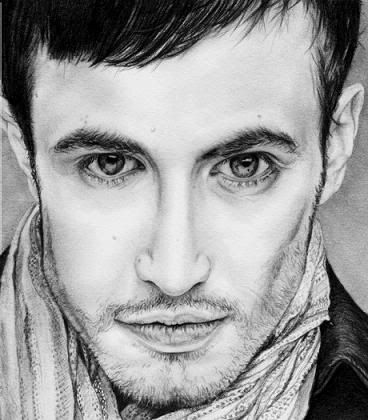 BASICS
Name:
Hans-Josep Carl-Friedrich von Reichelt, von Essen
Nickname:
Sieben
Age:
29
Gender:
Male
Sexuality:
Heterosexual
Race:
Caucasoid
Nationality:
German
APPEARANCE
Eyes:
Brown
Hair:
Brown
Height:
1.88m
Weight:
72.5kg
Skin Tone:
Fair
Build:
Slim
Body Markings:
None
Voice:
Weary Tenor
Description:
Sieben was never one for callisthenics but would rather spend his time reading outdoors rather than getting dirty. His frame though stout and well formed was left unrealized. He could have been, as his father was, a boxer; all two hundred pounds of Teutonic muscle lean and spry. However he was more studious, cerebral. Though standing over six foot he weighs around one hundred and sixty pounds and most of that is skeletal frame. He used to care about his appearance. He shaved every day, he washed twice, a trip to the barber once a week but now; in his present condition it just doesn't seem pertinent.
MENTALITY
Quirks:
Pessimism, finding the colour mauve "distrustful"
Fears:
Marionettes, Velveteen textures.
Likes:
Reading, idleness, floral notes.
Dislikes:
Promiscuity, infidelity, swearing in front of ladies.
Personality:
Sieben had been raised a gentleman. He was second Baron to a lesser noble house but his death stole the title from him. He enjoyed finery, without pretentiousness and treated everyone as if they were a guest. His relationship with women has been problematic due to the intense hatred of his mother but he did find himself married to a French girl, also of minor nobility and then the war happened. He has trust issues, but when a belief is there Carl can be focused and singularly minded. He has been described as obstinate, morally ambiguous and unfeeling towards friends and family, but warm and even gracious to strangers.
EQUIPMENT
Future Armour:
sleeves and leggings of black chain-mail over soft leather armour. A helmet and face guard of blue steel with goggles affixed with amber lenses.
Casual Clothing:
Loose fitting trousers and a button-down shirt, knee high brown leather boots and a scarf of white and blue linen. A dark green vest.
Carried Items:
Folded slip of paper listing his personal information and date of death:
17 June 1918
. It is yellowed and mostly resides in a red leather bill-fold. A pewter flask of grain alcohol and silver pocket watch.
Main Weapon:
Lance


Name: Kreuzmacher
Type: Spear
Made of: Ebony, Steel, leather, inlays of Bronze, Basalt and Rosewood
Length: 7.5 feet
Weight: 17 lbs
Description/Info:Ornate would be a good place to start. The spear-head is proper bay-leaf shape with a small upward hook under the blade. The blade itself is blued steel akin to what one would have found on battleships during the First World War. The shaft of the spear is worn ebony; along the primary handhold a band of brown leather covers eight inches of the shaft. The secondary handhold is a five inch swatch of rosewood carved with a boar and the name 'Kruezmacher'; cross-maker, under it. The end of the shaft there is a counterbalance that is a bronze knob with a band of dark basalt around the middle.
COMBATIVENESS
Skills:


Comprehension: Carl has never found a topic in which he had trouble understanding. Languages, Mathematics, Geography, Mechanics all can be tackled with a general familiarity. It was this hunger for knowledge that lead him to lack focus when he was younger.
Sympathy: At seven he took a wolf home after it was wounded by a hunter, he cared for it and when it got well it barked a high, innocent noise that made Carl smile. His father killed it with an axe later that afternoon and it was then any love for the man died in Carl. However he felt pity for the servants digging a hole to bury the animal in and for the driver taking him to the doctor to check for hydrophobia. He felt a compassion for everyone and no one was above his comfort or condolences.
Weaknesses:
(at least two)


Shell-Shock: He has trouble sleeping and can be distant to those that would call him friend. He met a violent end in a hail of gunfire and what would likely pass in time, the dreams tend to get more vivid as the decades progress. This leaves Carl with a sense of woe and if paired with the by-product of "hearing a problem" the woe is manifested in painful headaches.
Non-combatant: Carl doesn't fight, he can influence valour and instil bravery in others but when the chips are down and you turn to him his fists will be firmly involved with his drink and cigarette. Sorry.
Powers:Sin Eater
Sieben doesn't smile often but those around him do. He is a joy to talk to and just being around him makes a person feel good. In conversation he offers insightful, poignant interjection that makes sadness and insecurity melt away. But if you have a true problem, something awful and heavy that is a cross to bear; Sieben will hear your plight and take hold of your burden for you. In truth he takes the negative emotions that plague a person and stores them in himself giving the person great emotional wealth. The more you are around him the more you would go out of the way to make sure he is always there to solve your problems and if a person has to be hurt to make it happen, so be it. Side effects of letting Carl take your sins can be giddiness or even elation with after-notes of bravado and lack of personal safety.
HISTORY
Martial Status:
Widowed
Family:
He saw his wife from the best he could figure about five years after he arrived in Ever. She was small and ragged and must have lived a very hard life after he died. She was in the company of Helene Fa, a well known "escort" who worked for Marcus Bainbridge a piss-ant thug who fancied himself far greater. Sieben walked past the woman that used to be his wife and she met his eyes. Realisation washed over her and she broke the grasp of Helene even calling out his name yet he kept walking. His wife was dead, if she even existed at all.
History:
Carl graduated from the University of Munich in 1911 with a degree in Archaeology. He was married that year to a woman named Veronique Lefebvre de Marseilles they lived in Nice where Hans was writing a paper on the recent Neolithic domed structures found in Mongolia. In 1914 war broke out while Hans was in Germany on a speaking tour. He joined the
Kaiserliche Marine
and was assigned to the U-64 as junior bridge officer with the rank
Leutnant zur See
. He had a good career and received the Iron Cross Second Class for his involvement in the sinking of the Battleship
Danton
. He died along with the rest of his crew on June, 1918. He was 29 years old. Now he is a staple at Peccatore a shitty tavern ran by an Armenian-Turk named Zarkus, sitting in the corner, nodding his head in reflection towards the goings-on. Perhaps he does not hear every conversation; but he listens to everything.
Where/How Griff Approached You:
When he arrived in Ever it was rampant with the same faults that plagued human life. Hans was never one to go with posturing or arguments based on minutely different ideologies. So, he watched and listened to the tragic comedy that was laid out before him. Hans didn't do much as far as developing these Ever-Worldly traits that those of more physical idiom seemed to have honed. He read and drank for decades but all the while, he listened. People grew comfortable with him around and he would, every now and then - would pick up information and sell it; or let it slip to the right person. He heard about Griff before he saw him, heard about his exploits and how he was not a person to trifle with. Hans even heard about some cadre of new corpses he planned on using but never found out to what end. That intrigued him as he had only been passive in his information gathering about the man up until that point. He had always been careful, luring people into a false sense of security and he had years to perfect his skill of processing important information from fluff and rumour. In his search for Griff, the man intrigued him again and found him first. The exchange was quick and blunt; "Work for me or fuck off." Very blunt.
Opinions on the Mission:
Carl loved meeting knew people so that in itself was an adventure; what else was there?
Relations:
None