Kiki had always been a witch to stir up interesting situations, and they always became well known due to her fame when the blimp crashed. Of course that buzz faded over time, but her job's buzz never did. Eventually orders were getting very hard to handle, and she got some people to help out, but people on foot weren't fast enough unfortunately, so Kiki looked into more spells to help with delivering, and they helped a bunch, but Kiki still needed manpower. Or perhaps, witch power. She had noticed there were far more witches in the world now, and many young witches had trouble finding work, or even a town to complete their year of training. Which sucked. A lot. Last year, she sent out an advert across the country, telling any young witch who needed a place to stay and work could come to Koriko and work for Kiki. She got quite a few responses, and now she has a team of witches who fly all over Koriko and help deliver packages! Happy happy happy right?


WRONG


The Witch High Council is not happy with Kiki's boldness, and neither do many witches across the country. Some like it of course, but many people whispered and tutted that Kiki had broken the tradition of One witch, One town. If she had made it so that training witches could come too, there would have been far more conflict about it. In witch society, tradition is heavy and very much mandatory, with a few small exceptions, so Kiki was about to tip over into the black books of The Witch High Council. But now the year has turned over, and Kiki has some new additions to the team, and there's bound to be plenty of adventures for them. But the High council are keeping a very close eye on them. But Kiki doesn't care. These girls need a good start and she's going to give them one. So Kiki will continue her team of servicers and nothing will stop her.


THE TEAM


First off, there are 6 members of the team, and are divided into sections. The flyers mainly deliver and fly, and have to be good flyers and have good memories. Kiki can teach them spells to assist with packages and things. The assistants help with paperwork and sorting deliveries and schedules and such things, and aren't the best at flying, but do their work at the flat next to the bakery well, and if they have time help out in the bakery. But they're often far too busy to go bake a cake.



Captain




Name: Kiki || Age: 33 || Year at Delivery Service: 20 || FC: Lisa (Sasuke's Mom), Ponyo|| Status: Reserved by ME



Lead Flyer




Name: Leila Estelle || Age: 16 || Year at Delivery Service: 2nd || FC: Sheeta, Laputa; Castle in The Sky|| Status: TAKEN by ME



Flyer 1




Name: || Age: || Year at Delivery Service: || FC: || Status: RESERVED by ponej



Flyer 2




Name: || Age: || Year at Delivery Service: || FC: || Status: UP IN THE AIR



Assistant 1




Name: || Age: || Year at Delivery Service: || FC: Sophie, Howl's Moving Castle|| Status: RESERVED by litacat



Assistant 2




Name: || Age: || Year at Delivery Service: || FC: || Status:



Bakery Workers





Bakery Worker 1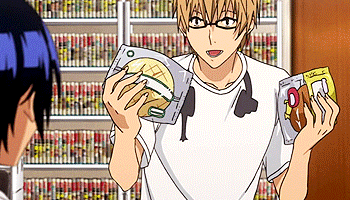 Name: David Barry || Age: 32 || Year at Bakery: 5th|| FC: Akito Takagi, Bakuman|| Status: TAKEN by ShyFox



Bakery Worker 2




Name: Amarette Parrish || Age: 16 || Year at Bakery: 2nd || FC: Misaka Mikoto, Toaru Kagaku no Railgun || Status: TAKEN by ShyFox



Bakery Worker 3




Name: || Age: || Year at Bakery: || FC: || Status:



Character Skeleton




Code: Select all

[center][size=300]Name[/size]
[img]gif or picture of your character here[/img][/center]
Full name:
Age: (14+ for witches, limit for witches preferably 18. Bakery workers any age)
Gender: (unnecessary if your character is a witch obviously, or if you don't wanna put it in you don't have to.)
Year at Delivery Service/Bakery:
Sexuality:
Appearance:
Personality:
Likes:(at least five)
Dislikes:(at least five)
Talents:(at least one, make sure not to overpower your character, not many like a 14 year old genius weight lifter that can fly on a broom with one foot X3)
Flaws:(at least one biggish one and one or two smaller ones)
Fears:
History:
Other: Edit this as you see fit
[img]Put these ones around about your sheet, add more or less if you want[/img]
[img][/img]
[img][/img]
[img][/img]
[img][/img]


RULES
~(owo)~
WHAT I SAY IS THE LAW.

In this rp at least X) This is me --> If I say everyone turns into a gummy bear, BAM, we be livin' in a kid's wildest dreams. If I seem like a bossy jerk sometimes, it's because I want this roleplay to work as well as it possibly can. You may be required to take two characters also, mkay? If you want to join and there's no spots left, you can ask me to make a bakery spot for you and it shall be done.


CHARACTERS AND RESERVATIONS.

First off, try and submit your character within 2 days, or I will drop your name off the reservation. If you can submit it before another person after that, then you'll get first look. I'm looking for interesting histories and personalities, try not to be bland. Be boysenberry ripple with sprinkles and chocolate sauce, not vanilla, y'know? I would like a bakery worker as a love interest for Kiki, as they can be old enough for her, and Tombo was more of a friend than an interest. X3 RESERVE IN THE OOC ONLY PLEASE, THIS LETS OTHERS KNOW WHAT SPOTS HAVE BEEN TAKEN IF I HAVEN'T UPDATED THE INTRODUCTION.Oh and the password for a reservation is your favourite Ghibli movie or anime.


POSTS.

Be literate, and no one sentencers! Typos are fine, but get your grammar and spelling as straight as possible. When your character is speaking. try using a colour or something so we can see where people are talking easily. http://html-color-codes.info/ has some good colors. (If you throw in geeky references I shall gift you with a rainbow of happiness and blessing)


PETS.

In Kiki's delivery Service Lore, all witches have a black cat from birth as a pet, and they can communicate until the witch grows up maturely, not necessarily physically. In Kiki's case, when the movie ended, she'd grown up and discovered who she was fully, and Jiji could no longer talk to her, except for the disney dub that is. So, typically these witches' cats can no longer talk to them, but are still pets. Or perhaps their cat is dead, who knows. (You do because it's your character lawl.)


GENERAL RULES APPLY.

And by general rules I mean no godmodding, be nice, no mary sues (with an exception or two), be nice in ooc and posting, don't hijack the story unless we've both talked about it and it fits with the plot. For example, later on I'll be asking you guys for interesting deliveries that could take place! So unless I've given you clearance, don't control the entire rp and godmod it all, I've been in roleplays were this has happened and it sucked.
Taking place in...
0 posts here • Page 1 of 1
0 posts here • Page 1 of 1
Arcs are bundles of posts that you can organize on your own. They're useful for telling a story that might span long periods of time or space.
There are no arcs in this roleplay.
There are no quests in this roleplay.
Here's the current leaderboard.
There are no groups in this roleplay!
Welcome home, Promethean. Here, you can manage your universe.
Arcs are bundles of posts from any location, allowing you to easily capture sub-plots which might be spread out across multiple locations.
You can create Quests with various rewards, encouraging your players to engage with specific plot lines.
Settings are the backdrop for the characters in your universe, giving meaning and context to their existence. By creating a number of well-written locations, you can organize your universe into areas and regions.
Navigation
While not required, locations can be organized onto a map. More information soon!
There are no groups in this roleplay!
By creating Collectibles, you can reward your players with unique items that accentuate their character sheets.
Once an Item has been created, it can be spawned in the IC using /spawn Item Name (case-sensitive, as usual) — this can be followed with /take Item Name to retrieve the item into the current character's inventory.
Give your Universe life by adding a Mob, which are auto-replenishing NPCs your players can interact with. Useful for some quick hack-and-slash fun!
Mobs can be automated spawns, like rats and bats, or full-on NPCs complete with conversation menus. Use them to enhance your player experience!
Current Mobs
No mobs have been created yet.
Locations where Mobs and Items might appear.
You can schedule events for your players to create notifications and schedule times for everyone to plan around.
Add and remove other people from your Universe.
The Forge
Use your INK to craft new artifacts in More Than One Witch. Once created, Items cannot be changed, but they can be bought and sold in the marketplace.
Notable Items
No items have been created yet!
The Market
Buy, sell, and even craft your own items in this universe.
Market Data

Market conditions are unknown. Use caution when trading.

Quick Buy (Items Most Recently Listed for Sale)
None
Discussions
Most recent OOC posts in More Than One Witch