Divided amongst six factions, the land of Calradia ripples with war. A draw for mercenaries and opportunistic souls, the rise to power is a struggle shared between the feudal lords and rulers. The history behind this land is one of valor and glory and yet feral disputes based upon the ambiguities of individuals. From raiders from the sea, to bandits of the desert, crime often engulfs the lands the Lords seem to overlook. A war is always in session, the impoverished peasants getting the worst of it, in the looting of their villages. Unsafe for them to relocate, the lands crawling with dangers, it's hard to discard the suffering and hardships of the whole of it, despite the ignorance of the ruling classes and the nations themselves.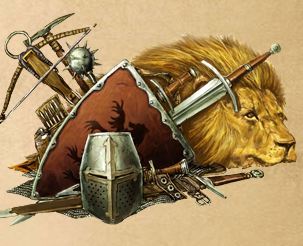 Kingdom of Swadia;
Ruled by King Harlaus, it lies in the middle of Calradia, often in war on multiple fronts because of it's borders with practically every other nation. It's strong military and traditional lords make the power come easy in this way, utilizing it's position to make their ventures profitable. It's one of the most stable nations, with powerful unity, lords humble in their discontent. It's strongest unit is the famed Swadian Knight, which is relied on to disrupt the enemies powerful formations.
It's capitol is Praven.
Kingdom of Rhodoks;
Ruled by King Graveth, the literal bear of the mountains, bordering the Sarranid Sultanate, the Kingdom of Swadia and to a lesser extent, the Khergit Khanate; this Kingdom used to be an extension of the Kingdom of Swadia, with their devastatingly effective infantry and crossbowmen they are a fearsome nation of strength, though lacking cavalry. They shine in defensive tactics. It's armies are well known for their spearmen.
It's capitol is Jelkala.
Kingdom of Vaegirs;
Ruled by King Yarogleck, the nation of Vaegirs is full of noticeably discontent lords with a less noble bearing. They do not favor discipline or an organized command hierarchy, and in this have more numerous men, and cheaper armies to maintain, while having reasonably effective mounted units and infantry. They have, perhaps, the best archers in all of Calradia. Bordered by the Kingdom of Nords, the Khergit Khanate, and the Kingdom of Swadia.
It's capitol is Reyvadin.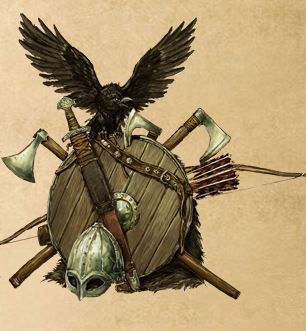 Kingdom of Nords;
Ruled by King Ragnar, this nation was taken from Calradia from Sea Raiders from Nordland, and settled, though the Sea Raiders now plague the lands. It's held by a fearsome collection of lords, known for the best infantry in all of Calradia, showing immense bravery and grave effectiveness in battle. The Jarls of this nation hold kinship as a virtue, though discontent is still often fresh among them. Bordered by the Kingdom of Vaegirs and the Kingdom of Swadia.
It's captiol is Sargoth.
Khergit Khanate;
Ruled by Sanjar Khan, this nation relies on cavalry completely, and a tactic involving fast movement and the use of a bow as mounted archers. Perhaps the least amount of respect among the lords, it is a strong area of trade, with it's valued spices. Essentially, the Khergit were once a Steppe Horde that hold true to their roots, though arguably are beginning to stray from it since they settled in Calradia after taking the land from the Kingdom of Vaegirs.
Bordered by Kingdom of Vaegirs, Sarranid Sultanate, Kingdom of Swadia, and vaguely the Kingdom of Rhodoks.
It's capitol is Tulga.
Sarranid Sultanate;
Ruled by Sultan Hakim, the harsh deserts are crawling with the swift desert bandits, the Emirs often are at war with their neighbors, the Khergit Khanate and the Kingdom of Rhodoks, and their discontent is at a level that it closely measures next to that of the Khergit Khanate. They rule the deserts with their Mamlukes which rival the Kingdom of Swadia's cavalry. They have versatile armies. Bordered by Kingdom of Rhodoks, and the Khergit Khanate.
The capitol is Shariz.
Possible Routes;
You have made a name for yourself in the land of Calradia, perhaps fighting bandits, or becoming a powerful merchant. You have been recently knighted as a vassal of one of these six factions. You shall pursue your ambiguities, and never stray from your oath, presumably..
-You have either gained vassalage through birth right with the passing of your father or the coming of age.
-Have switched sides in the conflict to fall under the oath of a different Ruler.
-Have gained rights to vassalage through great renown(earned through wealth, shows of honor in tournaments, or combat prowess).
System;
Calradia is a medieval agricultural society whose technology is roughly equivalent to that of the period of around 1150 - 1350 A.D. in Europe and Asia. The economy is driven almost entirely by human and animal power. There is no magic known to the Calradians other than that of legend and folklore, which has no impact on actual gameplay.
As you travel across the map, you will see many kinds of settlements. Villages are small communities which sustain themselves by farming, fishing, or by pursuing other small-scale crafts. Towns are larger, walled settlements which are centers of trade and industry -- the best places to find mercenaries, or to buy weapons and armor. Castles are predominantly military bases, where lords can watch over sections of countryside, or retreat if threatened by larger armies.
I would like for this to seem genuine, realistic in the sense of no magic or special arts. Realism to it. In the beginning, everyone will gain a fief of one village within the confines of your factions territory(Of your choice). Where you can build a manor for yourself and expand on the village, training your units and expanding on your personal wealth. You will gain castles and towns through combat and rising through the ranks of the faction. You will appoint your own servants and control them in your posts, doing as you please with the village.
It will likely come under outside influences and elements of the game. Bandits attack your fief in large numbers, or an enemy Lord attacks during war, or even perhaps if you're unlucky. The amassed Lords and their forces will target you. I will also add elements of weather, wealth, and hardship. Loosely-based upon turns, you can expand on your fief, your own home, look for marriage, or pursue friendships, pursue rebellions, where unlike the game, you can become the Ruler of the Faction.
War will be decided on the outcomes of battles, which will involve gruesome detail and be organized into one post by the participants of the battle. With me letting them know the results(Who wins and who loses) based upon the rolling of dice, based on terrain, the war parties of both participants, and the tactics they use.
In the game you can create your own faction, and ofcourse this will be available to you as well. Though it would be extremely difficult, EXTREMELY, and so I would suggest instead creating a rebellion and later changing the name of the faction if you've successfully made it your own.
It will be interactive, and you will constantly be under fret. To keep players interacting, war will be common among Lords, along with petty personal conflict among houses, tournaments and feasts are common practice in Calradia. Though alternatively in this roleplay, awards will be great sums of gold, prized horses, prized weapons or armor, renown ofcourse, and etc.
Rules;
-Don't Godmod, nothing churns my butter more than people that assume they can do such things as Godmod and Autohit..
-Be creative and innovative. This is an expansive universe, straying from common practice is welcome as you'll come under scrutiny quite often.
-Be bold, bring questions to me in the OOC, or points if you have them. I will listen with an open mind.
-Be aware that your character may die, though it is far more likely that instead the Lord would be injured or taken captive.
-Be considerate of others.
-Do your best by writing and grammar. So long as you give me your best, I won't complain.
-My word is practically law, though if people tell me it's wrong, and it's majority. I'll accept that I should revoke whatever it is I did.
-Have a blast, have fun with it.
-Use the damned Character Sheet, please.
Characters;
Characters should be realistic, I expect you to stay true to your characters, even if it means death. Everyone will be limited to one, though you can play other characters in relation(Soldiers, servants, villagers, etc.) to your own, and create another if your's dies or is exiled to live the rest of their days outside of Calradia.
You will start as a lowly Lord, though through sway and influence you can acquire the title of Marshal.
Women can be Lords.
I will aid in the progression of your character through reports which show the progression, of wealth, opinions, fame, basically everything. Allowing you to update based upon these reports.
Furthermore, a person can create their own unit, but it must have a balance of strengths and weaknesses. With a given, armor type, weapon type, (mount type) and level of training along with the mentions strengths and weaknesses of them.
Name;
Nickname/Alias;
Age;
Faction;
Appearance;(Has to be written, but you can include a picture if you want. I think it makes a profile look better.)
Personality;
Heraldry;(This is going to be on your armor, shields and banners. It is what your men-at-arms will also wear. It defines your knight and his family. Only you and your family may have this heraldry, so chose something that fits your character.)
Family;(Does your knight have children? Is he/she married? I really only need to know the family members living with your knight.)
Equipment;
Mount;(The type and appearance of your horse, if you have one, that is.)
Fiefs;(Will be updated as you progress, lands under your jurisdiction.)
Gold;(The amount of gold you have, will also be updated regularly, and aids in the recruitment, training, outfitting, and maintenance of your warband, along with giving you funds in which to advance your fiefs. Along with buying miscellaneous things and hosting feasts.)
Management;(Here you will list the upgrades, or buildings you have granted your fiefs, the current tax rates of your fiefs, and everything else you feel is worth mentioning.)
Army;(Here you will post your current units, by their number, type- Archers, Cavalry, and Infantry, what weapons and armor, horses they're outfitted with and their level of training, which must be supported with IC action.)
Popularity;(Do you do your best by the court? Or are you one of discourse, straying from the traditional, caring for your people.)
Important Figures;(Village Leaders you may assume control of, Captain of your men, etc.)
History;(This is rather important. You can write as much or as little as you want, but there are bonuses to the more you write. It will allow for a more in depth feel with your villagers and the nobility. It could be positive or negative, but I leave this to you. Do note that you can start off as a peasant and have gained nobility through a heroic action such as saving a noble lady from a band of brigands. If you take this path, the nobility will always. Always. look down upon you and your family. You will also be less skilled as a warrior at the start of the roleplay.)
Code: Select all

Name;
Nickname/Alias;
Age;
Faction;

Appearance;
Personality;

Heraldry;
Family;

Equipment;
Mount;

Fiefs;
Gold;
Management;
Army;

Popularity;
Important Figures;
History;
Taking place in...
Arcs are bundles of posts that you can organize on your own. They're useful for telling a story that might span long periods of time or space.
There are no arcs in this roleplay.
There are no quests in this roleplay.
Here's the current leaderboard.
There are no groups in this roleplay!
Welcome home, Promethean. Here, you can manage your universe.
Arcs are bundles of posts from any location, allowing you to easily capture sub-plots which might be spread out across multiple locations.
You can create Quests with various rewards, encouraging your players to engage with specific plot lines.
Settings are the backdrop for the characters in your universe, giving meaning and context to their existence. By creating a number of well-written locations, you can organize your universe into areas and regions.
Navigation
While not required, locations can be organized onto a map. More information soon!
There are no groups in this roleplay!
By creating Collectibles, you can reward your players with unique items that accentuate their character sheets.
Once an Item has been created, it can be spawned in the IC using /spawn Item Name (case-sensitive, as usual) — this can be followed with /take Item Name to retrieve the item into the current character's inventory.
Give your Universe life by adding a Mob, which are auto-replenishing NPCs your players can interact with. Useful for some quick hack-and-slash fun!
Mobs can be automated spawns, like rats and bats, or full-on NPCs complete with conversation menus. Use them to enhance your player experience!
Current Mobs
No mobs have been created yet.
Locations where Mobs and Items might appear.
You can schedule events for your players to create notifications and schedule times for everyone to plan around.
Add and remove other people from your Universe.
Orphanage
By marking a character as abandoned, you can offer them to your players as pre-made character sheets.
"The missing wing? fitting i suppose for one such as me."
The Forge
Use your INK to craft new artifacts in Mount & Blade; Warbands. Once created, Items cannot be changed, but they can be bought and sold in the marketplace.
Notable Items
No items have been created yet!
The Market
Buy, sell, and even craft your own items in this universe.
Market Data

Market conditions are unknown. Use caution when trading.

Quick Buy (Items Most Recently Listed for Sale)
None
Discussions
Most recent OOC posts in Mount & Blade; Warbands