Name:Alistair Crow
Gender: Male
Age: 16
Grade: 11th
Pets: none
Blood Type: AB+
Birthday: 14 Feburary
Zodiac Sign: Aquarius
Appearance: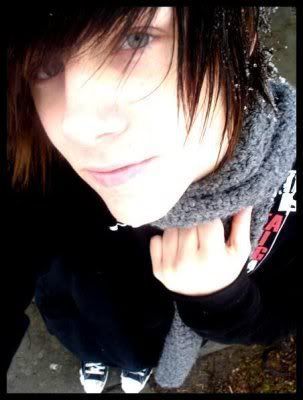 Languages spoken: Mainly English but he would like to learn another language
Race: Human
Likes: Ali likes to listen to music mainy heavy metal and rock, he loves art mainly photography and drawing. He does enjoy socializing but sometimes he just wants to be on his own. He loves video games and is a member of the gaming club.
Dislikes: The dark, confined spaces., He doesn't like reading out loud as he has trouble reding and pronouncing words correctly. He hates violence of any kind he also is a bit wary of the people in the night class but has more or less come to accept them but is still cautious.
Fears: Ali has a strange fears of crowds depending on the size of the crowd itself he will often tke a while to compose himself before entering a room with people.
Powers: None
Personality Ali is a very sweet boy once you get to know him he can be very protective over friends. He is shy at first but if you break through the protective shell he is quite confident when talking to people he knows.
Equipment A drawing pad and his ipos.
History
Ali was born into a pretty normal family his father was a doctor and his father was a teaher at a special school for disabled children. Even with his mother being a teacher Ali struggled with ready and writting he could read the words but had trouble pronouncing them, he was texted for all the learning difficulties and was diagnosed as having dislexia his parents were reasured with the proper support he would be able to conquer his reading and writting dificulties. At the age of 15 Ali's parents decided to send him to Moutain High Academy Boarding School to be able to give him suppourt with all his lessons and his reading and writting.