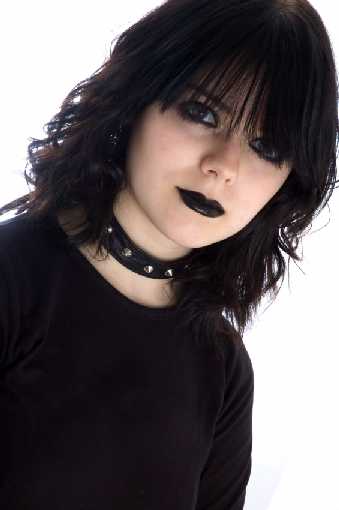 Full Name: Katheryn Rigby
Nickname: Kathy
Age: 15
Birthday: July 12
Gender: Female
Sexual orientation: Straight or Gay, depends on the person. She doesn't care about genders.
Likes: punk rock and goth music, faded roses, swimming, rain and thunder storms
Dislikes: bright colors, (her eyes) "humans", her mp3 player jamming
Fears: everything. except for lightning and thunder.
Personality:
Kathy is pretty shy and can be pretty rude if you upset her. She is very nervous and scared most of the time but has learned to hide all that under a woven black sheet of calmness. Kathy loves water, any type of aquatic sport or rainstorm. She generically hangs in the corner during Multichromatic therapy sessions and listens to music on her mp3 player and gets kicked around alot on the grounds. The only time she can really think and not be scared or nervous is when she's head under water, with no noise or person to disturb her. However, she normally does so in the middle of the night for fear of getting caught and being though "weak" like she had by so many people in her childhood.
Hobbies: Swimming, kind of aquatic sport, listening to music
History:
Kathy was seperated from her parents on a bid. She had a Multichrome mother who was now dead but her dad had no idea she was a Multichrome. He just thought Kathy was a big mistake and thought he could earn a pretty penny off of her, which he did. Kathy was sold to a rich family with kids at a fairly young age and she was kicked around and teased by the kids. She was instructed to come down during cocktail parties so her owners could show off and they usually whipped her every time she got out of line. She was used as a kind of valuable slave, nearly starved to death yet kept alive to show off. She was hidden by the family when the laws were passed and was mistreated more than ever. The second the police sirens could be heard, however, the family tossed her out the window (litterally, she was basically a pile of bones when she was found) A few years after when she was found, (she was fifteen by then) she was brought to the Multichromatic facility and nursed back to living standards.
How do you see your future as a Multichrome?
Well... I... erm... just want to be alone, really. Maybe a nice house, maybe a family. I'd really like to... uh... be a.... erm... *cough*actress *cough* I'd really like to be a surgeon.