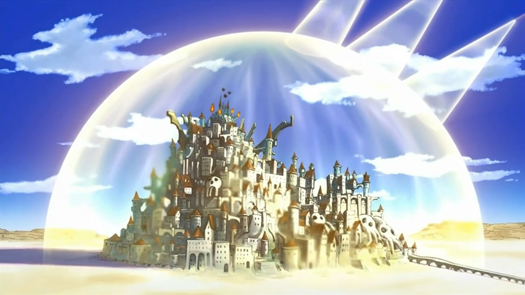 The city is dark and gloomy in appearance, a pile of various identical-looking buildings with white walls and red roofs in the middle of the deserts of Nevada, with the buildings resembling those of European origin from the 1800's. However, seeing the city from within it, it is actually a rather lively city rich in atmosphere and culture.
The cobbled streets are long and winding and often maze-like, with lots of stairs, twists and turns. The occasional Shinigami mask structure is shown above the buildings. Right at the top of the 'pile' of buildings is the Death Weapon Meister Academy. A single long highway leads out of the city. Although invisible to most, Shinigami's soul is seen surrounding the city like a forcefield. Overall, it is a strange-looking city. However, it is also the place where many of the heroes can call their home for they will always be welcome.
The businesses in Death City tend to have supernatural themes, including a cabaret club called Chupa♡Cabra's. Most businesses have the word 'Death' incorporated in them, such as Deathbucks Coffee. They also have their own newspaper, known as the Death Times. Maybe businesses offer part-time work for Shibusen students in need of money. It can be assumed that many of Death City's inhabitants are Shibusen students. They are quite famous among the locals living in the city.
1 posts here • Page 1 of 1