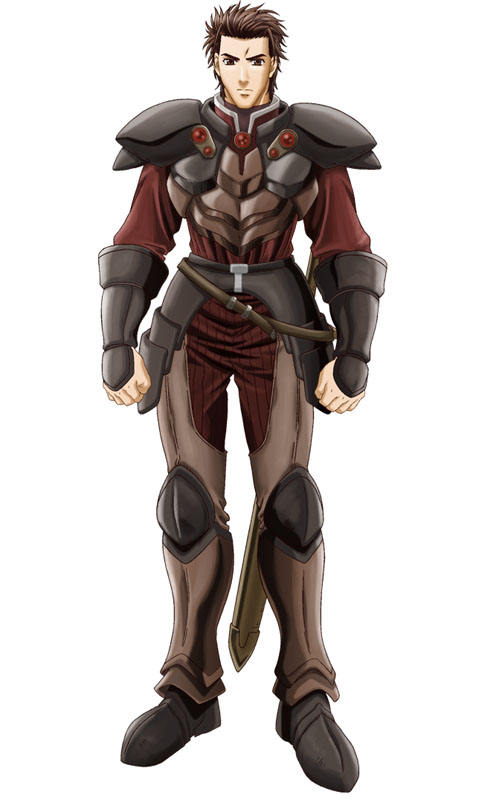 ---
---
❊|Name|❊
Trytheus Morrela

❊|Nickname(s)❊|
The Griffon Knight. The Great Smith. Forger of Crowns.

❊|Age|❊
34

❊|Birth Date|❊
22nd of December

❊|Gender|❊
Male

❊|Sexual Orientation|❊
Heterosexual

❊|Beast |❊
Griffon- Mavegen

❊|Region|❊
Amstra

❊|Appearance|❊
---
---
[right]
❊|Appearance|❊
Hair Color |Brown|
Eye Color |Brown|
Height |6 foot 3"|
Build |Athletic|
Scars/Markings |Heavily calloused and marked hands and forearms|
Weaponry |Warhammer and spear|
---
---
❊|Personality|❊
Positive Traits
|Honour- A man with a strong sense of right and wrong, and the will to enforce that sense.
Loyal- Willing to stand alongside those whose beliefs align with him, and to die with them for as long as they remain true.
Steadfast- Unwilling to retreat from the field of battle, or accept when a person is viewing something in a negative light, he will remain a bastion in a storm of doubt.|
Negative Traits
|Stubborn- Unwilling to back down, either from a fight or from a personal standpoint.
Isolationist- Prefers greatly to stand with only those he has knowing for a long time or fought alongside, he is highly mistrustful of strangers.
Rash- Though a fair tactition, he greatly prefers to act on the first thought rather than on drawn out strategy.|
Likes
|Open spaces, drinking, architecture|
Dislikes
|Darkness, treachery, repression of culture|
Fears
|Night|
Strengths
|Physical prowess, black-smithing|
Weaknesses
|Overly quick to act, mistrust of outsiders|
❊|History|❊
Once a simple blacksmith, Trytheus had no dreams of power, no desires for great wealth, for him the simple act of crafting a blade or a suit of armour was enough to fill his days. Though his skill soon began to outgrow his name, and so people began to come from further and further away lands to visit his remote smithy, in fact the train of visitors grew so much that before long he was forced to hire men to tend to his shop, this only managed to make him even mreo successful, as now people could speak to a number of different men who were selling the wonderfully crafted arms and armour that the blacksmith were creating.
Naturally, as Trytheus hired more men to tend his store, he was too forced to train more apprentices to fill the demand, though their craft were not as good as his own, they did however sell well- though they were labelled under the apprentices name and were priced lower due to their lower worth- it only managed to draw in customers. As the success of the once small smith grew, his apprentices and shop keeps decided to build new homes around the smithy, as they were required to be there more and more as the months went past. Before long the more regular traders too began to set up permanent homes and stores to sell their wares to the growing number of travelers. It was in this fashion that the village, then later town of Amstra grew up with the once small smithy at its heart.
The smith continued his work of course, caring little for who was now living nearby, though many asked for him to be the elected mayor of the town, as he had been the first there, he turned them all down to focus on his craft, though he did not allow his smithy to be dominated by the growing town around it, he commissioned architects and builders to help his smithy grow, as that even as he worked the forge, his once small smithy was slowly turned into a strong keep which loomed above the buildings surrounding it, eventually at the request of his apprentices- most of whom had stayed on to aide their former mentor- a curtain wall was erected around the homes of those that worked for Trytheus.
Though taking a self imposed exile did put him out of the path of politics, it did not prevent the stories that customers brought with them from filtering through to him, and in what to everyone seemed completely unlike him, he simply up sticks and left one day, he took the greatest pieces of his work with him, passed on his keep and smithy to his greatest apprentice and left without a trace into the wilds.
The destination of his sudden departure was the monster Huitzilopochtli, which he had learned was simply sending those that dared to venture there away, he had the fortune of being the fourth to arrive at the beasts location, and though he did not shake nor shudder in its presence, he too was told to depart until summoned, and bizarrely he did just that, yet he could not comprehend why he was compelled to. So it was that he took up residence in the mountains, once more taking up the art of a craftsman, though without the use of his anvil or forge he could not be a blacksmith, instead he crafted himself a secret retreat in the mountains, using nothing but he own hands and his wit, and so he waited and spent the time making his new home more secure and yet more hard to locate.
Eight months later, the call came, like a roaring thunder across the mountain tops, the monster summoned him back, as so he returned. When he left it was with the assurance of immortality and with the last of the Griffons, which he named Mavegen, it was not directly to his lands, as the other may have done, instead he returned to his hidden keep in the depths of the mountains and spent the remaining months of the year adding yet more to it, as well as removing all but the most hidden of pathways to this hidden fortress, with his work done he departed once more for Amstra.
On his return he found the city was in turmoil, little had he realised that this chaos had been brewing for years, in the recent months it had boiled into all out riots in the streets. The fighting had calmed down for the day as he arrived to his keep, much to the surprise of his former apprentices and servants, who instantly fell willingly back into service, though he asked them not. With the Smiths Keep as one of the few bastions of safety in the city still untouched by the infighting and looter gangs in the city bellow, the smith and his apprentices quickly set about expanding this safety to the neighbouring streets, and so they hired as many of the fighting minor factions that they could afford and with their own crafted weapons and suits of armour they lashed out into the streets to join the fray. It was an uphill battle that lasted many months, though they had the superiority of better crafted equipment and stronger moral then their opponents, they lacked the number or skill to effectively use their equipment. Though it took a great struggle that took a heavy toll on the city and it remains a city divided to this day, though the crime is kept suppressed it is still a constant presence and the different factions constantly clash against each other.
As for Trytheus he was crowned the King of Amstra, as was his right, and though he longed to return to his forge, he knew his greater duty was to govern his new lands as they so desperately needed- yet that did not stop him from returning to craft a new masterpiece when he was able, even if it meant many delays to the craft. The apprentices that fought alongside him in the unification of the city found that they had both a talent and a passion for battle, and so rather than cast their skills aside, they remained on as Trytheus's personal guard, a specialist order of knights, known as the Order of the Forge, or rather the Forge Knights. They all took their own apprentices in the art of smithing, as it was decreed that any that wished to obtain their knighthood must first be a smith for a minimum of five years, so they may first contribute to the supplies of arms and armour that were to be given the kingdoms forces, and so that they could forge their own weapons and armour, as Trytheus had.
Thousands of years have passed since those long forgotten days, in those years the town has grown into a sprawling metropolis, the original factions that caused chaos in the city have long since died out, only to have many new ones grow in their place, the ever increasing prosperity of Amstra City, and its outlying regions, have done nothing to stunt this ever present issue- indeed some would say it is a contributing factor as the City continues to grow more and more powerful. As for the Order of the Forge, they have remained, though their mission has somewhat changed over the thousands of years since their creation. Though they remain the Griffon Riders personal guard, they have also become known for being the core of the Amstrian military, serving as both generals and champions of the army, not to mention guarding Amstras borders.
The Order of the Forge have taken their duty very seriously, throughout the thousands of years they have sought to locate and protect every reincarnation of their original master. Each incarnation has been taken as an apprentice and taught the skills of both forge and war and when the time was right, they were led down into the deepest vaults that had been built under the Smiths Keep- which continues to grow even to this day- and there carved into the walls of the vast chamber, is written every single detail of every past incarnations life and deeds, so that no memory may be forgotten and nothing shall fade. The reincarnation is left there for three weeks with little food and water, but when they emerge they leave behind their old name, their old attachments and connections and are renamed Trytheus Morrela, and so the cycle continues.
---
---
|Face Claim|
Vincent Ansara

|HEXCode|
#b300b2