Gender:
Male
Noble
:Ranking
Age:
19
Veneziano Snakes
:Weapon
Sexuality

:
Homosexual
None/Serves Damien Rivera as Guardian
:Guardian
Race:
Vampire
(B) Beta
:Type
Relationship:
Single, although he has a crush on his master, Damien.
Viper
:Title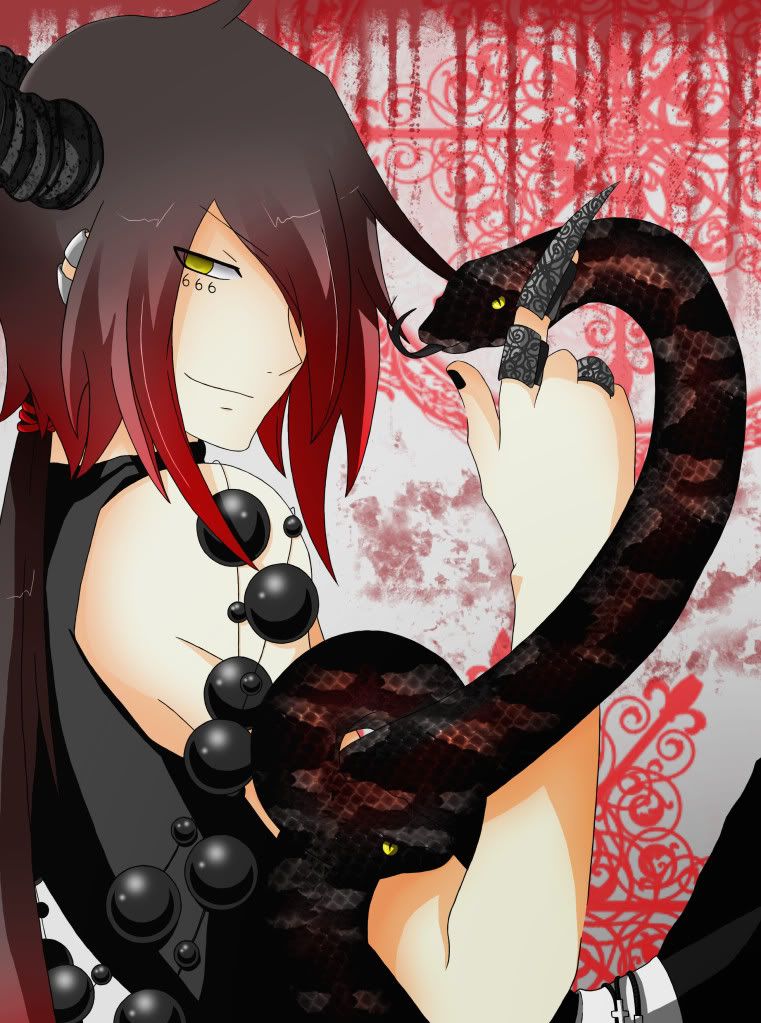 A strange and usual man, he stands at 6 foot and has a slender build. He has faded black hair, which turns dark red as it reaches the tips. It falls to his collarbones and he has a VERY long ponytail at the back, tied in a hollow rope that falls to his hips.. He has seductive, yet murderous amber eyes, and pointed features, with traditional vampire fangs. He typically wears a black, sleeveless and strapless vest top, that covers his shoulders and is awfully tight. And he wears black trousers and boots. When not working out or at class, he wears similar clothing to his Master, and is usually wearing a black Kimono, with his hair tied loosely in a ponytail.
Coiled Viper - A protective move that causes snakes to surround his team mates and protect them. Usually broken easily by a brief assault due to the snakes not being strong in defense. He can protect three at a time.
Veneziano Secret Style: Gate One - A barrage of attacks which is followed by the unleashing of a venomous snake. Usually cancelled out by blocking the first two hits.
Constricter - Gate Two: An attack that summons a large snake that constricts an opponent. Rarely used because it requires a blood sacrifice, wounding him greatly.
Veneziano Secret Style: Gate One-
_________Personality_________
Sirius is hotheaded, strong-minded, intelligent and trustworthy. All the qualities that Damien would need for a guardian. He is more like him than most would realise, as they share the same goals and dreams. ((TBA))
Fears:

Failing Damien.
Losing the Rivera family.
Death
Likes:

Dumplings.
Rainy Days
Snakes
Dislikes:

Spiders
Misfits
Incubus'
_________History_________

Feliciano Veneziano (Father, DECEASED)
Marie Vargas (Mother, Deceased)

CHARACTER'S BIO (HISTORY) HERE