.:
Name
:.
Myran
.:
Age
:.
16
.:
Grade
:.
10
Sophmore
.:
School
:.
Sunshadow Academy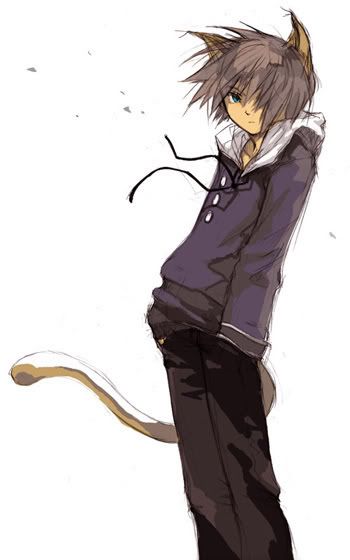 .:
Description
:.
Myran has shaggy black hair that almost reaches down to his shoulders. It is so dark that in certain light is looks almost blue, and if there is no light, it is nearly impossible to see where his hair is. He lets the unruly locks do what they want; he has given up on trying to tame his hair because it just goes back to the way it was. Even though he spends no time on his hair, it does look like he has at least meant it to look that way. Most people guys will purposely make their hair look messy, Myran will just get out of bed, or sometimes a tree, run his hand through his hair and it's ready for the day. He will generally have his hair down and let it hang in his eyes. He will sweep it to the side if it is bothering him, but he will usually keep his head down and his hair in his face in an attempt to blend in and not be seen.
Due to his mutation he has a pair of panther ears on top of his head. They are his actual ears and they work like any type of cat's ears. They can stand straight up, swivel back and forth, and droop down to lay flat against his head. The latter is the way he generally keeps them, mostly out of habit due to his brothers' treatment. The soft fur on his ears, yes it is fur, is a dark black almost blue, just like his hair. The other reason he keeps his ears down is in order to hide them. With his ears down they will blend in with his hair and it is almost impossible to see them, unless you are looking for them.
His eyes are the most fascinating and revealing part about him. If anyone gets a chance to really look at his eyes, it would be hard to say exactly what color they were. His eyes contain many colors and depending on his mood, his surroundings and oddly enough, the weather, his eyes will be different colors. The darkest they have been is a dark blue with shades of grey on the outside edges, or a very dark pure grey. The lighter colors are many and have many different shades. His eyes will sometimes stay within the blue color ranges and turn an almost sky blue. They can also go to different shades of green and yellow, even though his eyes change to all those colors, they always have a trace of grey in them. This is most likely do to his low self-esteem.
Myran's size is more suited to his panther mutation than to his human half. He is short for a guy, standing at only five foot six inches. This makes him about a head smaller than his two older brothers who tower over him. Because of his treatment and his constant strain to stay hidden, he has a slouch and this makes him look an inch or two shorter than he really is. Even though he is a guy, he isn't gifted with a ton of muscle. Based off of his mutation, he has strong muscles, but just enough to give him strength and nothing more. He has a lean body, made for speed and moving easily around obstacles. This allows him to climb things really quickly, having strength to pull himself up, and move along faster than most normally would have.
Over his small frame, Myran generally wears all black clothes. This consists of a large t-shirt that drapes over his torso and hangs down passed his almost nonexistent hips. He will usually have on a pair of worn black jeans, or his favorite, cargo pants. They are baggy and because of his small height, the cuffs will drag on the floor and the ends are more commonly frayed and worn to shreds. He only has a few pairs of shoes, all of which are black; he has a pair of converse that he wears almost every day. His second most worn shoes are a pair of thin, slipper like shoes that he wears when he knows he is going to be walking or running for long periods of time, they let his feet move quicker and are very light in weight. His other shoes he doesn't wear much because of their bulkiness but he has a pair tennis shoes that are hand-me-downs from his older brother. Over all of it he will wear his large black sweatshirt. He actually has two of them. One is a pull over and the other is a zip-up. He will usually wear the pull over when he has wounds that he doesn't want anyone to see.
If people were to pay closer attention to Myran, like Julye has, people would notice that he always has at least one bandage on or two. He ignores bruises due to his high pain tolerance, and only cares about wrapping up fresh sore muscles and deep wounds that some would say needed medical attention. Because of his treatment at home, he has learned to expertly wrap bandages and sometimes helps out in the nurse's office because of his skills but never says where he knows so much about healthcare. Most of the bandages blend into his pale skin though, the lightly tanned colored patches, fitting nicely to his mostly pale skin, which isn't helped by his night owl attitude and constant hiding behind black clothing and hair.
.:
Personality
:.
Myran's personality is hard to describe because of his tendency to act differently depending on who he is around and what the actions of others around him are. He generally has three personalities and no one has seen all three. One or two people may have seen two but that is rare and no one has seen all of his personality.
While he is at home is the time that he is the quietest. His brothers aren't the nicest due to his mutation and neither are his parents. His brothers find way to beat him up and get him in trouble; his parents will look for the tiniest reasons to ground him and try to keep him out of site of other people. He will keep to himself as much as he can and when he knows that something will go wrong, he will sneak out of his window and leave. He hasn't found the courage to actually leave his home though; he always goes back no matter how badly he gets treated there.
While he is at school is he still the quiet person who sits in the background. Because of his attire most of his teachers would bet that he is one of the 'bad' students in the school. He actually isn't, he does all his work, and is actually quite smart. The things that make him look like a bad kid is his attire, he wears all black and that makes the teachers weary of him. Because of all his missed days he doesn't get all of his work and it looks as if he skips class a lot. Sometimes he does skip because he doesn't want to be around people, or doesn't want questions about the bandages that he has on.
While he is around people his considers his friends (Julye mainly) he is a little more open. He will let them know partially of what's going on at home, and will let them help him when he is hurt. He isn't as quiet with good friends and those in band. He will joke around with them and express himself more, around people he knows that won't hurt him he will actually smile. Because of what his brothers have done, he will tease those around him and once in awhile his comments will come out harsher than he intends them to be. He will more often than not, restate his comment or take back his joke. He will usually feel bad for this, he doesn't like people to be hurt or feel anything like he has been feeling from his parents and brothers.
When he is alone he is more himself than any other time. He likes music and will hum to himself quietly when he knows no one is around him to hear. He likes to create his own melodies, though no one has heard them. Though someone may have heard him before if anyone has found him alone in the band room in front of his bells. He has played a few of his melodies there when no one is in the room, the director thinks he is practicing but he is perfecting the music he thought up.
.:
Extracurricular Activity
:.
Band
.:
Mutant
:.
Panther
: Myran was born with a natural panther mutation. Instead of having normal ears he has a cat-like ear on each side of his head. The fur on them matches his hair; they are dark black to the point where they look almost blue in certain light. To go along with his ears, he has a long black panther tail. From it being stepped on by his brothers so many times, he tends to keep it either curled around his leg or his arm.
Foresight
: This is one of Myran's undiscovered abilities. Foresight allows him to see glimpses of the future. But there is always a small catch; he can only see things while he is asleep. Although if it is a scene where he is the main focus, he can watch it while he is not unconscious.
Farsight
: This is the other half of his undiscovered abilities list. Farsight allows a person to view what is going on in a different location. Again, he hasn't completely figured out how this works and so can only use this ability while he is sleeping.
.:
Strengths
:. Myran is very agile, through his mutation he is able to move quickly in any direction. This makes him able to dodge things very easily and avoid getting hurt in a fair fight. He is also very good with a knife. He has been training with Kyren and can use the short blade as easily as Julye can use the bow and arrows. He can hear pitches in music perfectly, this doesn't have a real world capability besides the fact that in band he can help others be in pitch and usually his keen ear has helped the band be its best.
.:
Weaknesses
:. Because he his built small, Myran is more easily broken and hurt. The force it takes to hurt him is a lot less than it would be for a normal person. This is partially why it is so easy for his brothers to beat him up. He is very closed to people, he won't share his emotions easily and this will cause him to go off on his own and avoid people. He is partially oblivious to people's hints to him, if they are trying to hint at something, he won't figure out what is trying to said to him. He can also be quite stubborn at times. He wants to prove that he isn't weak and that he can do more than it looks than he can do.
.:
Other
:. He doesn't like having too much attention focused on him. He will avoid it when he can even though deep down he wants to tell people what is going on. He loves reading and if anyone were to look in his bag they would find that every day he has a different book in his bag at any one time. He is also protective of a few of the street cats that he has found fallowing him places. There is an orange and grey tabby, a sleek black cat, and grey kitten with a white stripe on its nose.