---
General Info
Name: Ectun Bzinut Chatsjax
Meaning: N/A
Age: 17
Birthday: 17th May 2001
Gender: Male
Theme Song:
Running With The Wolves
---
What you look like
Hair colour: Blonde/Silver
Eye colour: Blue
More In-Depth Description:
Ectun is usually seen in a red jacket and blue jeans, with brown, run-down trainers and a blue neck band. He also wears a peach coloured shirt underneath his jacket. He has blonde/silver medium length hair, blue nails with a bandage on his right palm and blue eyes. His tail is grey/black and his ears are brown. He has an olive complexion, strong stature and is average height for a boy at his age.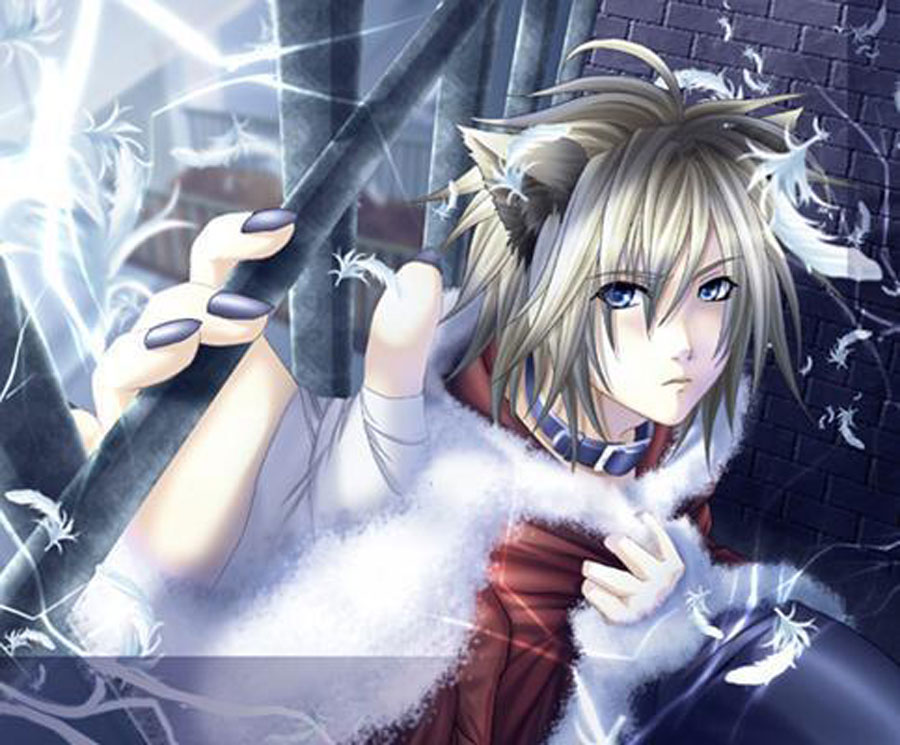 ---
Personality
Five Traits:
Loner, Outside-Person, Intelligent, Climber, Athletic
Description:
Ectun never hangs around with people. He feels like if he becomes friends or gets close to someone, that they will either die or abandon him. He likes the outdoors because his habits became like a cat's habits. He knows a ledge in the foster home's courtyard that he likes to sit on every day, but he has to climb there so he is good at climbing now. He is taught in the foster home and learns what they teach him quickly. He can come up with something to most situations on when under pressure but gets nervous around new people and can't muster up good conversations.
---
Skills
Can play drums, piano and guitar.
Very Athletic (Can run, climb and swim well)
Flaws
Very doubtful of most things, especially people
Has Pyrophobia - Fear of fire
Has Automatonophobia - The fear of anything that falsely represents a sentient being.
Doesn't socialise much
---
Likes
Dislikes
Fire
Mannequins, Dolls, etc.
---
History
Birth Place: Frighit Village
Detailed Backstory:
Ectun used to live in a normal house with the childhood of any other kid. That was before the accident, before the fire. His parents had know the cooker was faulty and was meaning to get it fixed that weekend. The fire occured when Ectun was at a friends house when his home set alight after one out of place spark from the cooker found it's way into the wooden cutlery draw. It was a very unlucky occurence as his parents wee trapped in the house because they didn't notice it until it was too late. They burned alive in their own home.
When Ectun came across his home burning an his parents missing, he knew they were most likey dead. As soon as child care agencies found him crying, he was taken to a foster home because his relatives were either dead or not willing to take him in. Ectun was 10 years old when he fire happened, and it was also the day the story of the cat mutation was on the news. He wasn't the brightest or nicest looking child in the foster home so evidently, he wasn't adopted at all. When accident in the lab happened, Ectun was the first to mutate at the age of 15 and was quite quick to be moved to a new foster home, created just for mutated children. He is yet to be fostered.