Name:
Yamamura Miharu
Age:
18
Gender:
Female
Height:
5'6
Weight:
130
Skin Color:
Peachy-toned
---
---
Appearance:
---
---
Personality:
Yamamura is a warm, enthusiastic person, typically very bright and full of potential. Her world is full of possibilities, and can become very passionate and excited about things. Her enthusiasm lends her the ability to inspire and motivate others. She can talk her way in or out of anything. Yamamura loves life, seeing it as a special gift, and strives to make the most out of it.
Yamamura has an unusually broad range of skills and talents. She is good at most things hat interest her. To onlookers, the the girl may seem directionless and without purpose, but she is actually quite consistent, in that she has a strong sense of values which she lives with throughout her life. Everything that she does must be in line with her values. Yamamura needs to feel that she is living her live as her true self, walking in step with what she believes is right. She sees meaning in everything, and is on a continuous quest to adapt her life and values to achieve inner peace.
The girl needs to focus on following through with her projects. This can be a problem area for her. Unlike other people, Yamamura needs time alone to center herself, and make sure she is moving in a direction which is in sync with her values. She may fall into the habit of dropping a project when she becomes excited about a new possibility, and thus she never achieves the great accomplishments which she is capable of achieving.
Yamamura has great people skills. She is genuinely warm and interested in people, and places great importance on her inter-personal relationships. She is very creative and artistic, always thinking of new things to make and do. Yamamura excels at bringing out the best in others, and is typically well-liked. She has an exceptional ability to intuitively understand a person after a very short period of time, and use her intuition and flexibility to relate to others on their own level.
Strengths:
Socializing
Painting/Sketching
Reading
Creative Writing
Weaknesses:
Math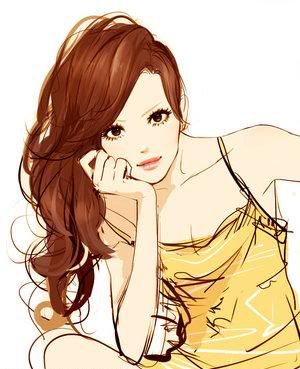 Likes:
Making people laugh/happy
Painting
Food/Spicy food
Sweets
Getting dared to do things your normal person wouldn't.
Dislikes:
Leaving something undone
School
Being bored
Hobbies:
Yamamura often spends her free time painting or chating with a fellow friend.
Romantic Interest:
TBA
Bio:
Yamamura grew up in a good neighborhood, having everything she needed and more. Basically, her childhood was perfect.
Other:
Thoughts on Other Characters:
Coming Soon!