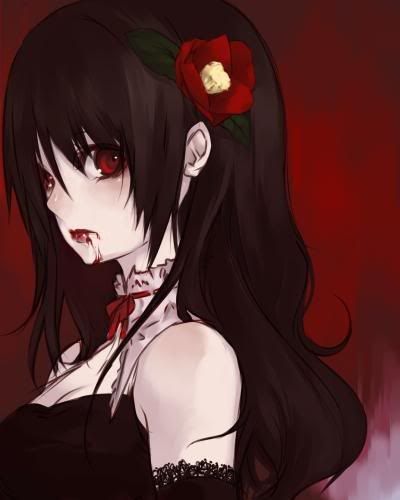 Nicknames
:
Marcie (Only by close friends)
Titles
:
The Don't-Get-On-Her-Badside-Or-She'll-Probably-Kill-You Girl.
Gender
:
Since when is Maria a man's name?
Female
Role
:
The Rose
Appearance
:
Maria has the appearance of a girl in her teens. Her hair is long, wavy, and black. And her eyes are a bright red, and are quite large compaired to the rest of her facial features. She is average height (As average as a vampire's height can be), and her skin is fair and creamy, and barely unmarked (Aside from the freckles dotting her nose) She also prefers to keep her hair up most of the time, other than when she is hunting.
Personality
:
Maria comes off as a sweet, shy girl, and uses this to her advantage, as she doesn't have to hunt for food (It comes to her.). But below the warm exterior, is a cold-blooded, terribly sad girl, who has a pessimistic outlook on life. She barely pushes her burdens on others, and prefers to watch and listen, than talk and interfer with other's plans. She is a cold person, and rarely shows affection towards others (Other than when she is hunting). Maria has anger issues, and won't hesitate to snap or swat at you if you piss her off (Which happens very often).
Species
:
Vampire
History
:
As she was living, Maria was a happy child, and always appreciative of the small things. She lived with her mother in a small apartment, in a tiny town in Colorado. She was the one who took care of the house, as her mother was always "Sick" or "Tired". Maria was oblivious to her mothers drug abuse, yet she knew something was wrong. One day Maria was sent out of the house, as one of her mothers "friends" was over. As she was walking in one of the fields close to her home, it began to get dark. As she sky darkened, Maria began to feel as though she was being watched. She brushed this off, and continued on her way out of the field. She began to feel paranoid, squeeking at every abnormal sound. She heard breathing behind her, and spun around to see a large pair of black eyes staring back at her. The vampire wasted no time on feeding on a struggling Maria. He saw potential in her, and decided to change her rather than kill her. She does not recall who changed her, she can only remember a large pair of black eyes staring at her.
Special Traits
:
She has an uncanny ability to sense if people are lying.
Special Abilites
:
Her sense of hearing and sight is hightened greatly.
Your Story
She aspires to show the world what she
really
is.
Theme Song
:
http://www.youtube.com/watch?list=PLDF970434E54432B1&feature=player_detailpage&v=OFKUnfwBPTU
Favourite Colour
:
~
Dark Green
or
Blood Red
Likes
:
~Candles
~Night Time
~Cats
~Manga/Anime
~Tea
Dislikes
:
~Ignorant People
~Rap Music
~Bright Light
Extra
:
She tends to bite her nails, or tug on her hair when she is nervous or bored.