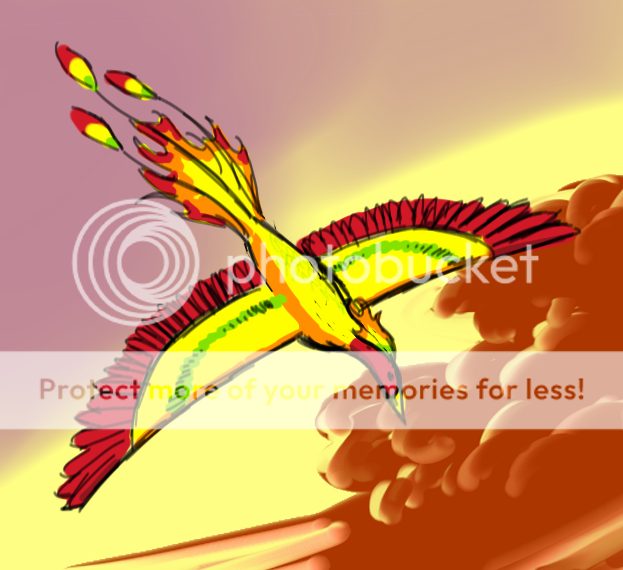 Gender: Male
Race: Phoenix
Age: Seems young, at least for a phoenix
Appearance: He stands at just over 4 ft tall, but his wingspan reaches 7ft easily. he is covered mostly in bright golden plumage which has an iridescent green tinge depending on what angle you're looking at him. He also has red accents on his wings, three tail feathers and head. the plumage from his crest and tail wave around and look almost like fire when he flies.
Personality: Solor has a rather naive and innocent attitude, and due to his love of flying and adventure can easily get caught up in trouble.
Abilities:
He is an adept flier. While not as skilled as most elder flying beings, he is certainly above average in general.
Fire manipulation. He is able to coat himself with fire from his feathers as a defense mechanism, and can use this as a weapon. Also has some control over fire in general, but his 'flame coat' is definitely his most powerful asset in battle.
Healing. Phoenixes are well known for their inherent healing abilities, and Solor is no exception. His tears can heal most grievous wounds (but never fatal ones), and he can shed down to heal more minor injuries.
Solor, having an affinity to fire, is naturally weak to water and ice. This causes him to have an irrational fear of rain and he will avoid flying under clouds whenever possible. this can make his favorite pastime, flying, rather stressful at times.