---
---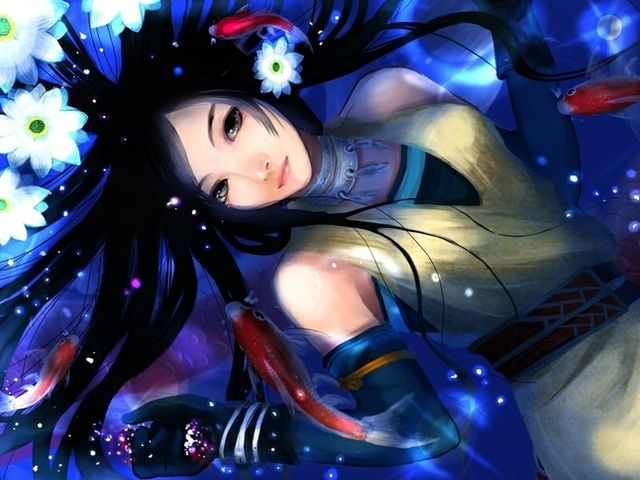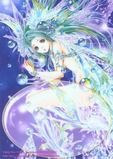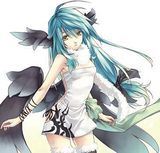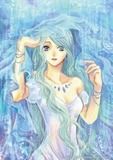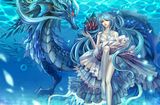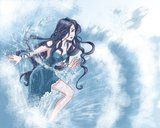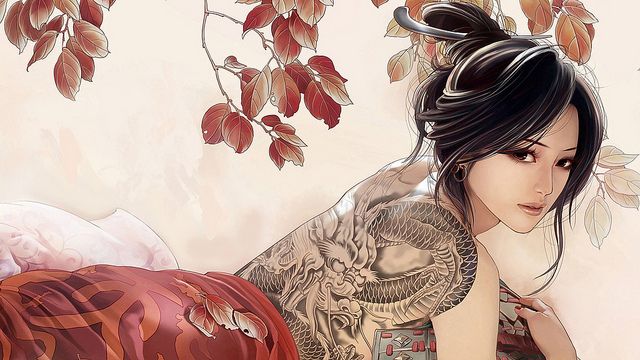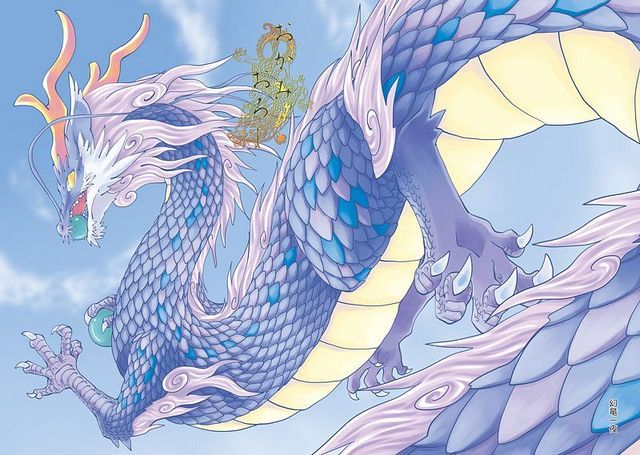 Nickname:
Anna, Yuna, Yanny
Age:
22
Gender:
F
Race:
Dragon
Ethnicity:
Chinese
Origin:
China
Appearance Description:
Yanyu is a young lady that stands at about
5'7
; a height that is quite tall for her ethnicity. She has jet
black hair
that runs down her back to her waist and dark
brown eyes
that contrast her rather
pale
face. Yanyu usually dons more traditional clothing that is comparable to oriental robes. Her hair is either let down to flow freely or tied up to keep her hair out of her vision. Yanyu doesn't usually like to wear jewelry. She considers them a danger hazard and a hassle to wear around with all the noise they make. Present on her back is an intricate
tattoo
of a dragon spanning her entire back.
Transformed Appearance:
When transformed as a Mystic, Yanyu's jet black hair lightens as if the water's
blue
color were soaked into her hair. Not only has her hair color changed, but the length that was already long was now floor length. Luckily by tying her hair or having it curled, the hair barely touches the ground. Her eyes also become as clear and
blue
as the water that reflects her image, and her skin seems to have more of a beautiful
glow
. When her eyes are observed closely, it can be seen that surrounding her pupil is a shade of
red
or
maroon
. Her attire has changed, but it is not a drastic one. In place of her usually robes is a flowing white gown. It is accompanied by a sash that wraps around her arms. In her hair are two
headpieces
; one on each side of her head. They resemble the flaps that can be found on the sides of a dragon's head. She is now
barefoot
, and is also wearing more jewelry; but they make no sound, as if merely there for decoration. She now dons silver ankle bracelets on her left ankle, a shimmering crystal headpiece, a blue crystal pendant the shape of a teardrop rests on her neck, and bracelets on her right wrist to match the others.
Orientation:
Bisexual
Side:
Mystic
Element:
Water
Abilities:
Mystic Abilities:
Water Trap – Engulfs the enemy in a large bubble of water, suffocating them and restricting their breathing.
Mist – Creates a fog and/or a mist within an area.
Qiang – Creates a hail of water bullets upon the enemy. They're small, but pack a punch.
Tide – Good old fashioned tidal wave.
Blood Line Abilities:
Spirit of the Dragon - Enhances focus, accuracy, and attack.
Due to the dragon's affinity to water, Yanyu is able to conjure clouds and rain, and is also able to manipulate water. Breathing underwater is also not a problem and with the help of her abilities, flying is not an impossible task either.
Being of pure dragon blood, she is able to transform into a
dragon
. When transformed, her scales are different shades of
blue
, and her eyes still hold that clear azure shade. There are
antlers
protruding from the top of her head; normally these are used by the rider to hold on. Yanyu loves to fly in dragon form, but she tries to not make a habit of it. There are not many of the dragon race left, and she tends to attract a lot of unwanted attention. Her enlarged body makes for an easy target in the sky, which is why she tends to fly within the covers of the clouds. However when she does transform, her body becomes elongated and is covered in
blue scales
. When standing on all four feet, she has a height of
seven feet
. From her head to the end of her tail, she is approximately
30 feet long
.
Note: Yanyu does not possess all these abilities at the moment. She possesses those of her blood line, but even within those abilities her power is limited. It isn't until later that she will hone her abilities and become stronger. For example, in the beginning she may only be able to transform into a dragon once a day. Be logical, she's not a god. She can't control what isn't there. There is water in the air, but it is limited, and therefore her attacks will be limited based on her surroundings. That is until she unlocks her Mystic powers. Hypothetically it will allow her to manipulate more water from her environment, but it still isn't going to let her manipulate what isn't there.
Skills:
She's been trained in Kung Fu for only ten years. Yanyu is a fairly good cook since she grew up in a patriarchy and was expected to grow up as a lady. In addition, she is very skilled in the use of her Liu Ye Dao, a Chinese sword.
Weapon:
Liu Ye Dao
Personality:
Yanyu has a seemingly
laid back
and
easy going
personality because she tends to just go with the flow. However she only does so to avoid any unnecessary conflicts. For the majority of her childhood, if she got into a scuffle, she was always the first one to have the finger pointed at and blamed. After a while she learned to just ignore whatever was thrown at her. She is
hard working
and
courageous
, but she is not all that affectionate. Her politeness may come off as kind or caring, but many of her actions are merely manners. Sure, she's not evil or rude, but she's not a saint. She won't turn a blind eye to those in need of help because it is considered cowardly, but she is only doing it due to the way she was brought up, and not because she wants to be a hero. She is not the type of person that will not immediately rush up to a child and kiss their wounds; that was not the treatment she was given when she was their age.
Another thing that Yanyu has gained from growing up in her household are personality traits that many find endearing. These include
respect
,
gratefulness
, and
loyalty
. Yanyu will always show respect to those older than her in the first meeting. If they prove to be undeserving of the respect, then she will retract it. Otherwise it is a necessity to show those with seniority.
Brief History:
As a child, Yanyu was very docile due to the strict upbringing of her parents. However as she aged, she did not like the way she was treated differently from her older and younger brother just because she was a female. They were able to start training in martial arts at the age of 5 or 6, whereas she had to beg for six years to finally undergo training. Because of the six year head start, both of her brothers are stronger martial artists than she is. Because she is of dragon blood, she, her family, and her clan live in a palace in a secluded part of China. Her great-great-great-grandfather, one of the emperor's favored men, was giving a high ranking and as a result was given a large area of land. Since then, those of dragon blood that belonged to his family have lived peacefully together.
As long as she was in the vicinity of her clan, she was safe. After all, who would try and attack a group of dragons?
Other:
The Chinese dragon was known to have auspicious powers such as control over rainfall, storms, hurricanes, and floods. The dragon itself is a symbol of strength, willpower, and good luck. It is no surprise that the clan's symbol is also a dragon. Tattooed on her entire backside is the image of a dragon, showing her love and devotion to her blood and her clan. Dragons of western culture are not to be associated with those of Chinese culture. While western dragons are menacing and meant to be revered, the Chinese dragon is one to be respected and honored. Though western dragons are known to breathe fire, Chinese dragons are associated with water such as waterfalls, rivers, or seas. However Yanyu was taught that although water gives life to those around, it can also destroy as seen by storms, hurricanes, and floods.
Transforming into a dragon was something that everyone in her family and clan could do, it wasn't anything special. Every dragon transformation was different, but Yanyu's seemed to be abnormal. They had seen dragons with green scales, gold scales, red scales, even black scales and those with white ones, but never one with blue scales. They found her transformation strange, and she avoided transforming in front of others due to all the talk. It will be later that she realizes because she is the Mystic of Water that her scales are colored the way they are.
Other:
♫ She is the one,
Sailor Moon
! ♪