Nickname:
Red or just Scarlet
Age:
23
Gender:
Female
Race:
Elf/Human
Ethnicity:
Italian
Origin:
Italy
Appearance Description:
With a pair of striking misty blue eyes and full pale pink lips, Scarlet is the opposite to just about every aspect of her name. The half-elf has the average height of 5' 5" and weighs just about 110 lbs. Similar to most of her elf relatives, she has a curvaceous yet thin body with supple, porcelain skin. She has shoulder-length pure black hair and a voice of velvety silk that soothes everyone who hears it. Scarlet is also almost always seen wearing her large pair of white headsets to hide her pointed ears, she unfortunately received through her genes from her father, though disguises the fact as an art lover, especially in music.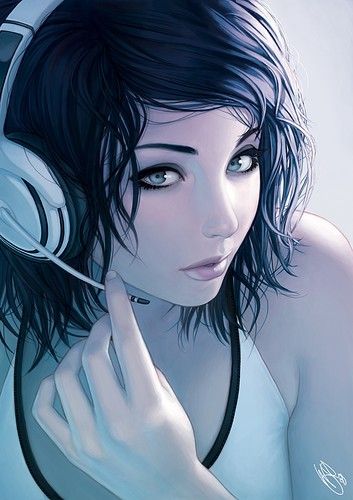 Transformed Appearance:
With a blinding flare of flame, Scarlet becomes the complete epitome of her name. Her shoulder-length black hair lengthens down her back and brightens into a bright red shade. Her sapphire orbs transform into a pair of sparkling rubies. Her clothes, whatever they may be also turns into an outfit that looks incredibly like a school uniform. Her headsets stay as well, though turn into a blood red color.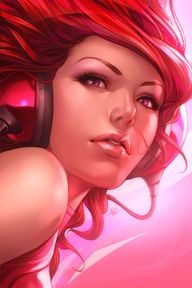 Orientation:
Bisexual
Side:
Mystic
Element:
Fire
Abilities:
Flare:
Fires produce from her sleeves, this has to be used before she can use any other of her fire-based offensive abilities.
Blaze:
Her flames create a flaring circle around her that can act as a barrier, though can be easily penetrated, the enemy can be severely burned.
Scorching Bullets:
Large balls of fire shoot from her hands, though the "bullets" can deal heavy damage, they fizzle out at more than a dozen meters and only shoot straight from her hands when activated.
Smouldering Touch (Passive):
Once adrenaline pumps into her system, a certain chemical in her DNA causes her body temperature to hit impossibly high measures that can burn her opponent at skin contact.
Flame Thrower:
She is able to shoot fires from her arms almost like the ends of rockets, this also allows her to take flight.
Skills:
Scarlet specializes in the martial arts form of Northern Shaolin. The eruption of precise and aggressive attacks help her conduct and be one with her flames.
Weapon:
Her transformation outfit has specially-created flame conducting fabric that allows her fires to produce at a rapid pace yet simply slip off the fabric almost like water on wax.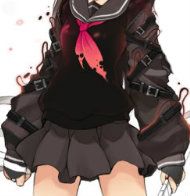 Personality:
Scarlet has what most call a "split" personality. When disguised as a human, she portrays a cool and calm art lover that gives a heart warming smile to all who need it. She will constantly be found in several art museums or painting herself at a high perch or where she can find a spectacular view. On the other hand, when she's transformed, her face is almost always wearing a cocky smirk that can taunt any enemy. She can be rash and fiery, not to mention stubborn and hard headed, but she's incredibly loyal and sticks to her morals.
Brief History:
Scarlet was born into a family of a human mother and an elven father in the gondola city of Venice, Italy. Just the very views of the beautiful streets of the city inspired the girl's love in the arts. Scarlet grew up as a human except from the moment she was born, she's always had her father's ears and the body form of most elven females. As a nonhuman, her father took her under his wing and taught her ways of combat and the history of her elven relatives. Scarlet never once found shame in being an elf, something she shares with her father very closely. Though, that doesn't mean she can tell any human about it.
Other:
Her favorite TV show as of the moment is NCIS due to her love of thrillers.