"There are two wolves inside of us.
One is driven by hatred, lust and negativity.
The other driven by positivity, light and love.
The one you feed will always win."
---
---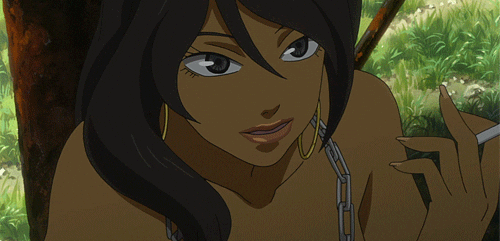 Name
Adryanna Marie Laetho
Nickname
Adry
Age
22
Gender
Female
Sexuality
Lesbian
Race
Shapeshifter
---
---
Height
For as big of an ego as Adry has, she is only a total of 5 feet three inches tall.
Weight
Adry weighs in around 119 pounds.
Hair Color/Style
Deep, chocolate brown that hits around her lower back. She has long bangs which usually fall into her face.
Eye Color
A smokey silver; depending on her mood her eyes will lighten or darken.
Skin Tone
A soft milky chocolate.
Markings/Tattoos
She has a set of falcon wings on her back and a coyote paw print on her hip.
Piercings/Jewelry
She has doubles on her ear lobes, three in her right cartilage, four on her left cartilage and she has a nose ring. She usually enjoys wearing gold instead of silver.
---
---
About MeLikes
Smoking [Although Adry is more of an herbalist, she enjoys rolling her own smokes; they usually contain lavender, or sage, or a purifying healing herb. And of course, she loves marijuana]
Being in her true skin [Adry refers to her coyote and falcon form as her true skin.]
Writing [Adryanna's passion for writing is deep. She loves writing short stories, spoken word, and poetry.]
Reading
DislikesFearsStrengths
---
---
Gift
: Shapeshifting
Peregrine Falcon - the highest measured speed of a peregrine falcon is 389 km/h
Coyote
---
---