---
---
Narnia, a mythical land full of creatures that humans could never of dreamed of. Ruled by a god-like Lion named Aslan, the beautiful land prospered, everyone living peacefully together. However, Aslan left his kingdom on unknown business, leaving the world vulnerable to evil. A White Witch named Jadis came to power, claiming she was the rightful queen of Narnia. For a hundred years, winter pounded the land, Aslan still absent. Narnia finally claimed four protectors to rule its land, and to fight against Jadis. High King Peter the Magnificent, Queen Susan the Gentle, King Edmund the Just, and Queen Lucy the Valiant. After a long battle with the witch, and the death then resurrection of Aslan, they claimed their thrones and ruled. Then one day, the four disappeared, going back to their life on Earth, not knowing they would come back once again.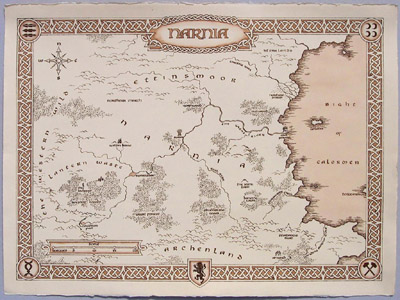 1300 years later, Aslan is missing once again, a new ruler comes to power. The human King Miraz, a anti-magic dictator, builds and army against the fae people, while his nephew, and the true heir to the throne, Prince Caspian, fights against him. While being attacked, however, Caspian blew Queen Susans horn, unknowingly calling the four siblings back to Narnia.
Once again a battle rages on, Aslan absent for all of it till the very end, King Miraz is killed, and Caspian is made king. The original four Kings and Queens go back home, Aslan informing Susan and Peter, the eldest two, that they will no longer come back to Narnia, for they are too old. Edmund and Lucy, the youngest siblings, return to Narnia one last time, to protect it from a unknown evil force before leaving for good, never to be seen again. Aslan continues to forsake his people, ignoring their pleas of help as evil constantly bombards their land.
---
---
The last time King Edmund and Queen Lucy were seen was over 50 years ago. King Caspian is a old man, although still strong and handsome. As he rules the land, a new mysterious man comes to power. The dark Wizard, Adorjan, gains a following of mythical creatures, claiming that human kind does not belong in Narnia. Things turn violent fast, Caspian's followers turning anti-magic once again. During a very violent riot from the human kingdom, Caspian blows Queen Susans' horn, hoping that Edmund and Lucy will come to protect the land once again. However, unknown to everyone, Narnia had chosen a new set of leaders to rule. These two people, torn out of their lives and thrown into a war zone, must learn the way of their new lives before the Wizard Adorjan destroys man kind, and Narnia all together.
---
---
Name: Derowynn Hopkins | Age: 25 | Sex: Female | FC: Alyssa Sutherland |

TAKEN BY: Bjzuels
Name: Vadik Nadir | Age: 32 | Sex: Male | FC: Kit Harington |

TAKEN BY: SilverHarted
Taking place in...
Arcs are bundles of posts that you can organize on your own. They're useful for telling a story that might span long periods of time or space.
There are no arcs in this roleplay.
There are no quests in this roleplay.
Here's the current leaderboard.
There are no groups in this roleplay!
Welcome home, Promethean. Here, you can manage your universe.
Arcs are bundles of posts from any location, allowing you to easily capture sub-plots which might be spread out across multiple locations.
You can create Quests with various rewards, encouraging your players to engage with specific plot lines.
Settings are the backdrop for the characters in your universe, giving meaning and context to their existence. By creating a number of well-written locations, you can organize your universe into areas and regions.
Navigation
While not required, locations can be organized onto a map. More information soon!
There are no groups in this roleplay!
By creating Collectibles, you can reward your players with unique items that accentuate their character sheets.
Once an Item has been created, it can be spawned in the IC using /spawn Item Name (case-sensitive, as usual) — this can be followed with /take Item Name to retrieve the item into the current character's inventory.
Give your Universe life by adding a Mob, which are auto-replenishing NPCs your players can interact with. Useful for some quick hack-and-slash fun!
Mobs can be automated spawns, like rats and bats, or full-on NPCs complete with conversation menus. Use them to enhance your player experience!
Current Mobs
No mobs have been created yet.
Locations where Mobs and Items might appear.
You can schedule events for your players to create notifications and schedule times for everyone to plan around.
Add and remove other people from your Universe.
The Forge
Use your INK to craft new artifacts in Narnia: Return of the Heroes. Once created, Items cannot be changed, but they can be bought and sold in the marketplace.
Notable Items
No items have been created yet!
The Market
Buy, sell, and even craft your own items in this universe.
Market Data

Market conditions are unknown. Use caution when trading.

Quick Buy (Items Most Recently Listed for Sale)
None
Discussions
Topics

Replies
Views

Last post
Most recent OOC posts in Narnia: Return of the Heroes