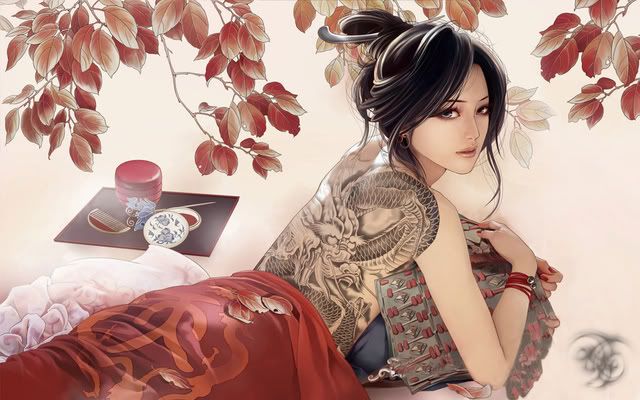 Name:
Riyo
Nickname(s):
-
Title(s):
The Dust Princess, The Painted Lady of Iwa
Age:
36
Gender:
Female
Birthday:
February 7th
Height:
5'8
Weight:
109 lbs
Blood Type:
B
Village:
Iwagakure
Rank:
Kage
Classification:
Sensor, Tsuchikage
Academy Grad. Age:
10
Chuunin Prom. Age:
12
Jounin Prom. Age:
17
ANBU Prom. Age:
20
Kage Prom. Age:
27
Personality:
Riyo is a very calm individual. Even in the face of adversity, she never panics or shows any sign of fear to her opponents, feeling that as a leader, it is her responsibility to keep the morale high. She is strong-willed, stubborn and hard to move in terms of changing her opinion or decision on something. Riyo is kind and helpful, but will never tolerate being taken advantage of. Riyo shows great respect to those who respect her and is known to have great manners and etiquette.
History:
Born into a mercantile family in a small village within the Land of Earth, Riyo never expected that she would become a Kunoichi. In fact, she never dreamed of becoming one, let alone becoming the Tsuchikage. When her village was raided by bandits however, Riyo and her parents moved to the bigger, safer village of Iwagakure, and as a result of the senseless attack, Riyo swore that one day she would grow strong enough to find and punish any mountain bandits in the Land of Earth. Riyo was admitted into the Iwa Academy, where she learned the basics and graduated at the top of her class. She trained for two years under the tutelage of the retired Tsuchikage and managed to surpass her fellow gennin during the Chunin exams, reaching the final battle rounds before losing to a Konoha shinobi. Despite her loss, Riyo was recognized for her brilliance and prowess on the battlefield and was promoted to the Chunin rank at the age of 12.
At the age of 16, Riyo would become the apprentice to the serving Tsuchikage as a potential candidate to become the next Tsuchikage. Riyo would later be promoted to the rank of Jounin at the age of 17, and three years later, after mastering Dust Release to an acceptable standard, the girl was promoted to become a member of the ANBU, where she donned a mask that resembled a bird with red markings. In addition to her duties as a member of the ANBU, Riyo worked alongside the Tsuchikage as his assistant up until his retirement, where the title of Tsuchikage was passed down to Riyo.
Riyo has served as the Tsuchikage for 9 years and swears to protect the village with everything she has.
------------------------------------------------------------------------
Tailed Beast:
-
Clan:
-
Weapons:
Shuriken, Kunai, Exploding Tags
Chakra Type:
Earth, Fire, Wind
Kekkei Tota:
Dust Release
Description:
Dust Release is an advanced nature Kekkei Tota that combines three elements - Fire, Earth and Wind - which seems to give the user the ability to pulverize matter on a molecular level within the boundaries of a three-dimensional shape formed between the hands. The shapes can vary from cones to cylinders to cubes to spheres. Riyo often uses the spherical form of Dust Release. Riyo is known to have mastered the art of Dust Release.
Techniques:
- Flight Technique
- Hiding With Camoflauge Technique
- Shuriken Shadow Clone Technique
- Chakra Sensing Technique
- Body Replacement Technique
- Body Flicker Technique
- Splitting Technique
- Rock Clone Technique
- Earth Release: Added-Weight Rock Technique
- Earth Release: Ultra-Added Weight Rock Technique
- Earth Release: Light Weight Rock Technique
- Earth Release: Ultra-Light Weight Rock Technique
- Earth Release: Tearing Earth Turning Palm
- Earth Release: Moving Earth Core
- Earth Release: Earth Flow Rampart
- Earth Release: Earth Flow Spears
- Earth Release: Earth Dome
- Earth Release: Earth Flow Divide
- Earth Release: Earth Flow River
- Earth Release: Bedrock Coffin
- Fire Release: Intelligent Hard Work
- Fire Release: Great Fire Destruction
- Fire Release: Great Fire Annihilation
- Wind Release: Pressure Damage
- Wind Release: Great Breakthrough
- Dust Release: Detachment of the Primitive World Technique